How to choose the right Accounting software framework.
Two decades in the industry and more than 500 selection and implementation projects, has lead our founder, Matt Paff, to develop a unique, proven framework for choosing the right accounting software.
If you're a small business, we suggest reading this blog on how to choose the right SME accounting software.
This framework is designed to help growing small and mid-sized organisations. You may be considering SME accounting software with add-ons, or ERP. And you may have landed here because you are struggling with choosing – which is what we refer to as suffering the SMERP Dilemma.
Matt shares the fundamentals of the framework and the state of the accounting software market in Australia below.
The Accounting Technology Market Is In Flux.
Before you look at choosing accounting software, you need to understand the current market state. A major transition is taking place in the world of business technology. Now is not the time to gamble on the wrong solution.
Doing nothing could also leave your business languishing in the past.
This is by no means an exhaustive list, but covers the key players in the Australian & New Zealand accounting technology market and where they are in their transition.
Accounting Software - Australia & New Zealand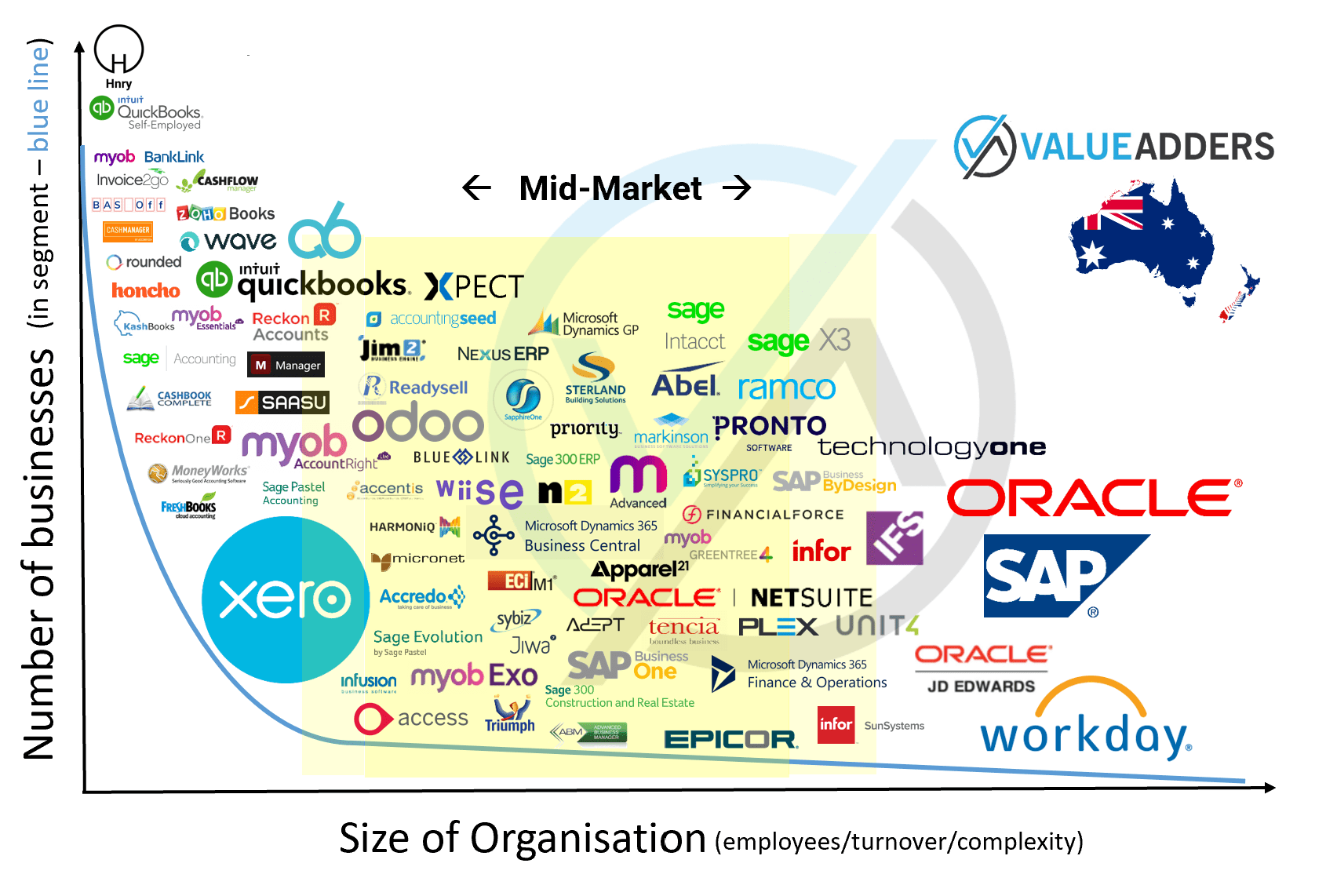 How to choose the right business technology.
Choosing the right accounting software starts by appreciating these 2, very important, tips:
Take an holistic view.
Consider your comprehensive business technology systems, current and future states. Don't consider a new app without the bigger picture.
Accept that there is no perfect solution.
Just accept that in 2022 there is no perfect solution. The right solution is the best fit, never the perfect solution. You must accept compromises – live with it!
Here's 5 steps to selecting the right accounting software.
Step 1. Develop a "Request For Demo" document.
Where are you now? What are your frustrations, limitations of your existing accounting software, needs & wants?
Start with a current and future state assessment. Document that which is needed to assess the best fit solutions.
This is not a detailed scope, nor a complex RFP/RFI document, its a summary of the key current and desired future states, enough for a on-point 2-3 hour demonstration by a vendor or implementation partner. Generally this would be between 6 and 20 pages. Try to keep it lean and break down your needs and wants into:
Non-negotiables: that which is business critical – a showstopper if it can't be done;
Importants: that which is important, but not a show-stopper;
Nice-to-haves: best-case scenario, but not willing to pay the earth to get;
NOTE: your list will change as you see what is possible and listen to the respective vendor pitches. This is fine and also why you shouldn't over complicate the RFD document.
Step 2: Research the Accounting Software market
Invest in the process. No great return came without investment.
This page is a good start, but use the internet. Attend a conference (like the Accounting Business Expo). Reach out to business people you respect. Find out what your competitors are using. Find out what accounting software people in similar industries are choosing. Talk to experts like us!
Then look to limit your potential list to 3-4 possible solutions and implementation partners (any more and you will confuse yourself for no added value). Get them to sign a non-disclosure agreement. Send them your RFD. Have an initial coffee meeting with each to get a feel for what they are about. Then book a 2-3 hour demo with each of the 3 or 4 vendors you think could do the job (if it turns out there's only 2 logical options (e.g. Xero or QBo; NetSuite or MYOB Advanced), that's OK.
Step 3. Accounting Software Demos. Discussions. Q&A.
Get the vendor/implementation partner to prove they can make your business better.
Most clients choose to use our help into the second phase of the selection process, which typically starts with distribution of the summary requirements document, initial chats and clarification with vendors/implementation partners, followed by demonstrations with key stakeholders and Q&A sessions.
Our experience is gut feel is a good guide at this stage, but a weighted scoring system can help guide better decisions.
Consider this simple risk of failure of the project. The greater the business risk, the less inclined to the smaller, newer, shinier new start-up option you should be.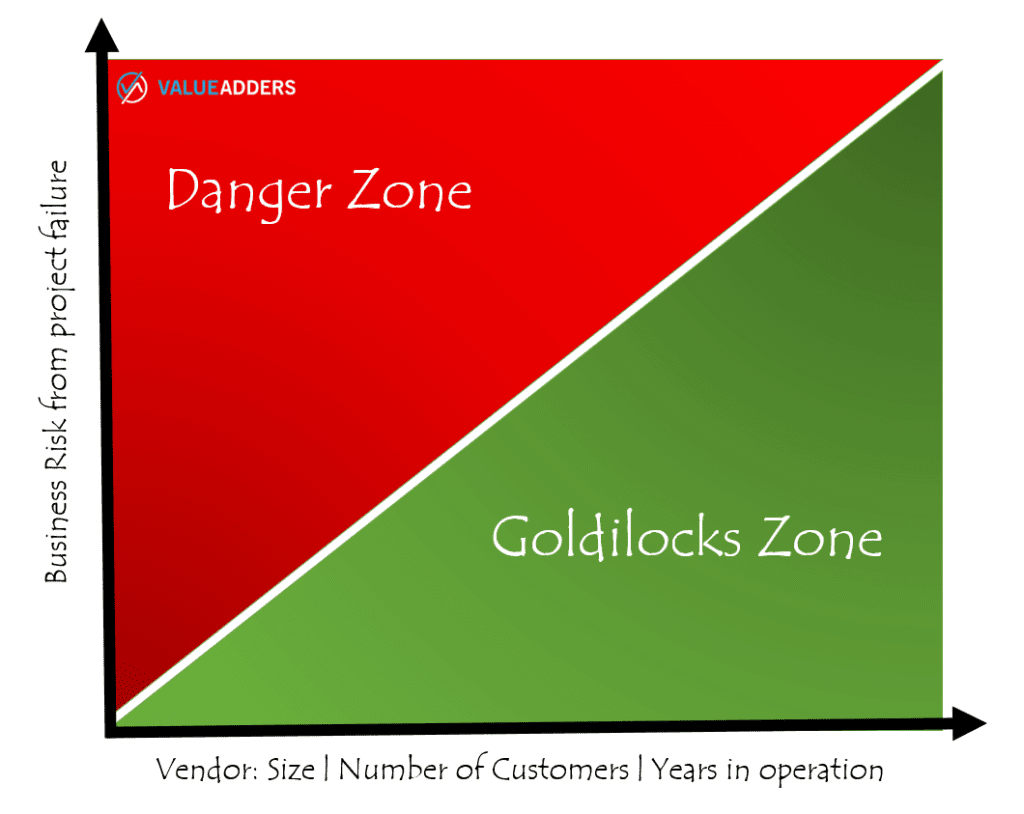 Limiting to 1 or 2 likely providers, is generally followed by a deep dive, scoping process (by the possible vendor/implementation partner).
After obtaining final quotes, we would revisit the weighted scoring system and begin final negotiations and agreements.
Step 4: Make a decision and commit to making the new accounting software work.
Invest in the implementation. Project manage. Manage expectations. Manage people. Set milestones. Communicate.
Most implementations fail, not because it was the wrong solution, not because the implementation partner was incompetent, but because the customer does not invest in the project and the process of change management.
The following has been proven time and again over many years of running new systems implementations. Your staff are potentially your biggest obstacle to the project's success. We find the following mindsets and rough split in the projects we have run over the years: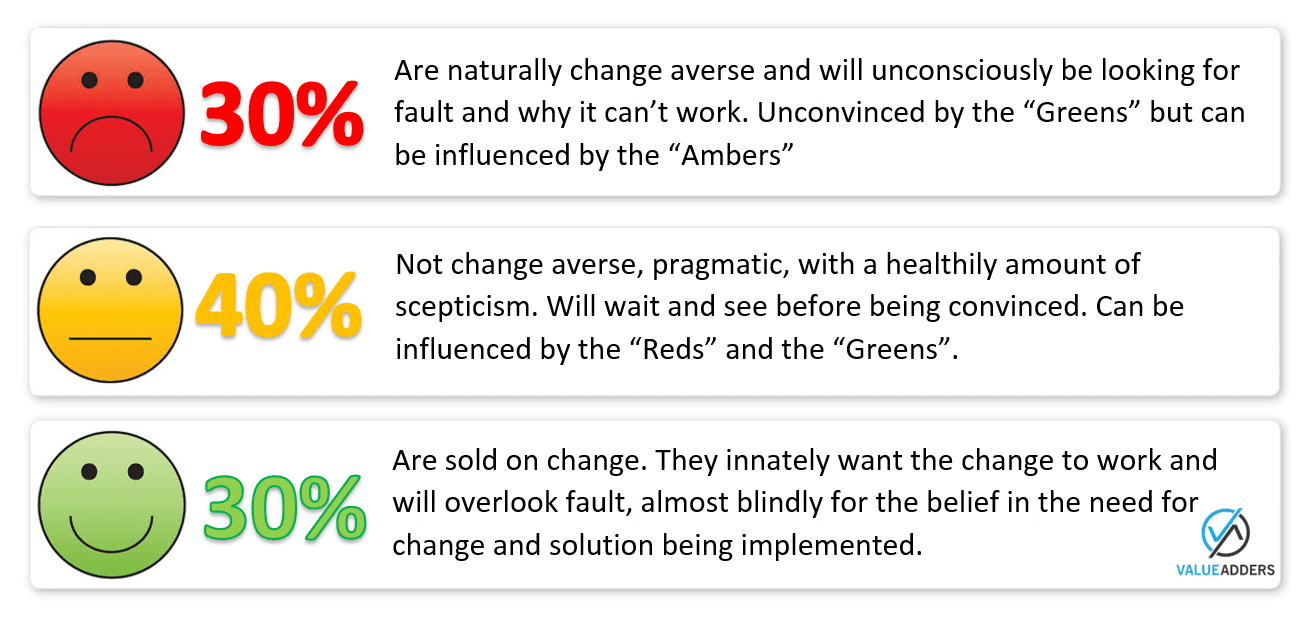 Be aware of the reality of change management. A great tip from years of experience, involve your team as early in the process as possible. DO NOT just lump them with "this is the solution". Make them FEEL like they have been part of the process and decision making (even if in reality they haven't been). Remember, perception is everything!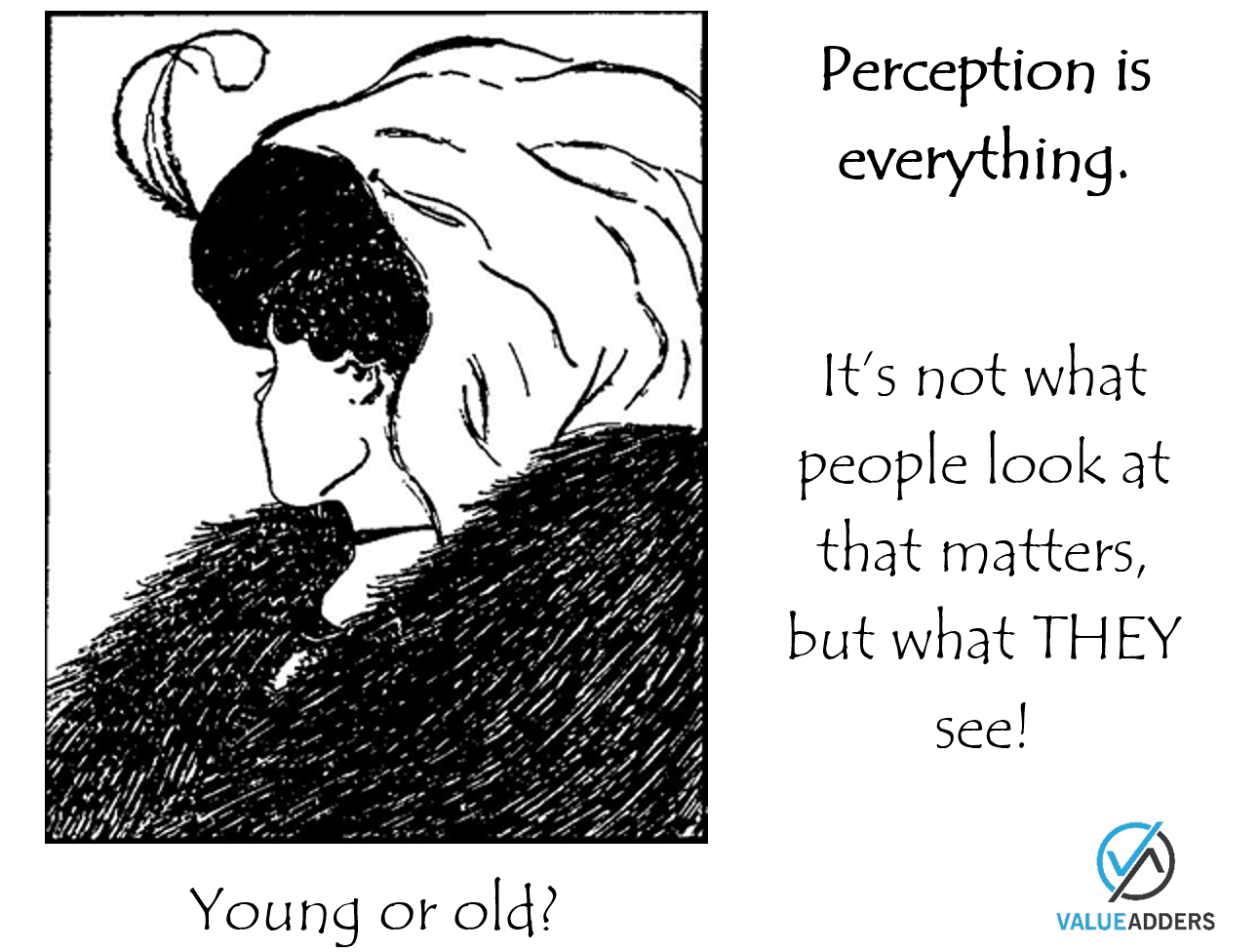 Commit to project governance. Have a steering committee. Use technology to track project progression. Hold people (internally and externally) to account. Set milestones and ensure timely delivery.
Step 5. Don't stagnate. Continually improve. Stay up-to-date.
Implementation of software is never really "finished". Expect to always be moving forward. Tweaking. Improving.
The day of go live is NOT the end of a software implementation project. Nor is 3 months after go live. Software is constantly being upgraded/improved. Your business needs to be changing/evolving. Never fall into the fallacy of stagnation.
What we find is that long-term customers are rarely the "benchmark client" for any software. Humans fall back into what they know. When a system is new, organisations are eager for their staff to be trained professionally. Over time, as staff change, existing staff train new staff (if any training is given at all). Sub-optimal, bad habits are transferred and amplified.
When long-term customers of software companies are compared to more recent ones, often the new customers are more indicative of the current optimal usage than longer-term ones, who have stagnated. New features makes stagnation equivalent to going backwards.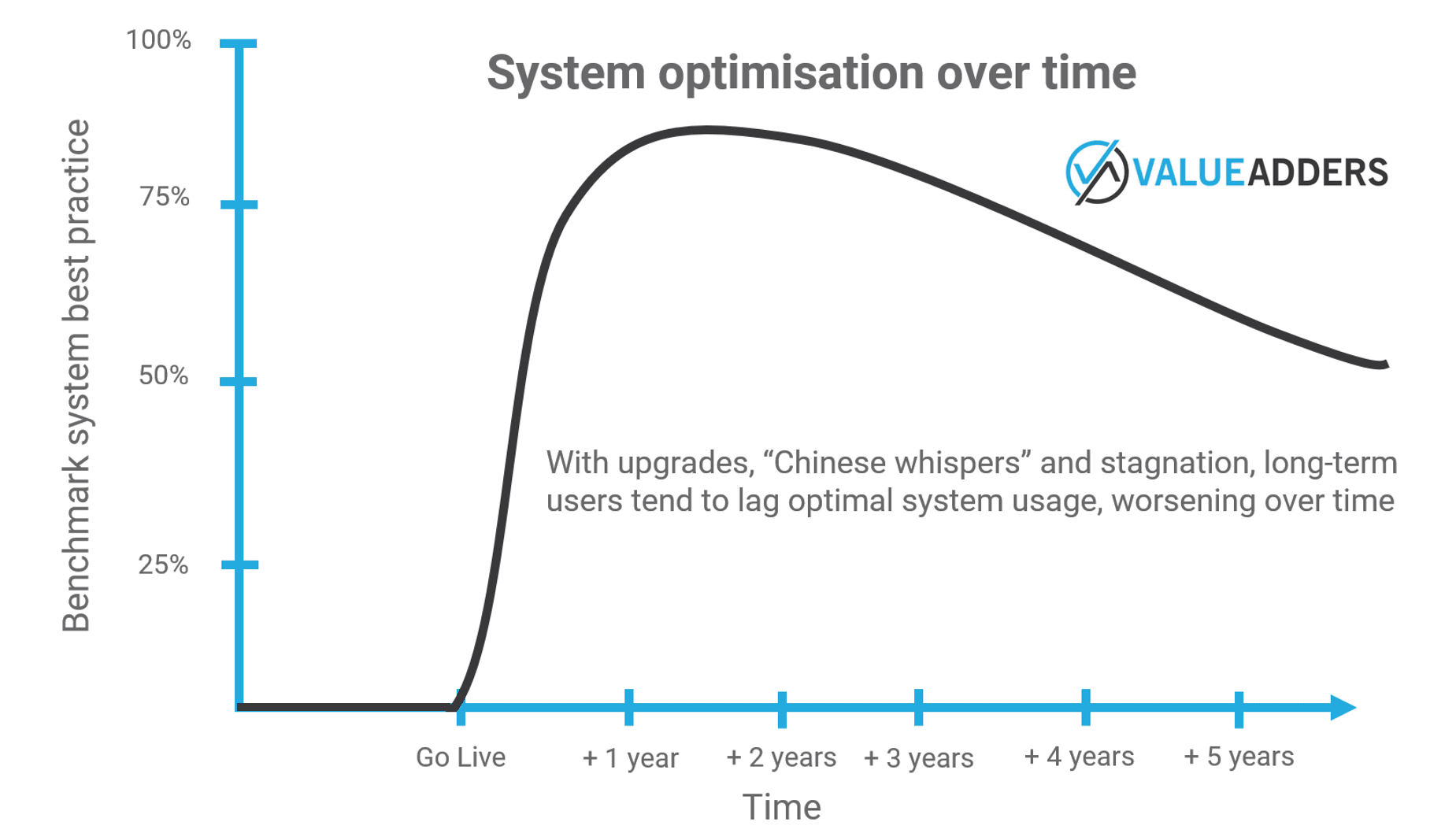 Contact us today & see how we can help take the stress & time out of vendor selection