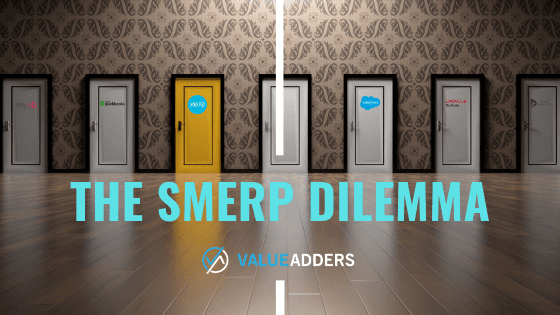 Like never before, larger and growing Small to Medium sized organisations face a common challenge to decide between SME accounting software or invest in a unified, comprehensive ERP system.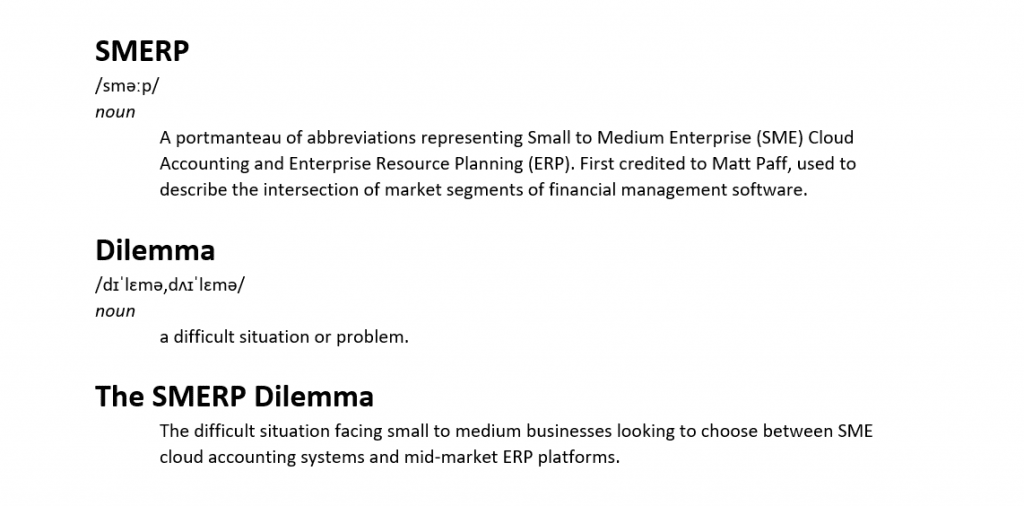 Which way do they go?
User-friendly, relatively cheap small business Cloud Accounting software like Xero, MYOB and QuickBooks plus operational specific third party apps ;
OR
A comprehensive, relatively expensive and seemingly less user-friendly Enterprise Cloud Platform like NetSuite, MYOB Advanced (aka Acumatica), Salesforce or Microsoft Dynamics 365 Business Central.
I put the growing confusion in the marketplace down to 5 key factors:
1. We're getting deeper into the diffusion of innovation cycle with regards to Cloud Accounting software.
SME accounting and ERP software is no question, transitioning to genuine, browser and smartphone app cloud systems.
Australian and New Zealand now have more than 50% of businesses using cloud accounting systems (whether SME or ERP). We're now clearly, in our region, into the Late Majority under Roger's Diffusion of Innovation curve: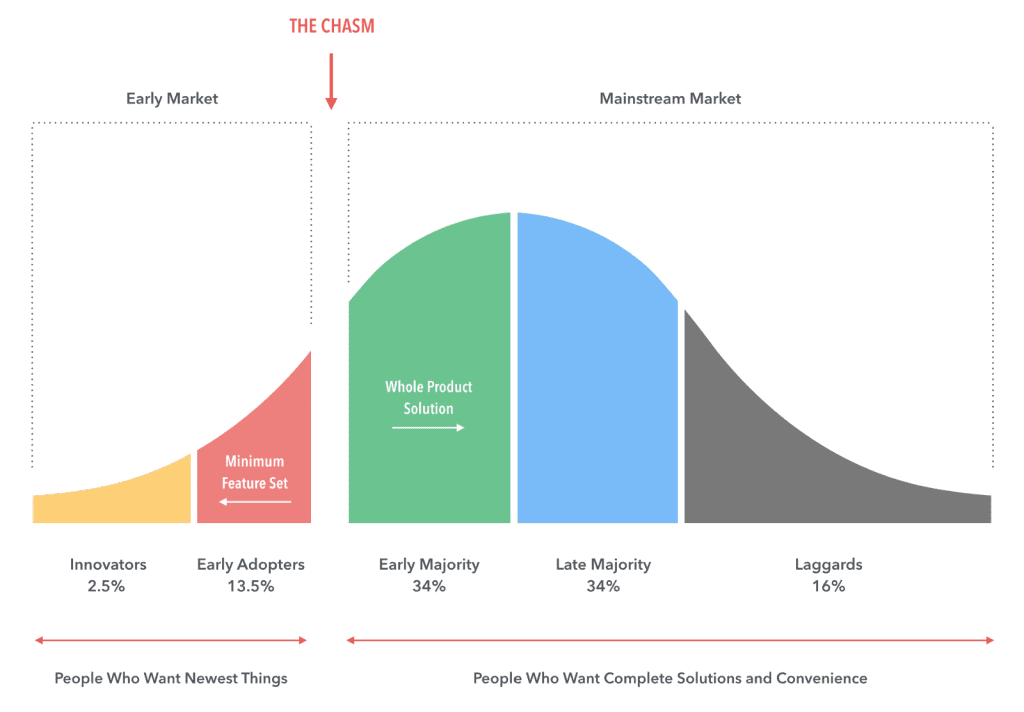 The vast majority of adopters to-date have been smaller, more nimble, typically newer businesses. As Cloud Accounting and its feature-set have matured and adoption has hit the majority, we now see the mid-market starting to move. These are typically older businesses, with more mature owners, who have an existing, significant sunk-cost investment in an existing (typically desktop) system. The cost, risk and complexity of change has been a significant barrier to exit (from existing, legacy systems) for larger SMEs. The business case for change has grown as have the genuine number of cloud options.
2. MYOB have end-of-lifed AccountRight "Classic" (once Australia's most popular SME accounting software)
In Australia and New Zealand, the most commonly used accounting solution by mid-sized businesses, MYOB AccountRight Premier Desktop (aka Classic aka Enterprise aka v19), has officially been "end-of-lifed", with customers already unable to get Single-Touch Payroll support, now being told ALL support ends September 2019.
https://www.accountantsdaily.com.au/technology/12052-myob-set-to-scrap-accounting-desktop-product
3. Usability and Flexibility are largely, inversely correlated when it comes to business systems
The reality for software design is that the more flexible you make a system, generally the less user-friendly it becomes. This is no more highlighted than the SME Cloud Accounting system vs the ERP Platforms.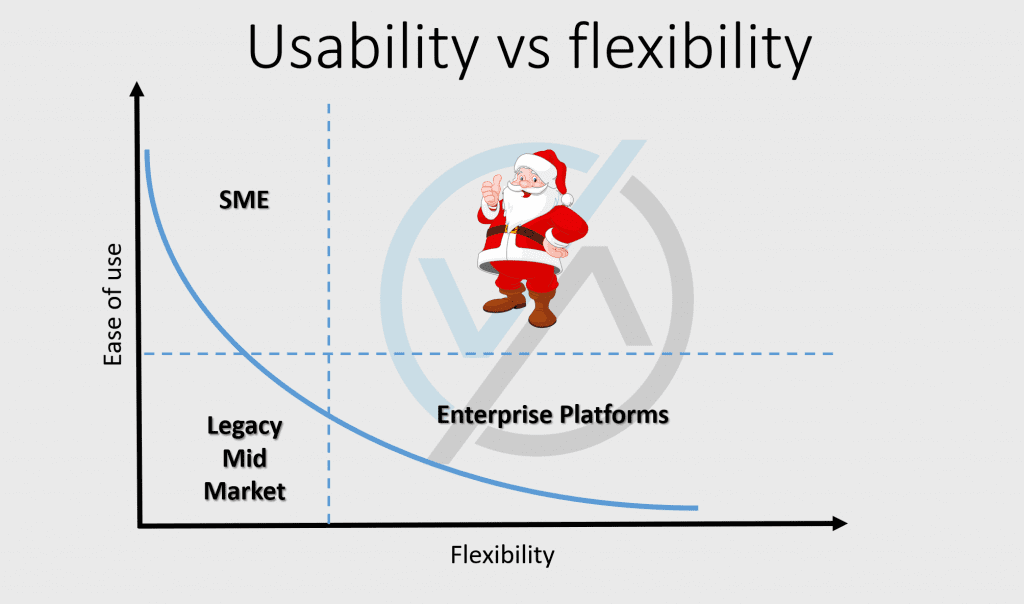 The above chart represents the inverse correlation you find in the market, between Ease of Use and Flexibility for accounting platforms.
In the top left segment, products like Xero, MYOB Essentials and QuickBooks Online offer simple-to-use systems with great automation and ease-of-use, but offer limited flexibility to meet custom workflows.
In the bottom right, Enterprise Platforms like NetSuite and Microsoft Dynamics 365 offer almost limitless flexibility but lag significantly on features such as banking transactions, mobility and auto-coding via rule-sets and AI engines.
The bottom left is the domain of the legacy mid-market who for the most part offer neither. Their adoption can be credited with longevity and imperfect market knowledge.
The top right segment doesn't actually exist, even if some in the population with better knowledge try to convince the lesser educated on the topic that it does…
At some point the need for flexibility outweighs the desire for ease-of-use. The best analogy I can use is this: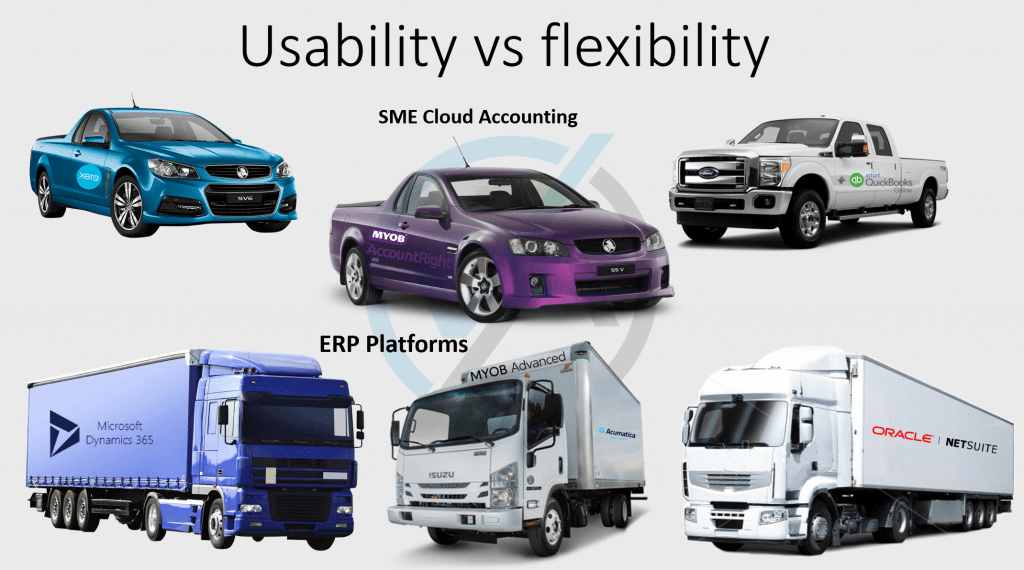 If you have a small, local, wholesale inventory business that allows you to use a ute for deliveries then utes are:
Easy to drive and comfortable;
Only require a standard drivers' licence and thus drivers are easy to find and relatively cheap;
Are easy to get around a city and park, just about anywhere;
But if you need a truck to deliver your larger loads, or interstate deliveries, a truck:
Is harder to drive and often less comfortable;
Requires a special drivers' licence and thus drivers are harder to find and more expensive;
Are hard to get around the city and very difficult to park;
If you need the flexibility of an enterprise platform and are prepared to employ a qualified driver (like a CFO or vCFO), whilst your investment will be much greater, and they are far from as easy to drive, you can do much heavier lifting than you could otherwise achieve with an SME solution.
4. The SME cloud accounting add-ons eco-system is thriving
An abundance of choice in vertical solutions in the SME ecosystems is similarly inversely correlated with the choice in Enterprise Cloud offerings.
Intuit has apps.com. Xero has the Xero Marketplace. There are some 700+ companies with apps that have not only integrated to these systems, but gone through the process of registering as an official "add-on".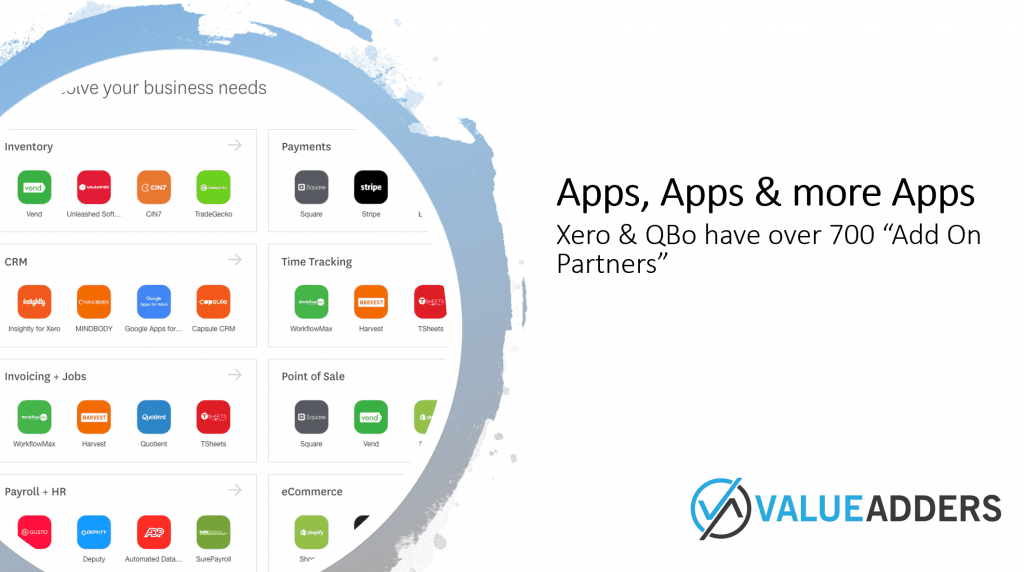 There are apps for practically any vertical market. From retail to manufacturing, wholesale inventory to professional services. And often, these vertical solutions are the core operational function used by the business:
POS is the core function for a Cafe (eg Vend, Kounta, Revel);
Job Management is the core function of a professional services business (Scoro, Accelo, Asana, Teamwork etc)
Stock and debtor control is the core function of a wholesale inventory business (Dear, Cin7, Fishbowl, Unleashed etc); etc
If there is a user friendly, scalable, industry specific operation app, does the SME Cloud Accounting GL and AP not fulfill the back-office needs of most businesses?
This combined operational app + SME Cloud Accounting "back-end" becomes a genuine "best of breed" ERP alternative.
The argument is often one system vs a "spaghetti mess" of apps. But hey, most clients I have worked with in ERP land, still end up with a tonne of integrations and separate apps…
In fact, analysis by Okta Inc. found:
The number of software apps deployed by large firms across all industries world-wide has increased 68% over the past four years, reaching an average of 129 apps per company by the end of 2018
It found smaller firms tended to have fewer apps, though the average number is also rising—jumping from 53 in 2015, to 73 last year.
https://www.wsj.com/articles/employees-are-accessing-more-and-more-business-apps-study-finds-11549580017
5. The investment proposition of SME accounting vs ERP software
SME accounting software vs ERP is typically poles apart in terms of cost. Cost of licencing. Cost of implementation. Cost of support. The investment gap compounding with the usability gap, makes the weighing up the negative of functionality gaps and the "spaghetti mess" of apps, profoundly difficult.
So how do you solve the SMERP Dilemma?
So how does the average larger SME set about resolving the SMERP Dilemma? Its probably a question I get asked daily. Unfortunately there is no simple, prescriptive answer. I have to use the consultant's favourite phrase:
"It depends…"
It depends on the individual client. The weighting they put on a unified platform vs integrated, disparate apps. The skills of their staff and advisors. Their budget…
Research and trusted advice is key.
I've summarised my recommended approach here:
---
For more on Accounting, ERP, Payroll & HR tech:
Follow On
This blog: https://valueadders.com.au/articles/
Twitter: https://twitter.com/mattpaff  and https://twitter.com/valueadders
Follow our Blog: https://valueadders.com.au/articles/
Follow our LinkedIn: https://www.linkedin.com/company/value-adders/
Like on Facebook: https://www.facebook.com/valueadders/
Follow on Medium: https://medium.com/@mattpaff

Or subscribe to our email newsletter: