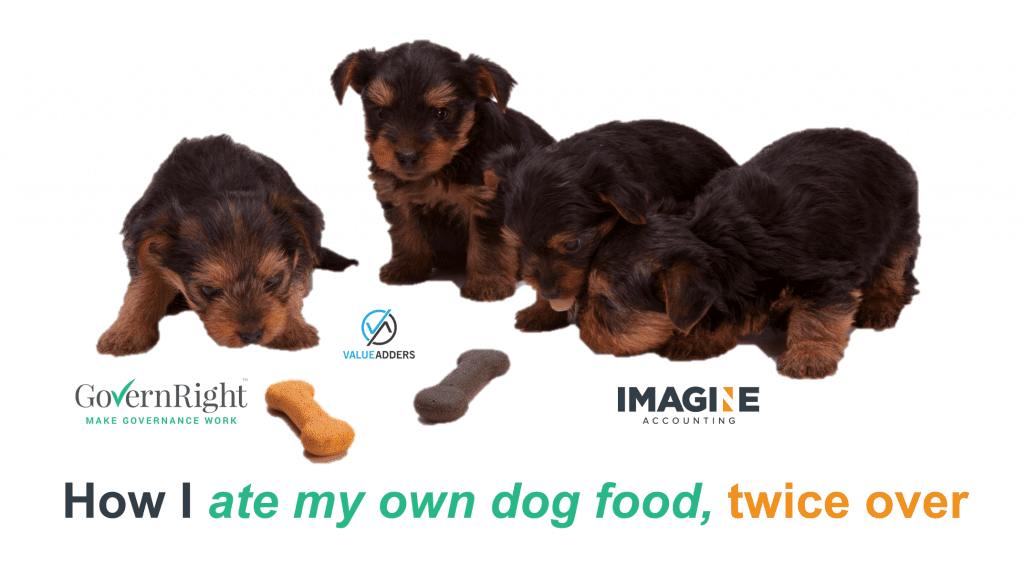 Originally posted on: https://www.governright.com.au/
One of my favourite tech. industry sayings is "eat your own dog food" (aka "dog-fooding"). For those not familiar with it, Investopedia explains it as:
A colloquialism that describes a company using its own products or services for its internal operations…The basic premise behind "eating your own dog food" is that if a firm expects paying customers to use its products or services, it should expect no less from its own employees.
I would succinctly describe it as "practising what you preach", the antidote to the hackneyed expression: "those who can do, those who can't teach".
I am a strong believer that accounting firms are traditionally poor at dog-fooding.
By way of example, I recall a conversation I had a few years back with an accountant friend of my wife. Russell was working at a tier 2 firm in Sydney city. The firm was trying to move itself forward. It was talking about adopting advisory services. It was trying to encourage engagement from younger staff, like Russ.
It was at an internal event in which "rising stars" of the firm worked with the senior partners on strategies for success, that Russell made the ludicrous suggestion: "hey, if we're going to get into advisory services and help our clients with services around cash flow and debtor management, maybe we should look at how we manage our own debtors better? How about we bring in a rule: no tax returns for the new financial year, unless the client has paid for last year's returns..?".
The response became a catalyst that would change Russel's life:
No
Frustrated by the hypocrisy of trying to move towards helping clients in areas the firm itself was not good at, was the light-bulb moment that saw Russell leave the firm to start his own. A modern practice. Born in the cloud. A firm that "eats its own dog food". A firm that manages its business well and then helps its clients do the same. A firm that has grown exponentially…
So here my story begins.
A career spent in the accounting and payroll technology space, came to an abrupt pause after I (the then GM and minority shareholder of a long-standing player in the market) had a falling out with two, senior members of my board over our company's technology/product offering and the related company strategy.
On unexpected gardening leave, I not only started blogging, I started on a journey of personal and career development, which led me to completing the Australian Institute of Company Directors – Company Directors Course. It was this course that set off a chain of events that serendipitously took me on a new path:
Graduating and adding the post-nominals GAICD to my name;
Developing a strong belief that Governance through Boards and Advisory Boards, would be a massive opportunity for the professional services industries to help clients and grow new revenue streams;
Meeting Simon Neaverson FAICD, the leading mind in Governance in Australia;
Joining Simon to bring the GovernRight platform to market;
Whilst all this was happening I was contacted by Mark Williams, Managing Director at Imagine Accounting. Mark contacted me via my blog and asked if I could come and work with he and his business partner Peter Caunt on the strategic plan for their 2 partner, 20 staff, Chatswood based firm.
One of the strategies we discussed was (coincidentally) working with clients to help develop better governance (performance and compliance), through education such as director responsibilities (and liabilities), setting up of boards and advisory boards and the implementation of governance frameworks.
Ultimately this engagement led to Mark and Peter setting up an Advisory board for their firm and asking me to join.
Here is where my stories tie together…
Over the last 6 months I have been lucky enough to wear (among other things) two particular hats, Director of Partnerships at GovernRight and Advisory board member at Imagine Accounting. This has afforded me the best possible opportunity for me to test my two hypotheses:
Boards, advisory boards and governance consulting are a massive opportunity for professional service firms.
AND
The place to start is by implementing Good Governance into your own firm, via a board or advisory board.
One might say I've been given the fabulous opportunity to eat a double serving of dog food.
One, from the perspective of an advisory board member of an accounting firm, implementing a good governance framework and platform to help build a better firm on the journey to offering a board and governance advisory service to our clients.
On the other side, as the director of partnerships for GovernRight, I've been lucky enough to practice what I preach and really understand the process for our partners, the pitfalls and tips for implementing our product and methodologies.
Its not been a journey without challenges, but it has been quite rewarding, because I've learnt a lot.
___
CCH Learning Webinar
On Thursday September 21, I will be hosting a session with CCH Learning in which I will deep dive into what I have learned in working with GovernRight and Imagine Accounting. In the session I will offer professional service firms:
An explanation of why governance, boards and advisory boards, is a massive opportunity for a deeper relationship with clients, and a new, significant revenue opportunity;
How this offering is the true opportunity in the "succession planning" and the "preparation of businesses for sale" space;
Quantification of the actual opportunity;
The path to building your knowledge and skills in this area;
The What, Why and How to set-up your own board or advisory board;
The steps to building a new advisory offering in this space.
Follow this link to find out more and to book your spot: https://www.cchlearning.com.au/events/342-why-your-firm-should-have-a-board/
For those who can't make the webinar, or would like to know more about the topic, please feel free to connect with me:
I'll be at XeroCon next week if anyone who is going to be there is interested in a catch-up in person; OR
Feel free to shoot me an inmail or email via matt@governright.com.au; OR
Join myself, Sholto Macpherson and Patrick DeRuvo from Accodex in Melbourne Monday the 18th of September at 12:45pm at the CPA Tech Exchange event where we will discuss the practicalities of the Governance opportunity as a new revenue idea for multi-disciplinary firms.
___
Follow me on Twitter: https://twitter.com/mattpaff
Check out GovernRight: https://www.governright.com.au/
Check out Imagine Accounting: https://www.imagineaccounting.com.au/