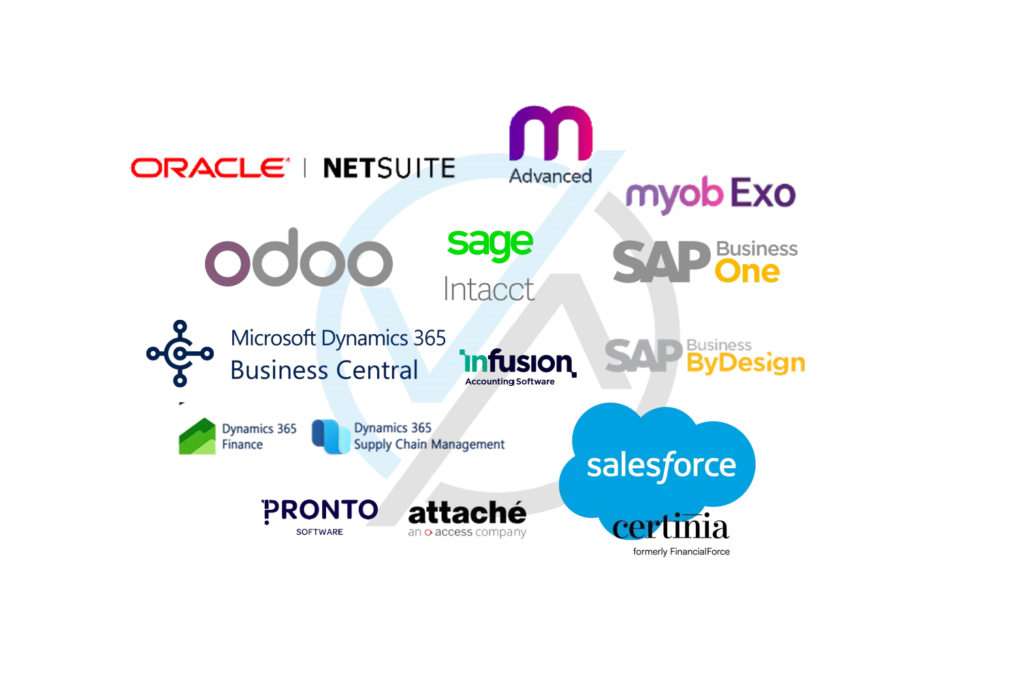 Updated November 2023
Whilst I contend that ERP Systems are dying out and being replaced by ECP (Enterprise Cloud Platforms), I must acknowledge that we are in a transition phase and many businesses in Australia are actively looking for the right "ERP" solution. This article attempts to explain the current state of the ERP / Mid-market market in Australia and to a lesser extent globally.
This is not a winner takes all market
The reality is, when it comes to the ERP (Enterprise Resource Planning) systems market, there is no, "one-size fits all". In my opinion, there is no clear winner in existence nor emerging. Sure, there is a subset of solutions that have the brightest future and the lowest risk in implementing, but I don't believe ERP is ever going to be a "winner takes all market".
Where the business systems market has come from
I grew up understanding the business systems market to be comprised of 5 tiers, from micro-business software to solutions for multi-national corporations (MNCs). As a rule of thumb, as a business moves from start-up through to global success story, it would change business systems at each inflection point: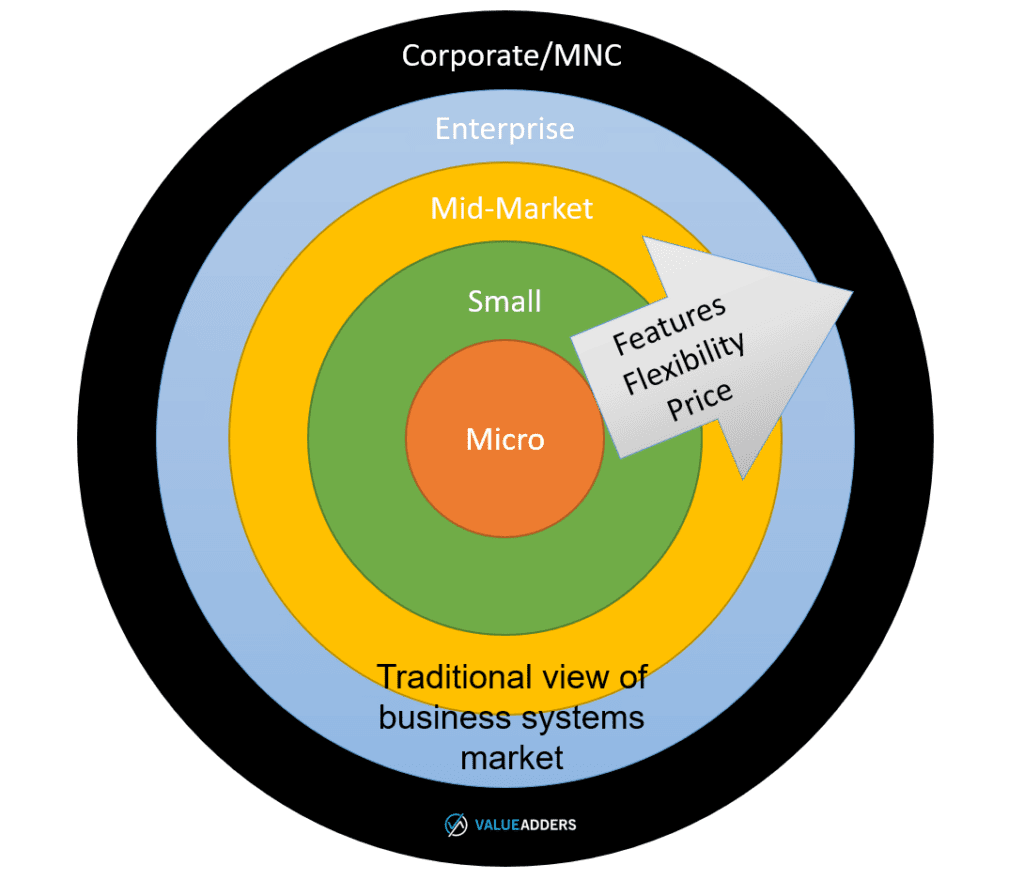 Tier 5: micro/home-business, most common products: MS Word & MS Excel.
Tier 4: small business, business starting to get serious, needing to do their BAS and accounting, go to Harvey Norman/Officeworks and buy MYOB/QuickBooks off the shelf.
Tier 3: (lower) mid-market, MYOB is not flexible / fast enough, need something bigger for the next phase of our business. Find a Value Added Reseller (VAR) of Attache, Exo, Arrow or Sybiz…
Tier 2: Enterprise (upper mid-market), business now needing more operational functions and even more flexibility. Time to look at Navision, Pronto, Great Plains, Accpac, Epicor etc…
Tier 1: Corporate / MNC – SAP or Oracle.
The evolving ERP systems landscape
It is very clear to me that the Small and Enterprise (traditionally Tier 2 and Tier 4) systems are becoming the dominant market players, collapsing the traditional market segments and expanding their reaches up and down: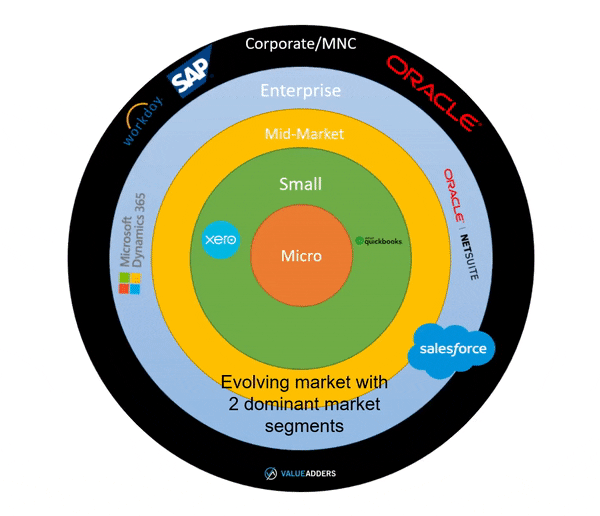 The majority of businesses are now choosing between:
Growing businesses more and more are confronted with the SMERP Dilemma. Do they stick with or go to a "Frankenstein ERP" built around the core SME accounting solution (typically Xero or QuickBooks, who have by far and away the largest ecosystems), OR do they jump to the "ERP" space (more accurately the ECP space)?
The Key ERP System Players in Australia
The alternatives in the traditional mid and evolving Enterprise (ERP) market are many and varied, highlighted in yellow below. It is a crowded landscape, with a heavy presence of local/regional players mixed with global behemoths: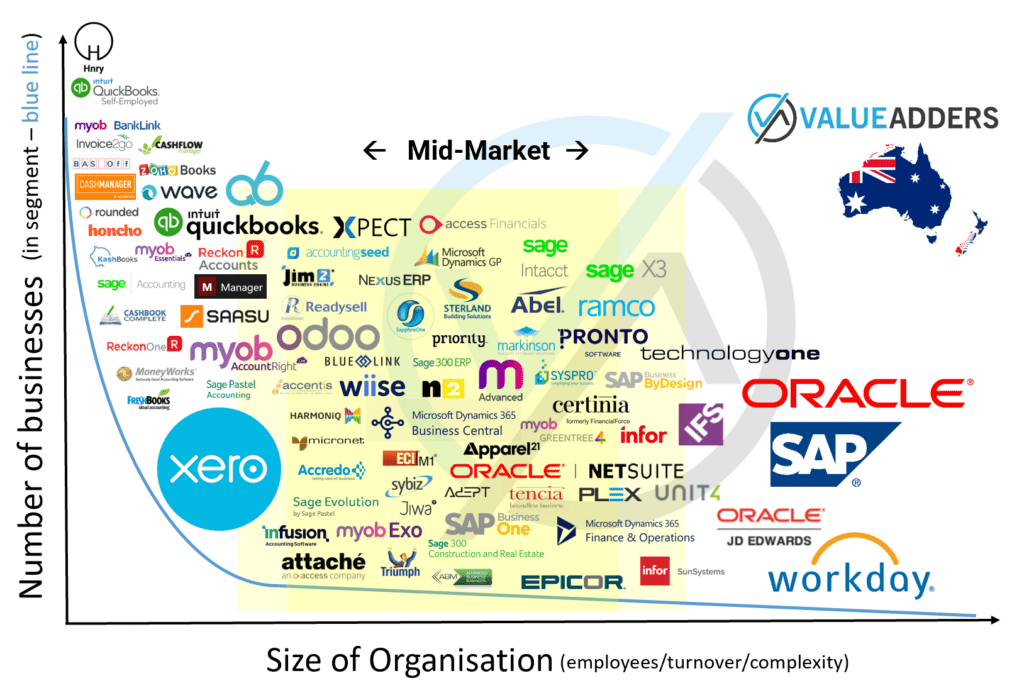 By client numbers, the top 10 ERP systems in Australia has been changing rapidly of late, after years of relative stagnation. Whilst the period 2000-2015 was owned by "legacy"/mature local players and the adoption of Microsoft SQL database, the last 8 years we have witnessed a rapid and multiple changing of the guard.
A key trend is the move away from local/regional vendors to global platforms. For 30 years, being local has been important to market fit and establishing a Value Added Reseller (VAR) base. We're seeing this change rapidly, with global platforms, with economies of scale, being able to build genuine Cloud Platforms and ecosystems having a significant competitive advantage over smaller developers.
It's only the last 7-8 years that we have witnessed Attache (now owned by The Access Group and the dominant mid-market player for decades before that) lose it status as having the largest mid-market client-base, with MYOB claiming the mantel through acquisition of Exonet (now MYOB Exo) and Greentree.
As it stands today MYOB Exo retains its position as having the largest install base by client numbers across Australia and New Zealand, BUT there is no doubt the significant move away from client-server/on-premise solutions towards "cloud/browser-based" systems and towards global vendors, has seen it lose its position as the highest selling ERP system in Australia.
The Top 10 ERP systems in Australia
I decided to construct a top 10 ERP systems in Australia based on an aggregate of the size of the installed client base and sales/growth momentum. What I call the Value Adders ERP power rankings:
1. Microsoft Dynamics 365 Business Central
The evolution of NAV (aka Navision), a product with over 100,000 customers globally, Microsoft are finally hitting the market with a genuinely competitive and compelling mid-market offering in what ever form it takes (noting the product can be white-labelled with an example being KPMG with Wiise). No-one offers the end-to-end integrated business suite that Microsoft now has in market – from Outlook, through Teams, LinkedIn, PowerBI, Dynamics and beyond! Business Central is in our view now the #1 ERP in the Australian market in it's various incarnations.
2. NetSuite
One of the globes most mature and widely adopted Cloud ERP platforms, Australia accounts for around 20% of Oracle NetSuite's current growth. By our reckoning, the #2 selling ERP in Australia over the last 1-2 years.
3. MYOB Advanced
AKA Acumatica – few know the fact that MYOB was an early investor in NetSuite in Australia. It is ultimately NetSuite's actions that led to the rise of one of its biggest competitors. After NetSuite unilaterally ended NetReturn's exclusive distribution agreement (with MYOB being a shareholder of NetReturn), MYOB ultimately pivoted to partner with Acumatica, to white-label and bring this global Enterprise platform (built in Moscow) to the Australian and New Zealand markets. MYOB Advanced probably deserves a higher ranking by virtue of its continued strong growth in market, but it suffers in our eyes from a high cancelation rate due to it being sold by some partners to the wrong customers and with the wrong implementation budget and methodology.
4. Salesforce
Wait, Salesforce is a CRM you say, not an ERP… you're kinda right, but you're kind wrong too… Whilst Salesforce themselves don't (yet) offer a General Ledger, Salesforce is not *just* a product, but an enclosed ecosystem that DOES include (several) ERP systems. More and more we see business decide to jump into the Salesforce ecosystem and "finance" (a traditional identifier for ERP), becomes the "add-on/in". This is where we see the rise of Certinia (formerly known as FinancialForce) and AccountingSeed in the Australian markets, noting though that Xero remains the #1 accounting add-on to Salesforce in Australia and Sage position Intaact as being perfect for Salesforce customers!
5. Odoo
An emerging global player, Odoo is an open-source ERP that competes very favorably in the mid-market based on flexibility and price. Its partner channel remains small and largely "techy", but we are seeing Odoo getting a significant foothold in the Australian market.
6. SAP Business One
An Israeli acquisition earlier in the century, SAP Business One has built a decent stable of well-known brands as clients in the Australian (and the broader global) market. The product landed here quite immature (e.g. missing bank rec) in the mid noughties and has never really, in our opinion, built out full market fit (e.g. they target inventory-based businesses and yet the core product doesn't offer batch sending of statements). Rumours suggest that B1 is on course for convergence with SAP's Enterprise Cloud Platform, ByDesign – but I have been shouted down by people within the SAP sphere for mentioning this. The official word is B1 allegedly has a bright and clear future as a stand-alone solution.
7. Sage Intacct
A long-time competitor of NetSuite in the US, Intacct is a relatively new player in the Australian market having been acquired and globalised by Sage. With tight integration with Salesforce and a relatively strong professional services and not-for-profit offering, Sage Intacct is an emerging player in Australia with a mature, ready-made partner channel and backing from a major global player with money to spend on obtaining growth.
8. MYOB Exo
A product that MYOB sold and bought back (great story and credit to Bruce Carr and Tim Molloy for their version of "pulling off a Channel 9 – Kerry Packer to Alan Bond") grew to become the most widely used mid-market "ERP" in Australia by the middle of last decade. Client numbers remain strong, despite the move away from on-premise and local solutions in recent times.
9. Microsoft Dynamics 365 Finance (and Supply Chain Management)
The evolution of AX (aka Axapter), Finance is a "step up" from Business Central, aimed towards larger businesses. Where BC relies heavily on an eco-system of "add-ins", Finance is a more comprehensive, all-in-one platform that requires significantly more resources (and cost) to implement. This product competes at the upper end of the NetSuite market up to the Multi-National Corporations (MNC) space against the likes of SAP, Oracle and Workday.
10. SAP ByDesign
ByDesign has had a number of false starts over the last decade, but it does seem SAP are finally getting their act together with their "version of NetSuite". Unlike Microsoft who are pretty clear on the market positioning of Business Central vs Finance, I'm still not clear on the SAP B1 and ByDesign positioning – they both seem to target the "mid-market". ByDesign is a "true cloud" developed solution, whilst B1 is an evolution on a client-server application.
Falls from grace
Falling out of the top 10 this year has been Pronto and Access Attache. Pronto's fall from grace comes about because we keep getting asked to help people leave the product. Too many issues with data, reporting and quality of support to warrant a top 10 position. Unfortunately Attache's slide continues. 10 years after being the most popular mid-market system in AuNZ, the mass exodus from the platform seems to have accelerated under Access's ownership.
Notable Mentions
Sage X3 was unlucky not to make the list. It suffers a little as the overlooked "second cousin" of Sage Intaact, but it is in fact a strong solution particularly in areas such as multi-entity/jusidiction operation, inventory and manufacturing.
Infusion is pobably now second only to MYOB as a local ERP player with some 4,000+ clients across Australia and New Zealand. A recent merger with NetValue Limited and the release of a modern, new code, cloud edition positions Infusion well to etch out a niche in this region.
Summing Up
The mid-market ERP systems space in Australia is experiencing a rate of change it has probably never seen before. First we have the SME products like Xero and QuickBooks expanding their reach upward by offering expanding featuresets and a genuine "best-of-breed" ecosystem to build your own ERP. Simultaneously we are witnessing the rise of global players (such as NetSuite, Microsoft, SAP, Sage and Acumatica) and the trend towards Enterprise Cloud Platforms with their own expansive ecosystems of third party "Add-Ins".
There really is no other answer to the question "which ERP system should I buy" other than "it depends". It depends on your business. Your market. Your size. Your aspirations. Your people. Your customers. Your competitors. Your risk appetite etc etc
This is the point where I explain to the reader that Value Adders is an independent firm helping growing (or otherwise) mid-sized businesses choose between the market segments, ERP vendors and support partners. I have built a methodology on approaching this process over 20 years and you can read about it here. Please reach out if you need help!
---
For more on Cloud Accounting, Payroll, HR tech and ERP Follow On:
X: https://x.com/mattpaff and https://x.com/valueadders
Follow this Blog: https://valueadders.com.au/articles/
Follow our LinkedIn: https://www.linkedin.com/company/value-adders/
Like on Facebook: https://www.facebook.com/valueadders/
Or sign up to our occasional email newsletter: