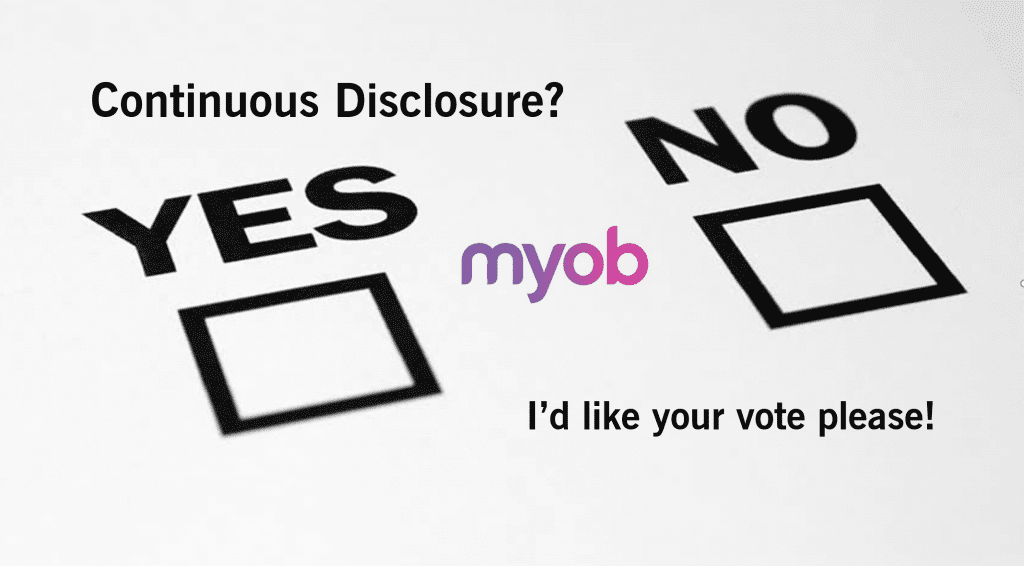 A few people have contacted me about my previous suggestions that MYOB are losing some senior people in product and dev. MYOB have remained tight-lipped.
Now only @MYOB $MYO #MYOB left to make their announcement of staff departures… https://t.co/PVl99debOz

— Matt Paff (@mattpaff) October 30, 2016
Could my mail be wrong? Unlikely.
Why haven't they announced it to the market? Good question!
When is disclosure necessary?
Listing Rule 3.1 prescribes the obligation to disclose "market sensitive" information immediately.
The test for determining whether information is market sensitive and therefore needs to be disclosed under Listing Rule 3.1 is set out in section 677 of the Corporations Act. Under that section, a reasonable person is taken to expect information to have a material effect on the price or value of an entity's securities if the information:
"would, or would be likely to, influence persons who commonly invest in securities in deciding whether to acquire or dispose of" those securities.
So I pose the question, would the impending departures of (I believe up to 3) senior staff in product and development roles at a listed tech company influence "persons who commonly invest…to acquire or dispose of" that company's shares?
If I heard a rumour Craig Walker was leaving Xero, I would probably sell down my holding.
Xero did announce to the market Angus Norton's (former CPO) departure in April.
If Dean Darke left Reckon, it probably wouldn't influence me to buy or short sell Reckon shares…(no offence Dean, it's absolutely nothing to do with you personally or professionally, I'm just considering the disclosure obligation)…
So a question to you the reader, please vote via the twitter poll:
Would you consider the impeding departures of one or more leaders in Product and Development at MYOB, market sensitive information? #Biztech

— Matt Paff (@mattpaff) December 14, 2016