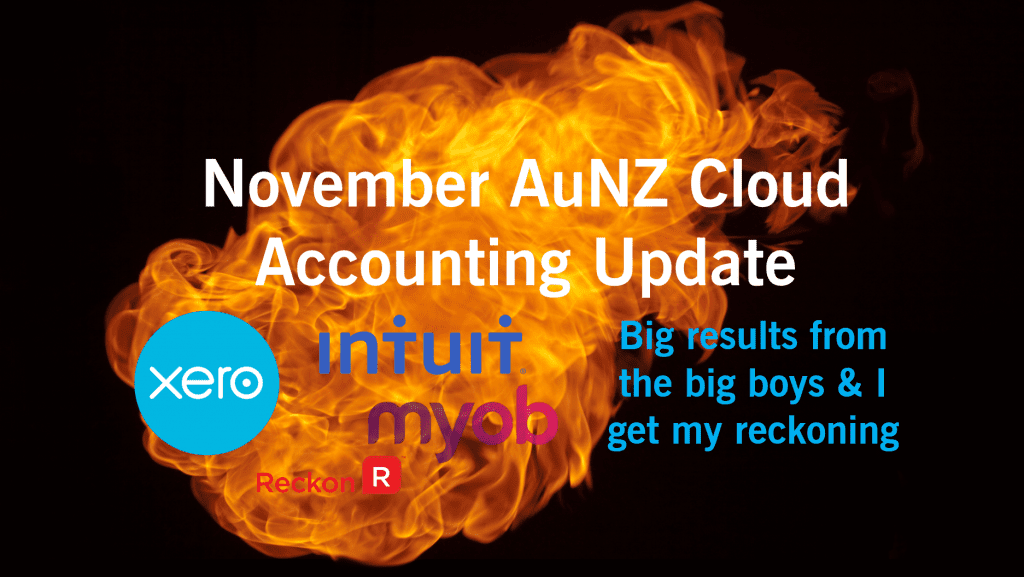 Its been another busy month on the AuNZ Cloud Accounting scene. Conference season is over as the festive season approaches. From the big boys we've seen published results and investor days, staff changes and continued growth. And I managed to sit down with Daniel Rabie from Reckon to discuss my beef with their strategy.
Xero HY17 results
This month saw Xero deliver their half yearly update and impressively, an acceleration in subscriber growth.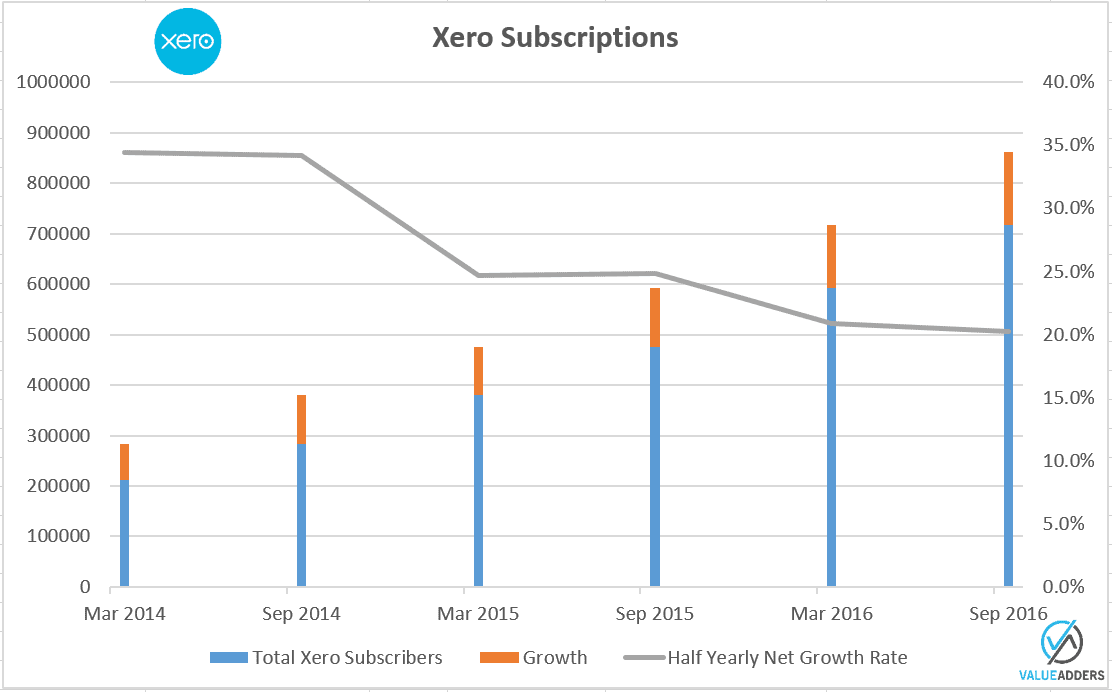 Some highlights for me include:
862,000 subs as at September 30
Equates to 145,000 subs added in the half (cf 124,000 2H16 and 118,000 SPLY)
Translates to adding just under 800 subs NET per day (cf ~680/day 2H16)
At the start of the year I predicted 1m subs by December 31, it looks like they will miss that and finish the year (on current run rate), at ~910,000 subs
AuNZ remains very strong for Xero as they consolidated their dominate leader position, despite a premium price and hefty discounting by competitors. These markets continue to lead the world in Cloud Accounting adoption and Xero continue to compete very well with Intuit (and others) outside North America.
My eyebrow was raised a little by the fact the UK (31k), North America (15k) & the Rest of The World (5k) all reported the EXACT same growth in subs as the previous half. My mathematical mind thinks the probability of this would be EXTREMELY low, so smells the possibility of some rounding (dare I say up) in arriving at these numbers (or a mistake in someone's spreadsheet formula).
I love the fact that Xero remain very open on their SaaS metrics and only wish others started to report Churn, CAC, ACMR and LTV.
Intuit Q117 results
Intuit (who run a July 31 financial year end), reported their Q117 results hot on the heels of Xero's 1H17 announcement. Despite its relatively small existing revenue input (<7% of Intuit's total revenue), QBo remains the selling point for the future company valuation to investors. And the numbers do look impressive: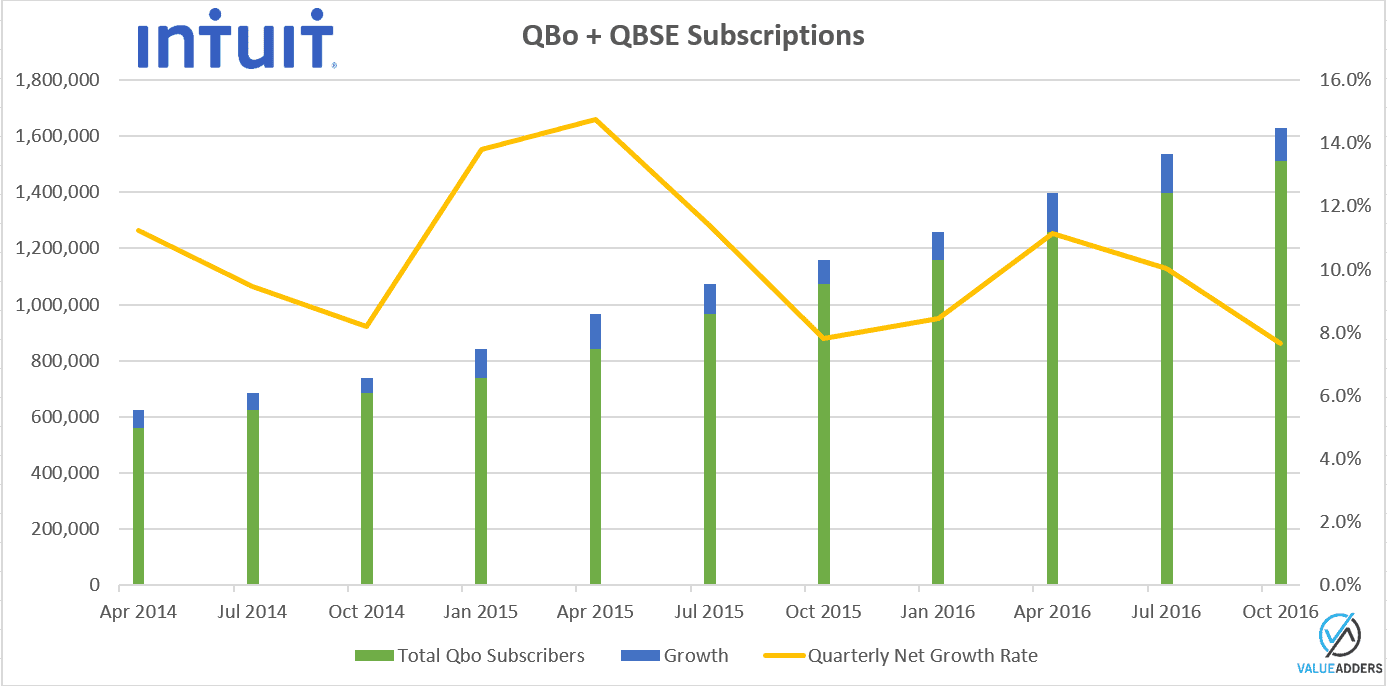 1,638,000 subs as at October 30 (across QBo and QBSE)
Equates to 241,000 subs added in the last 6 months (cf 280,000 in the previous 6 months & 182,000 SPLY)
Translates to adding just under 1,325 subs NET per day (cf ~1,530/day for the previous 6 months)
Intuit will finish the calendar year with ~1.72m subs
Interestingly QBD (Desktop), grew 23% in the quarter, as Windows & MacOS platform upgrades saw a significant increase in existing QBD customers needing upgrades. #NiceCa$hCow (should we expect the same for Reckon & MYOB in our region?)
Xero vs Intuit – the worldwide play
Unfortunately the weird alignment of the Intuit year end, means we don't ever get same point in time alignment with Xero results, but we can get a fairly accurate state of affairs using these two recent results and some projections on the Xero numbers based on run rate.
As at October 31 2016, Subs: ~886k Xero vs Intuit QBo + QBSE ~1,638k
A couple of throw-aways:
Strategically, Intuit are looking down at the growing "self-employed", micro-business market. Xero outwardly, seem more attracted to the lower churn, higher revenue, higher margin with the medium end of the SME market.
The UK, where it is suggested (by Intuit) that only 25% of the TAM has retail accounting software presently, is a real growth engine of the world market, with upcoming digitisation of taxation creating serious momentum for all players. It is going to be interesting to see Sage's numbers which are announced tomorrow and how transparent they'll be. They'd want to be competing well with both Xero (who have ~170k as at October 30) and Intuit (~71k) who are both aggressive in Sage's home market.
Big changes at Xero
Early in the month Xero confirmed some big rumours that I mentioned in last month's edition:
CMO/CRO, Andy Lark, gone
Russ Fujioka, US head, gone
US San Fran. office, gone – (Stop Press: this may not be accurate, San Fran *MAY* stay open as a "hub" with Denver the future of "operational investment – TBC)
Just sayin', follow me on twitter and you'll get the inside word:
The after hours talk at #QBConnect among delegates & exhibitors last night: BIG staff changes at $MYO & $XRO neither has formally announced!

— Matt Paff (@mattpaff) October 25, 2016
MYOB remain tight lipped
Whilst Xero were quick to announce their departures (obviously as a result of my article and tweets, obviously…), MYOB still have not formally announced the impending departures of some key staff. I have it on extremely good authority that there are departures pending and to narrow it down, it is of key senior product & development related staff. I think the market deserves to know, formally.
MYOB do a good job with investors
MYOB continue to do a very good job at convincing investors of their strategy, market position and future. The fact is the current capital value is around a 5X multiple on the acquisition price Archer paid to delist MYOB in 2008 and a 2X multiple on what Bain paid to buy it off Archer in 2011. Regardless of what you may think of MYOB, you have to give credit to Tim Reed & co.
This month's investor day focused on the power of the MYOB brand and quoted research from a little-known company on how dominant the MYOB brand is in Australia. That's all well and good, but Google trends paints a different picture: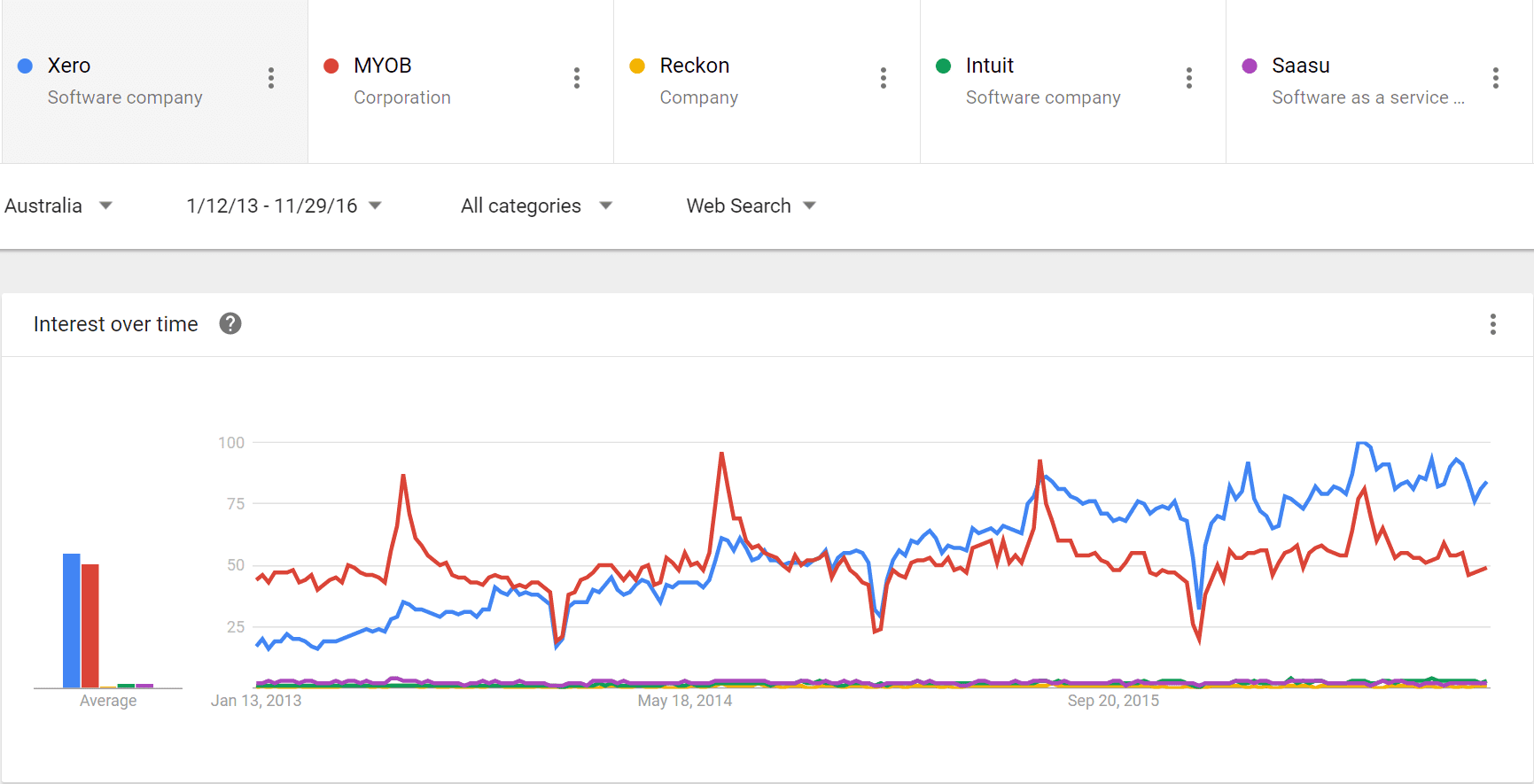 My Reckoning
Kudos to Daniel Rabie (Reckon COO) for reaching out and sitting down for a coffee to discuss Reckon's (dare I say perilous) market position and strategy. Daniel asked me for brutal honesty and, as you would expect, that's what I gave.
As I have said publicly before, I feel for Reckon's circumstances. In the process of moving from distributor to developer and changing brand identity, they hit a hurdle with the death of Microsoft Silverlight (which was the original platform for ReckonOne) and were swamped by the arrival of Xero (both in SME software and practice management) and Intuit with the brand that Reckon had once been synonymous with, QuickBooks.
But publicly I have been critical of Reckon and their strategy to compete on price with ReckonOne. I've also been critical of APS and their slowness to cloud and diminishing marketshare. I also can't for the life of me understand why Intuit & Reckon couldn't have done a deal – the money Intuit are spending on growing marketshare with QBo in Australia, logically would have been far better invested just buying Reckon. Plus Intuit will struggle to compete with the likes of Xero and MYOB in AuNZ due to a lack of Accountant-side tools, something Reckon did very well.
They are that couple that probably should not have divorced. 
They just should have worked out a way to come together (i.e a way for Reckon shareholders to get some value out of an Intuit acquisition).
Daniel explained an absolute focus on shareholder value and reiterated there are 3 divisions (Small business, Practice Management & Document Management) – despite most commentators thinking they only have one.
The ReckonOne strategy: micro-business and the growing opportunity created by the rise of the gig economy. ReckonOne is not a replacement for Reckon Accounts (QuickBooks Desktop) or hosted per se, it's a new product for a new, growing market segment. One that has huge customer acquisition potential and one Reckon, as a relatively small company, feel they can carve out a decent share. One which is price sensitive.
And then on APS, yep, they are losing the small to medium end of the accounting practice market to Xero and others, BUT their focus is "the top 200". They feel they have a deep offering that has no cloud equivalent. They will cloudify key elements in time, on a best fit for cloud basis.
And on Intuit, it was about alignment and agreement on value.
In summary, I empathise with Reckon's position but still question their strategy. I now understand it a bit more. Personally in Reckon's position (with its small business division) I would prefer to compete on niche and not price. I would go for higher value, lower user numbers, lower churn and attack verticals where they are already strong (Reckon has a decent marketshare with Reckon Accounts in the NFP sectors like aged care for example). This sort of strategy seems to be working for Exact (https://www.exact.com/uk/). But the fact is the micro-business strategy has been validated by Macquarie, so what do I know…
_____
For more commentary by the author on Biztech: