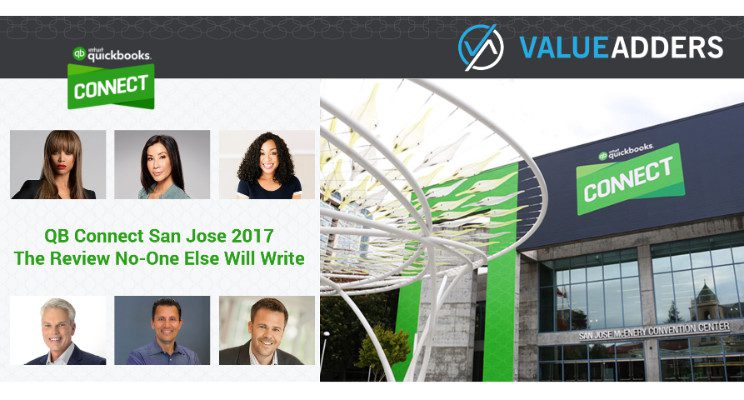 This article continues on from Part 1 from last week.
Whilst in Part 1 I reviewed the "big nuggets" from the Smarter QuickBooks messaging from QB Connect, this week I reflect on my own takeaways from the event and my "access all areas" pass.
The World Event…
An American, a Canadian, an Aussie, an Englishman and an Indian walk into a bar… No, its not a joke, its QB Connect 2017. The bar was the Fairmont San Jose and the topic of conversation was typically accounting and accounting technology.
This year's QB Connect saw Accountants, Bookkeepers, Technologists, Media and "Influencers" from the key 5 Intuit markets come together making the event a Cloud Accounting educational, networking and social media event like no other. With competitors running regional events, this event, is perhaps the best opportunity to meet interesting, intelligent, inspiring people from around the globe.
Combine this with a wide range of globally sourced speakers, QB Connect content offers genuine diversity of thought (even if tied by common themes of: value pricing; cloud-everything; apps; automation; "the shift to advisory services"; yadda, yadda yadda). Add to this, the app vendors from the 4 corners, all eager to grab a slice of the 2m QBo customers in the US market, I can only award QB Connect the "World Event" on the Cloud Accounting calendar.
Perhaps… the absence of the French and Brazilian contingent this year, talks to the difficulties (and false starts) Intuit have had in these two markets.
Perhaps… we'll start to see even more countries represented at this event in the future as Intuit ramp up new markets such as South Africa and South East Asia?
Perhaps… the growing regional QB Connect events will see the demise of the BIG world event? I hope not!
QB Assistant
At QB Connect 2016, Intuit showed a video of a a business owner in the back of a Tesla Uber/Lyft, talking to her QuickBooks as she might her Bookkeeper or Accountant. This was a "future state", but not too distant as the car still had a driver…
Well, that future state appears to be here… and they were right, they beat the autonomous vehicles. QB Assistant is a chat bot for your QuickBooks Online. It is a functional, natural language interface for your business system. Offering voice or text activated reporting. "How are my sales tracking this month?". "Compared to last year?"…etc
The plans are grandiose, from the simple: building it out to include application Help; to offering QB Assistant up as a service for other developers to plug into and enhance their own apps.
Perhaps… those accountants thinking a vanilla flavoured report pack is all they need to "transition to advisory", might be best to consider the longevity of such a service, if a fully mobile, interactive reporting interface already exists in the accounting system.
Perhaps… Sasan will have been none-too-impressed that his live demo on the big stage failed. Hey, its early days, but the recovery was swift and effective!
#1 Place to work
The day prior to QB Connect commencing, I was fortunate enough to be invited on a tour with other guests, of Intuit's Mountain View "campus". Apart from being neighbours with Google, one can't help but be impressed by the Silicon Valley environs. Basketball courts, bicycles, amphitheatre, subsidised healthy eating… more than one person commented, "if there were beds, you'd never leave work".
As part of the VIP treatment, amongst other presentations, we were provided updates from the 4 key international markets. A common theme, Intuit being award #1 (or 2) place to work in almost all of these markets, in some form of employer of choice award.
Employee engagement is at the heart of every, decent, modern company. If employees are happy and engaged, you tend to make great things happen, including happy customers. You save money on recruitment and you form better relationships with partners through consistency. Striving for these sort of awards not only seems common place in the accounting tech industry, it makes a lot of business sense.
Perhaps… One can't help but juxtapose the #IntuitLife, award winning culture with the fact there has been a lot familiar faces at the past QB Connect San Jose's, not at this year's event. Those notably absent included:
Jim McGinnis, former VP
Karen Peacock, former SVP Small Business
Vinay Pai, former VP Intuit Developer Platform
Chris Repetto, former Director of Global Communications
Jackie Brian, former Global Head of Strategic Partnerships
Yugal Sachdev, former Head of Sales for Intuit India…
As already mentioned, also absent from the 2017 edition of the VIP day vs 2016 was the presence of Intuit France and Brazil, who both have new heads "in training".
But perhaps… As a percentage of the almost 10,000 employees, those named above are a small number….
And perhaps…Sometimes change is needed to improve culture….
Practice Management – the key battleground
The readers from down-under will be well aware of the action taking place in the Accountant's Practice Management space at the moment. The largest player in MYOB, just acquired (subject to Competition Commission in Australia & New Zealand approval) the assets of the second largest player Reckon.
Sage keep promising their Salesforce based practice management solution is coming (have been for some time, note the video says calendar year 2016 release!).
CCH seem to be struggling with iFirm, given their recent partnership with Xero around iKnow.
Xero are really ramping up the Practice Management play with significant enhancements (on top of iKnow integration), a comprehensive solution with Tax and Workpapers (in Australia) and with first-to-market integrated messaging with 3rd party apps such as Practice Ignition, Spotlight Reporting and Now Infinity.
I will remember QB Connect 2017 particularly as the event in which Intuit stated their intentions in this space. Global Accountant Segment Leader at Intuit Rich Preece, was emphatic that his team were almost exclusively focused on building out QBoA (QuickBooks Online Accountant). They are adding functionality constantly (QBoA Work and Projects both recent enhancements testify to this). They too are jumping on the messaging from 3rd parties bandwagon. And opening up their APIs so they can get Tax relationships in each of the key markets.
They're not going after "the big 4", but they do intend on having significant, free functionality for accountant's and bookkeepers to run their practice. The integration between the "Trello-esque" QBoA Work board (above) and individual client data files and functions, is very sexy, but very reminiscent of what we've seen from Xero and MYOB already.
For me, Xero HQ, MYOB Dashboard and QBoA are all racing to the same ends. Sage will need to play a different game to compete (which is what Karbon and the likes of Jetpack Workflow are doing). Xero has a significant head start. MYOB has a significant installed base to leverage. Intuit has a significant amount of resources they can throw at it, but are starting (in Australia anyway) from a long way behind.
Perhaps… the ACCC will block the MYOB acquisition of Reckon Accountant's division. If this is the case, they will not have done their homework on the disruption happening in this space!
Perhaps… I wish I developed a cloud-based tax solution over the last 5 years. Surely the likes of Lodgeit are licking their lips at the offers of partnership and acquisition rolling in (from the likes of Intuit, Karbon, Sage, Jetpack, Greatsoft etc) now and over the next 12 months!
Perhaps… I think it was Rich Preece who made the comment that Accountant's and Bookkeepers were Intuit's partners, not their customers… I think it will take a customer-centric mindset to compete in this space.
App Vendors
With 77 sponsored exhibitors and 10 "$100k App show-down" vendors, this was the first year by my calculations that QB Connect US outdid Xerocon Australia for ecosystem exhibitors.
Perhaps… this is an indicator of the relationships both Xero and Intuit now have with their ecosystem..?
Perhaps…this is the US market maturing and recognising the value of apps – something the Aussies and Kiwis did long ago..?
Perhaps… blockading the doors to the exhibition hall with security and not letting anyone in on the accountants' day was a rather naive and silly move.
In Summary
I've been attending major Accounting Technology events in Australia and the US for the last 5 years. I attend to learn about the companies I write about, but I must admit my biggest takeaways are always those which I learn about myself and the industry I thought I knew (and how many more books I need to find time to read).
Intuit's event does stand out as a major event in world accounting tech. As much for the bringing together of people from diverse geographies and backgrounds, as for the high quality content served up and openness of the company (at all levels) to engage with partners, customers and us "others". I do hope Intuit continue with the event, rather than shifting to regional ones. Time will tell.
Intuit are playing a BIG game. Sholto's article is a great summary of how big. I think if they can nail SME loans, even if only in the US, they will have the revenue model to continue to focus on aggressive growth, rather than monetisation of the individual subscriptions in the broader, world market – for as long as competition regulators remain ignorant to their predatory pricing strategies… what? Too cheeky? 🙂
___
So ends my QB Connect San Jose 2017 review.
Follow me on the socials for more, particularly antipodean, commentary on #CloudAccounting #Biztech
Follow On Twitter: https://twitter.com/mattpaff 
Follow on LinkedIn: https://www.linkedin.com/company/6632644/
Follow on Medium: https://medium.com/@mattpaff