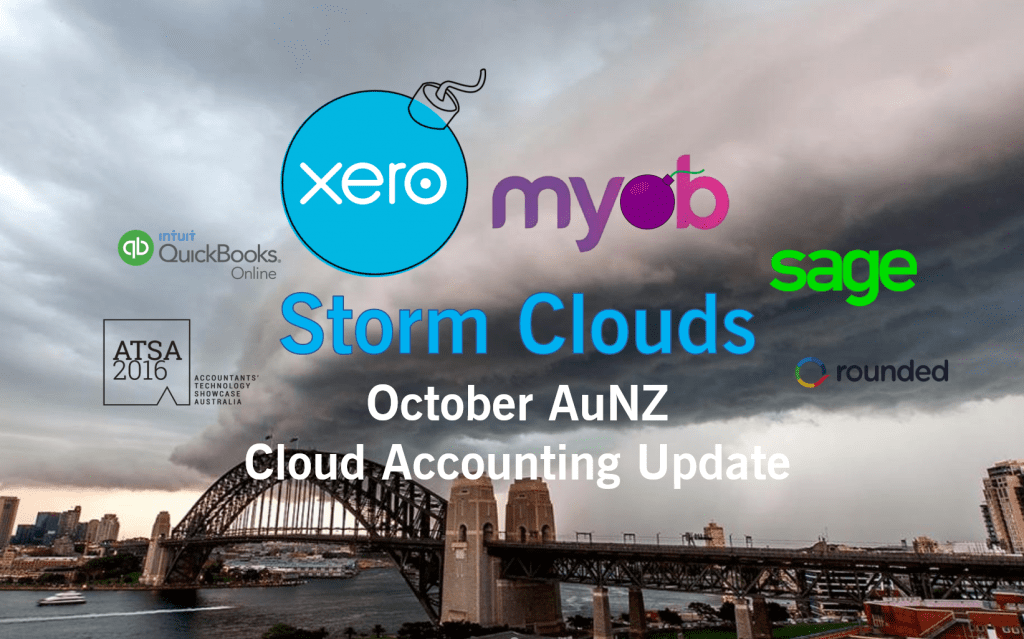 I've taken the crazy step to post this month's AuNZ Cloud Accounting update on a weekend – a social media no-go zone/black hole for content. There's just going to be too much to write about over the coming days and weeks, I just had to get this out today!

This month's update comes to you from North America, where I've just been to the QuickBooks Connect conference in San Jose, California (article this coming week). Even on the other side of the world at a competitor's conference THE BIG NEWS stories doing the rounds among delegates & exhibitors concern both MYOB & Xero, neither of whom have said anything publicly as yet.
Look for Xero to announce to the ASX/NZE, a couple of BIG departures with their 1H17 results due this coming Thursday November 3. There's another strong rumour on changes to Xero's operations in the US as well.
I look forward to how the stories are explained. My guess, strong results in the UK and "emerging markets", combined with big inroads on ca$h flow, will be used to bury what are potentially damaging announcements. If the full rumours are true, my take with a few days consideration, is the long-term impact on how cash flow is invested, results, and company culture are probably going to be positive for the continued growth of the company and move towards self-sustainability.
Whilst the rumoured departure from MYOB may not have the same market impact as Xero's, the person in question is very well respected and considered by many in the know, a key reason MYOB are still in the game in Australia.
Expect an announcement laced with "sad to see him/her go", "leaving to pursue [his/her] own opportunities", "we'd like to thank [insert here] for [his/her] contribution…". The real reasons are less fluffy and a little more personal.
Wow, so far, this month's update reads like a trashy tabloid gossip column…I better find some news I can write about:
Whilst over the next few days I'll publish my "QB Connect 2016 – the review no-one else will write", some big news is the announcement of QB Connect Australia in May 2017.
Intuit have a different approach to their conferences from the likes of Xero and MYOB. Expect more for the Joe Public small business owner, than a focus on Partners. Expect celebrity speakers talking about how hardwork and unwavering belief lead to their achievements. Don't expect a massive focus on the QuickBooks Online product and feature roadmap. I look forward to seeing how this unfolds over the next 6 months.
Whilst on Intuit, this week saw the official launch of QB Self-Employed in Australia. In a world first, Self-Employed is only available in the Apple App Store & Google Play, with no browser access!
At $5/month, the app is for Non-GST registered, micro-businesses, with bank feeds, simple separation of personal and business transactions, basic invoicing and the highlight: automatic driving logbook.
As I will discuss in my QB Connect article, Intuit have a massive target on the "gig" economy and the worldwide trend towards a transient, self-employed workforce. It is going to be interesting to see how this space plays out, with the likes of Rounded (a great local aussie start-up), MYOB Essentials, SageOne, even Invoices2Go and ReckonOne, all playing in and around this micro-business space.
Whilst my North American reconnaissance meant I wasn't able to be there, no self-righteous AuNZ Cloud Accounting blog could overlook ATSA. I've checked in with my spies and scoured social media to find out how it all went. I've bodgied up a word cloud of the key themes:
A stand-out from discussions for me, might be Sage, who only a couple of years ago were the cloud-deniers of the industry. I remember a panel in 2014 I think, with the likes of Tim Reed (MYOB), Chris Ridd (Xero), Sam Allert (Reckon APS) and Alan Osrin (MD Sage Australia). Chris, as you would expect, was at one extreme "…its all about Cloud". Alan the polar opposite, Sage didn't think much of "the Cloud".
Now the same team are out to convince us that Sage is all-in on cloud through their partnership with Salesforce… "Leap frogging"… Somehow I find Stephen Kelly (worldwide CEO) more convincing than an Australian division full of the same "old faces", spinning a diametrically opposed message to one they so strongly believed before…
Too harsh? Am I wrong? Did my spies miss something profound at ATSA? Anything else I missed for October? Please feel free to comment below.
Coming Up In November
Xero 1H17 results – November 3
Intuit First Quarter 2017 results – November 17
MYOB "Deep Dive Investor Day" – November 25
Sage Group FY16 Results – November 30
_____
For more commentary by the author on Biztech: