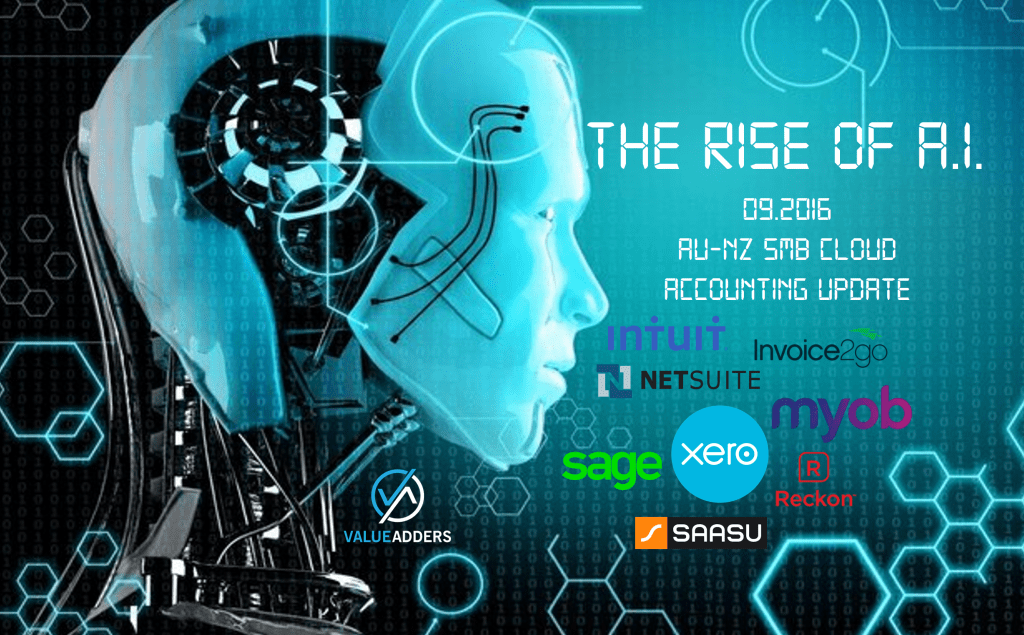 September 2016 AuNZ Cloud Accounting Update
Mark September 2016 in your calendars. It was the month when Artificial Intelligence (AI) officially went mainstream in SMB accounting tech. This month saw #XeroCon South in Brisbane and the MYOB Partner Conference Roadshow across AuNZ, both raising the future of "coding free data entry".

The Intuit Investor Day update last week, similarly covered "machine learning" at the centre of its developments around "Data-Driven Innovation".
AI means auto-matching of banking transactions to sub-ledger transactions (eg the application auto allocates a payment to a customer invoice without human intervention). It also delivers auto-coding of banking transaction to GL Expense/Revenue accounts based on what can be deduced from the transactions details, as well invoice lines based on the text description. As Rod Drury put it at XeroCon, "its got to the point where a machine is better at coding than a small business owner".
XeroCon (which I covered off in my previous post), also demonstrated Hello Xero, the Facebook Messenger chatbot and Amazon Alexa (voice) bot interaction. Sage showcased similar bot innovations at their conference in late July.
 All-in-all, the future has arrived…on top of mobility and the crowd-sourcing of contact details demoed at XeroCon, the arrival of AI sees the beginning of the real, tangible departure of Cloud Accounting from its desktop accounting roots
…and perhaps one might conclude, the imminent decline/demise(?) of traditional bookkeeping (note I have bolded and italicised traditional).
Intuit Announces 53k QBo subscriptions in Australia
As part of their Investor Day update, Intuit broke out the "Total Addressible Market" (TAM) by region and provided detail on their existing subs.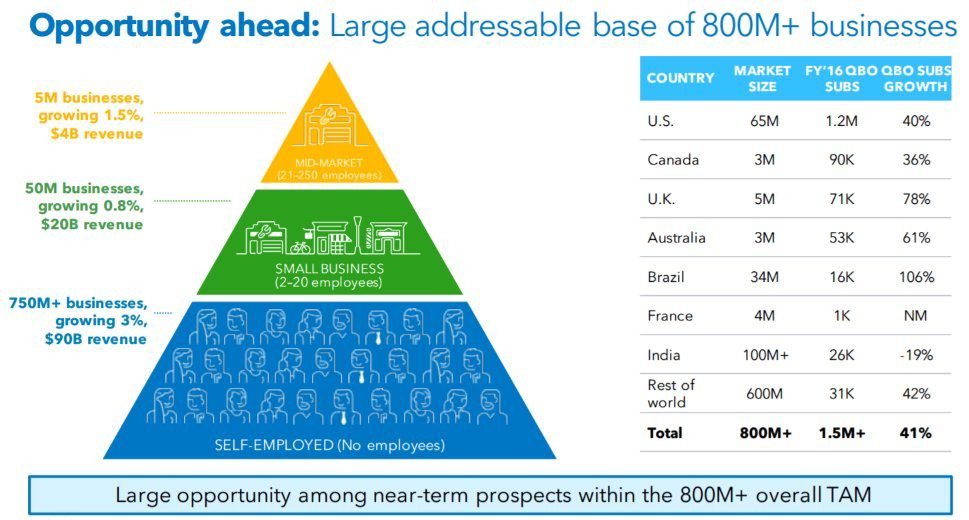 Critiquing the numbers:
3m TAM in Australia seems over stated to me. I might suggest it is closer to 2m, based on ABS stats.
I query how many of the 53,000 subs in Australia are active, given the Intuit partner promos of 10 for $10 and 5 for $5 earlier in the year?
Partly due to the above, I'd love to know the Australian Average Revenue Per User (ARPU)
On a positive note, there was a lot (for investors, partners, even clients) to like in the Intuit Investor Day deck. Here's a BIG company executing on a BIG strategy. One line stood out for me, on the top of their Priorities:
"Win worldwide with QBO Ecosystem: grow the total addressable market & share faster than rivals"
In one sentence, a couple of key points are made:
QBo is not just an application, its a platform with the world's biggest ecosystem of add-ons (despite their very late, reactionary start on this front)
And whilst in isolation Intuit's strategy in Australia (to practically buy marketshare, regardless of the short-to-medium term economics) seems odd, given our small market size and the dominance of Xero and MYOB, ultimately their play here is explained in that one line. It is a statement aimed clearly at Xero: "Game on – you can have New Zealand but elsewhere ain't going to be so easy!" and MYOB "hey, good luck with the AuNZ focus, but we're going to use worldwide scale to out innovate you"
The conference season in full swing
This month saw XeroCon and MYOB PC. Before the month wraps up we see Netsuite Suite Connect in Sydney on Thursday. And then, there's plenty of the AuNZ contingent heading over to the US for either or both:
QB Connect – can they top Oprah with Michael Phelps, Shaq & Eva Longoria? I'll let you know
Accountex (aka SleeterCon) – new name, missing one very notable vendor, Intuit, which is a big deal, because this conference started as a effectively a Pro Advisor conference…
Invitbox..?
Rumours have it Intuit are searching for a buyer for Invitbox. This is/was a popular "ecosystem" partner for Xero (before the Intuit acquisition) & QBo, particularly in the hospitality sector here in Sydney (given that hospitality was its origins). The acquisition seems to have been more IP related (to embed Invitbox-style OCR stripping into TurboTax, QB Self-Employed and maybe QBo?) than for the business itself.
The website currently states no new registrations, and word has it the company will either be sold off or shut-down over the next 6 months.
Big Launch, Big Budget, Small product
Word on the street has it that one of the major vendors is preparing for a BIG budget launch of a small new app to the Australian market next month. The new product appears to be a "shot-across-the-bow" at the NSW Central Coast success story, P.E. backed Invoice2Go. #watchthisspace
MYOB launches a new logo
Whilst it hasn't found its way to social media and their website yet, MYOB launched a new logo at their Partner Connect roadshows. I'm not sure what I pink, I mean think: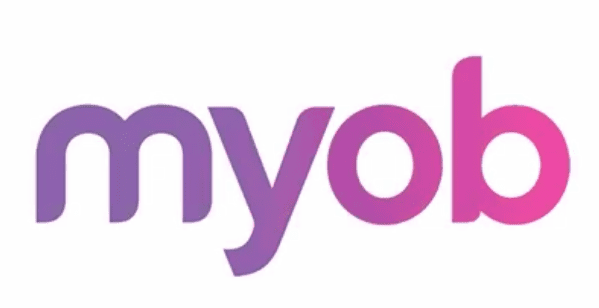 Almost everyone's doing PayPal
It seems most SMB Cloud Accounting vendors now have a tight relationship with PayPal. From QBo to Xero, Reckon to Saasu – it seems the partnerships team at PayPal have been very busy.
Remembering MYOB have partnered with Mint for their own PayDirect solution, so PayPal may not be a priority for them.
I Reckon that's not so Intelligent
One of my tweets during the month questioning an article on the Intelligent Investor website that suggested Reckon might be a good investment given the "value" of the "Practice Management segment" created quite a reaction.
Do some more digging Jon @value_investing & you will find the APS division ain't doin' so well #RevenueNotFullStory https://t.co/DdfjVF2dAI

— Matt Paff (@mattpaff) September 18, 2016
A part from a response from Rod Drury that "stand alone accountant-side tools are trending to zero $", I received a number of phone calls, direct messages and emails from people (not wanting to publically say it) but agreeing with me that the APS division on paper is probably not reflecting market sentiment.
Revenue is only one side of the story. Marketshare, customer sentiment, client acquisition, retention, attachment, competitive landscape, product relative to market, succession planning …there are other factors that will determine the future performance of the APS division. What I am hearing is on a whole, the Practice Management division isn't looking overly healthy…all I am saying is, I personally wouldn't be rushing to invest in Reckon in belief that the APS division will drive a decent growth for my investment.
SageOne launches on Optus Smart Shop
All the telcos are jumping on the app bandwagon. Telstra have partnered with AppDirect for their Telstra Marketplace. As have Spark in NZ with their Business Apps. Vodafone has their own marketplace. Now Optus has launched Optus Smart Shop. And Sage have jumped on board with Optus to offer SageOne.
Have I missed any news this month? Please comment below to add your thoughts or any newsworthy items.
___
For more commentary by the author on Biztech: