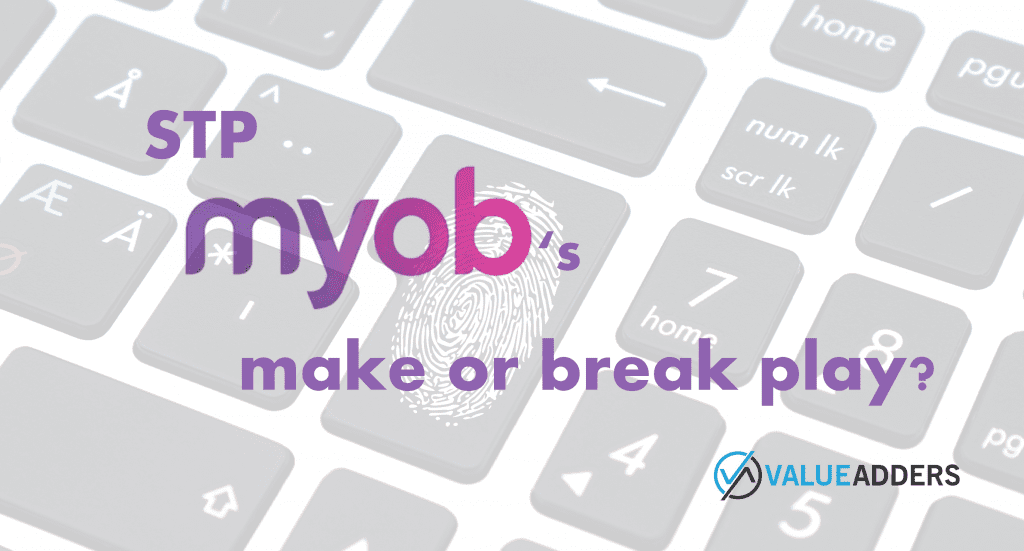 MYOB have a significant make or break play in market at the moment and few seem to be commenting on it. And I'm not talking about Practice Management and the abandonment of the the Reckon Accountant's division acquisition.
A history lesson
My story starts in 1982. Teleware, founded in the US by Chris Lee, develops the original MYOB solution for Mac. By the early 1990s, Brad Shofer and Xero director Craig Winkler, through their company Datatech, are distributing MYOB in Australia (recompiled off the same code base for Windows). Teleware is acquired by Best Software (now owned by Sage) and then Datatech acquire Teleware and the MYOB IP off Best Software. Datatech rename themselves MYOB, list on the ASX and the rest is history…
Bear with me, point coming… the reason for the history lesson, is the core MYOB code-base (MYOB Desktop – what many know as AccountRight and Premier – what I will refer to as MYOB Premier), sold in Australia over the past 3 decades has evolved from the original development in 1982.
The product known by most as MYOB AccountRight Live on the other hand, has no origins in the US and can exclusively be claimed as code developed for and by MYOB Australia. A hybrid, windows based, online and offline database solution, intentionally built to look and feel like the "old MYOB" to offer an upgrade path and be rid of the legacy code-base.

MYOB Premier, is/was a perpetual licence with optional paid upgrades and optional recurring maintenance/support business model. Upgrades have largely been driven by the integrated Payroll solution needing new tax scales and payment summary layouts etc every year.
MYOB AccountRight Live is a subscription only solution.
In Australia and New Zealand today, there are literally hundreds of thousands of active users of MYOB Premier, most of which purchased the software from the likes of Harvey Norman and have either not upgraded, or paid for upgrades as they go.
Then along comes Single Touch Payroll (STP). At MYOB Incite earlier in the year, MYOB announced that it WILL NOT be offering STP within the traditional MYOB Premier solution. They had arranged an STP deferral until 2019, for clients utilising the two, main features that exist in the "old" MYOB Premier solution that are still to be developed in AccountRight Live:
Multi-currency; and
Multi-Location Stock.
So, MYOB are drawing a line in the sand. Traditional desktop is dead and those MYOB Premier users with 20+ staff, using the inbuilt Payroll, who fall under the July 1 2018 implementation of STP umbrella have to make a choice:
Change their Payroll system and persist with an end of life solution; or
Take the cue, and move on from MYOB Premier altogether;
By ABS stats, there are more than 50,000 organisations in Australia that (have 20+ staff) need to comply with STP from July 1.
Of these, MYOB (AccountRight) Premier Desktop (old MYOB) is by far and away the dominant business system in use. By my estimate, half of all organisations in this space, (25-30,000 organisations).
That is A LOT of decent sized businesses considering their business system over the next little bit.
What's in a name?
To help muddy the waters (in their favour) MYOB have performed a sleight of hand, renaming their product suite:
MYOB Desktop – AccountRight & Premier is now known as AccountRight v19 (and before).
MYOB AccountRight Live is now known as AccountRight 2018.2. Live has been dropped, so as not to ward off the remaining laggards, I mean "anti-clouders" (noting 2018.2 CAN be run completely offline) AND in frankness, to more align this code base as the natural upgrade for the v19ers.
The questions
Is STP the catalyst that makes or breaks MYOB?
Is this going to accelerate the migration of the traditional desktop client base to Xero, QuickBooks Online, NetSuite etc?
Are there enough Value Added Resellers (VARs) in Australia to implement that many mid-market customers in a short window?
Is a customer really a customer if they pay you no money?
MyPOV
Yeah maybe; Yes definitely; Absolutely Not; No, not really.
If the majority of the Premier users don't pay them anything right now, even if they win a fraction over to:
AccountRight Live ($67-$100/month)
MYOB Advanced + People (hundreds – thousands per month) ; even
(eek Desktop) MYOB Exo (old school purchase, plus maintenance & implementation)
they win, from a revenue, margin, shareholder and investor perspective.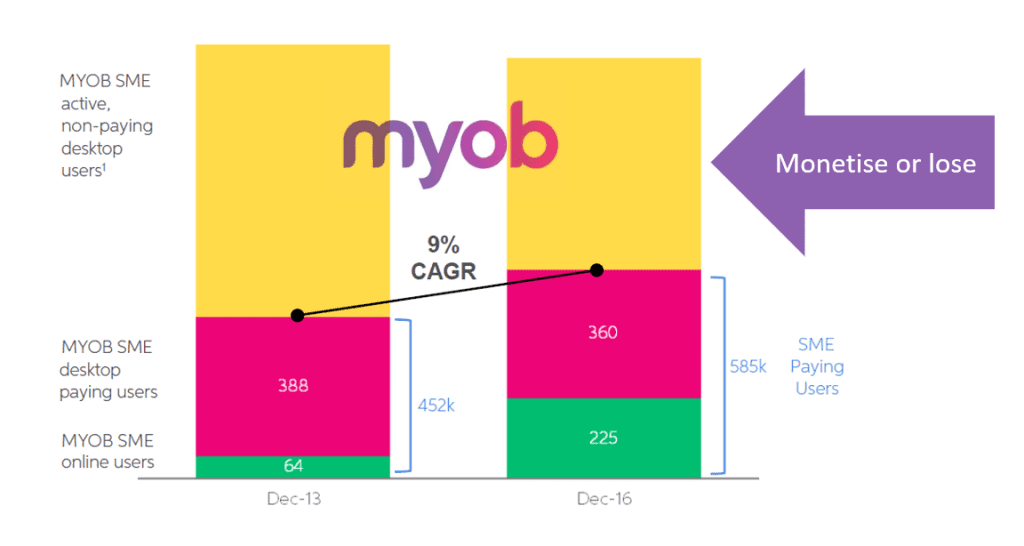 The en masse conversion of even a fraction of the MYOB Premier base will generate significant, new recurring revenues for MYOB. It will create a significant presence for MYOB Advanced + People. It will establish MYOB as genuinely owning the "mid-market" and actually, making money out of doing so.
Average Revenue Per Client and Customer Lifetime Value in shifting this remaining MYOB Premier base in the STP relevant space, is significantly higher than the existing revenues being generated from them right now. From hundreds to literally hundreds of thousands of dollars in Lifetime Value is the uplift opportunity. That in-and-of-itself offers MYOB a significant buffer and incentive to accelerate the conversion of its desktop client base, even if the majority go to competitors…
Nothing beats the Carrot and the Stick to change human behaviour. Is STP is the stick MYOB needed to shift these rusted on old users, that carrots alone could not move? Time will tell!
___
For more on Accounting, Payroll & HR tech:
Follow On Twitter: https://twitter.com/mattpaff  and https://twitter.com/valueadders
Follow our LinkedIn: https://www.linkedin.com/company/value-adders/
Like on Facebook: https://www.facebook.com/valueadders/
Follow on Medium: https://medium.com/@mattpaff