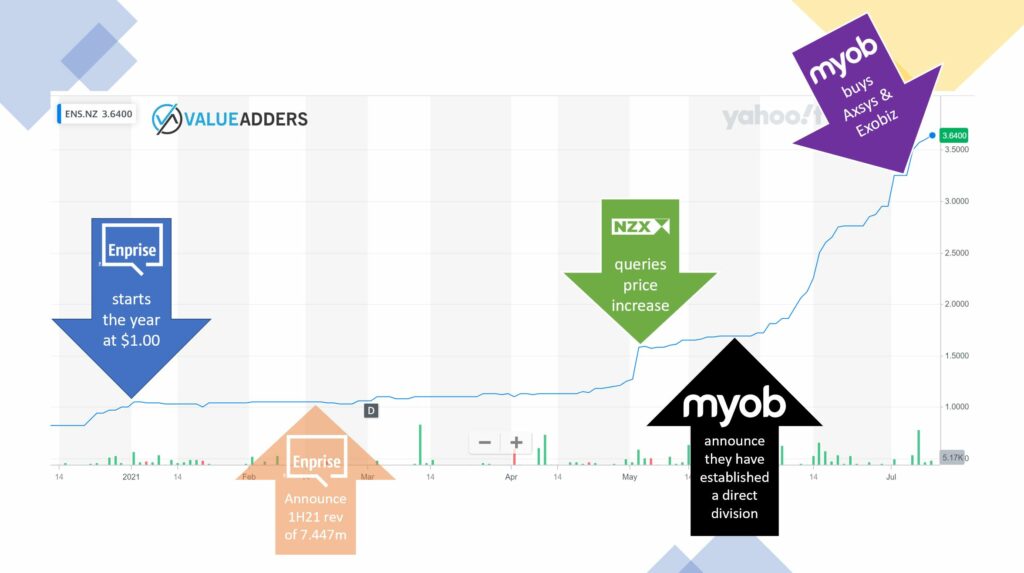 For those following along at home, MYOB announced in May the:
establishment of a direct organisation, MYOB will begin to sell, service and support MYOB Advanced customers

Extract from Partner email dated May 20 2021
Hybrid channel/direct models have become common place in Enterprise software. Salesforce, NetSuite, Sage and others use both channel direct sales and support in their go to market strategies. MYOB have themselves been here a couple of times before.
MYOB Enterprise – a history of direct
First, in the early 2000s, MYOB were shareholders in NetReturn, the original exclusive partner of NetSuite in Australia… Ironically it was NetSuite terminating NetReturn's exclusivity and coming direct to Australia, that led MYOB down the path to white-labelling Acumatica and launching MYOB Advanced.
Then, after buying back Exonet (which they had sold after acquiring Solution6), they set-up a direct MYOB Exo division around 2009… which didn't last long, with the 20 odd direct clients sold, given to partners within about a year.
This time they are serious…
The acquisition of two established partners announced earlier this month (Axsys and Exobiz), shows just how serious MYOB are this time around. Ironically, one of those partners, Exobiz was actually set-up as a direct Exonet division in the mid 2000s, before MYOB bought Exonet back!
So, where we are today is MYOB, now owned by KKR, have set-up a direct division and acquired two partner businesses with broad Australian coverage. Ultimately there's two ways to read this:
This is merely an acqui-hire, acquiring resources to run the direct division and "hit the ground running"; OR
Is channel not the future? Are MYOB under KKR actually serious about a hybrid model, or are they looking to go the way of the fellow PE owned, mid-market player The Access Group, who simply eliminated the Attache channel after purchase… The logic is solid for PE. As long as the business is perceived to be a software company, professional services revenue gets an inflated valuation, so if you can eliminate commissions and bring on professional services revenue, you can grow your enterprise value in preparation for exit…
Enprise – what's doing NZ RegCo?
Now, with this in mind, I want to shift focus to MYOB's largest enterprise partner, NZ stock exchange listed Enprise ($ENS.nz).
Best case scenario, there's two possibilities with for Enprise shareholders:
MYOB buy them, get a major direct presence in NZ and through Enprise's Kilimanjaro division, enhance their Australian direct presence;
MYOB don't buy them and they now compete with MYOB on sales and support…
The market has already decided… MYOB is going to buy them and will pay overs in the process.
Enprise's share price is up 264% in 2021 so far. After starting the year at $1.00 neat, they hit $3.64 on Friday. Check out this timeline and share price movement and draw your own conclusions before I do: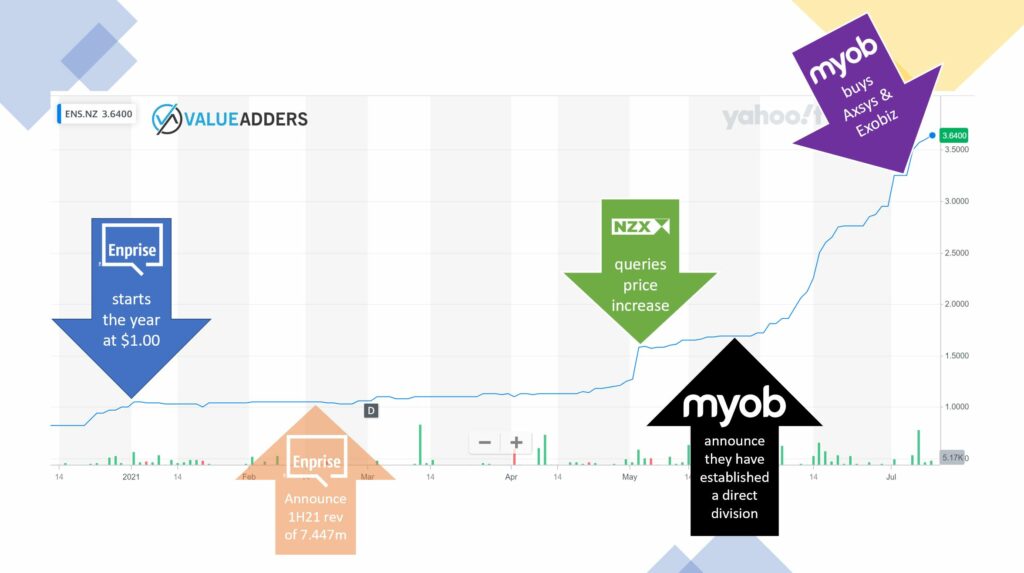 Enprise have still made no official statement about discussions with MYOB or the impact MYOB's direct division has on their future.
On May 4, Enprise published its response to a price query from NZ RegCo…nothing to see here:
16 days later, MYOB announce a direct division – an announcement that in all logic should have negatively impacted Enprise's share price. The share price has basically tripled since then, with no further queries.
On share price movement alone, there is zero doubt in my mind that MYOB have been talking to Enprise about a take over.
At what price?
Let's compare the share prices of Enprise to JCurve (a similar sized, ASX listed competitor) since March (we can only speculate that conversations between MYOB and Enprise started around April). They are both primarily mid-market ERP, professional services firms. Enprise MYOB Exo and Advanced, JCurve NetSuite.
JCurve had a big start to 2021 but since March have gone backwards, but Enprise have been on an absolute tear: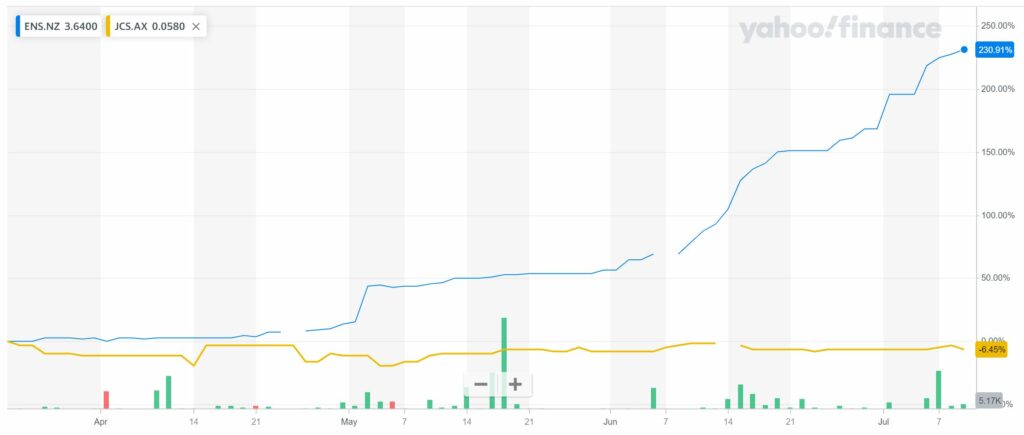 With a Market Cap of nearly $60m (~4X Revenue), Enprise is now an expensive acquisition… What premium to the market value would MYOB need to buy at to get Enprise shareholders to agree? 5X Rev.? Whatever the price it will be a massive number for a professional services firm, with substantial marginal labour costs.
The big questions (other than a continual disclosure enquiry)
So the big questions remain:
Are MYOB effectively being played because they will buy Enprise, in spite of the cost?
OR is this share price movement going to have a counter consequence? Here's 2 scenario's that could play out:
MYOB don't buy Enprise, because the numbers don't add up any more and they remain one of the few offical MYOB Enterprise partners; OR
Let's play PE hardball…. MYOB announces a cut to enterprise partner margin and an aggressive shift to direct first strategy, drives the share price of Enprise down and picks it up later than planned, but for a truckload cheaper, leaving those buying up in recent months screwed…
Normally in a battle between retail investors and Private Equity, I'd always bet on PE… where's the popcorn, let's see what the next few weeks bring!
---
For more on Cloud Accounting, Payroll, HR tech and ERP Follow On:
This blog: https://valueadders.com.au/articles
Twitter: https://twitter.com/mattpaff and https://twitter.com/valueadders
Follow our LinkedIn: https://www.linkedin.com/company/value-adders/
Like on Facebook: https://www.facebook.com/valueadders/
Follow on Medium: https://medium.com/@mattpaff
Or sign up to our occasional email newsletter: