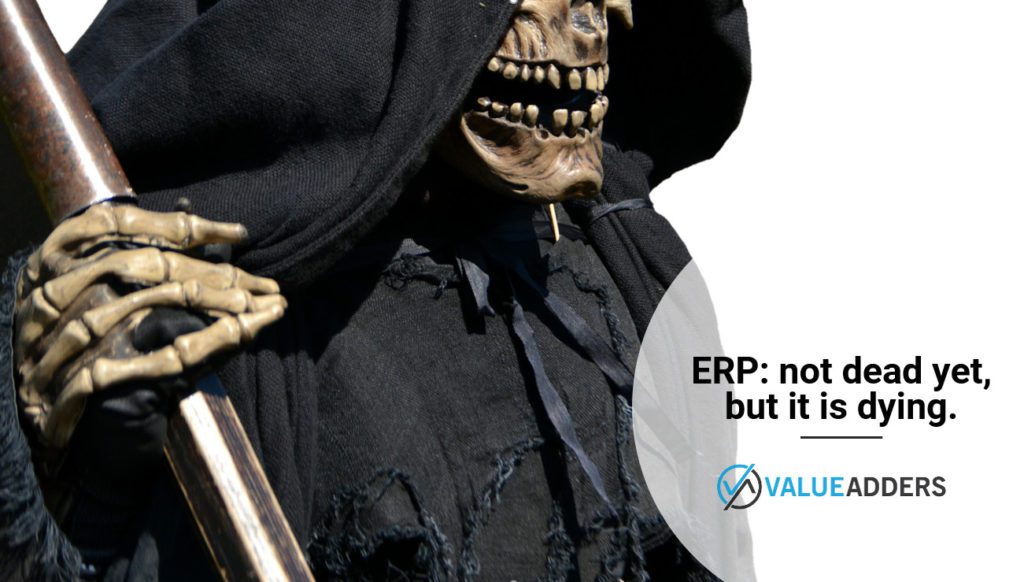 Many before me have tried to claim ERP is dead. Sage. Microsoft. And many more companies and individuals. Now its my turn and I offer a plausible alternative acronym to replace it.
The Bastardisation of ERP
It happens that definitions can change with time. Have you ever thought how it came to be that terrific, which comes from terror like horrific comes from horror, actually means practically the opposite of its original/literal meaning?
I think ERP is one of those words/acronyms, that has come to be understood in the market to mean something quite different to the dictionary definition.
If you Google ERP, you get a fairly broad ranging definition:

I'm not sure that definition matches the broader market perception of what ERP actually is. In practice, it has been my experience that ERP has come to be almost synonymous with the "Accounting and Finance System". ERP is often defined/perceived as the next step up from bookkeeping software. Built around a General Ledger system. Encompassing of purchasing, inventory management, job management and debtors. And typically distinct from Customer Relationship Management (CRM) and Human Capital Management (HCM).
In fact, I'm not the only one to have bandied around a graphic like the following over the years, explaining the enterprise software landscape: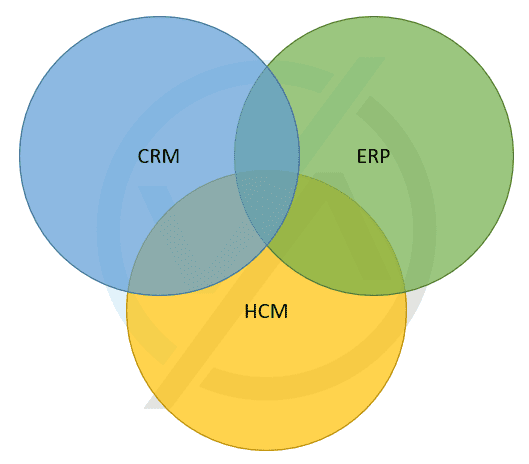 When you look at the dictionary definition of ERP, the above does not really gel as there is no specific exclusion of CRM nor HCM in the explanation of Enterprise Resource Planning. In fact, I'd argue the contrary:
"the management of all the information and resources involved in a company's operations by means of an integrated computer system."
How can you have "all the information" in an "integrated computer system" that excludes such big rocks as your people and your customers?
But alas, because so many systems that claim to be ERPs, don't actually have genuine CRM nor HCM functionality, the market definition of ERP has become bastardised, practically to the exclusion of HCM and CRM. Meaning, as I have stated, ERP is most often thought to be the accounting and finance system (extending to inventory, procurement, AR and job management), not your people nor customer management platform…
The Cloud and ERP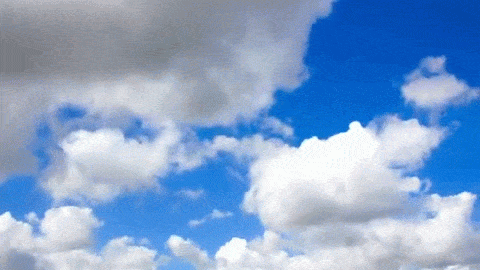 The market has been reframing the definition of ERP, whilst almost simultaneously, the Cloudification of the product offerings has drastically changed the technology on offer.
It began in the SME space with the bookkeeping/SME accounting solutions. We've seen Cloud grow past 50% adoption in the Australian market, with Xero leapfrogging MYOB as the dominant small business accounting system.
And its becoming the same in the mid-market to Enterprise space, with practically all CRM & HCM solutions now in the Cloud and whilst overall penetration remains relatively low, the highest selling ERP systems are now (finally and) unquestionably Cloud offerings.
This change has only become true in recent times. Whilst small businesses were selecting Cloud over Desktop in the majority around 5-7 years ago, I would suggest the Desktop accounting (ERP) application MYOB Exo would have been the highest selling ERP up until the last 2 years (when NetSuite probably surpassed it).
With the shift from Desktop to Cloud, comes a major shift in how the "ERP" solutions are packaged and go to market.
Arise the Enterprise Cloud Platform (ECP)
SQL, ODBC, OLEDB and CSV is being replaced by REST (with SOAP some where in between). Closed systems are replaced by open. Vendor distrust in and ignorance of third party enhancements have been replaced by "ecosystems" and API evangelists. External integration SDKs are being replaced by native developer toolkits and "app exchanges". Separate logins, data structures, security layers and user interfaces are being replaced by common UIs, common data stores, security and user management.
And who has lead this transformation? No doubt Salesforce has shown the way. A CRM system, not an ERP (in the bastardised sense of the word). With development tools and the "App Exchange", Salesforce have redefined Enterprise software.
Then there's NetSuite. The 22 years young, Cloud ERP with native CRM, custom objects and flexible UI, combined with "SuiteApp.com" add-ins (rather than add-ons).
I think these two products have given birth to a new product segment: the Enterprise Cloud Platform (ECP).

ECP is more than just the original and literal definition of ERP. Yes its about "management of all the information and resources involved in a company's operations by means of an integrated computer system", but it is more than that. Its the intersection of the Venn diagram above, combining ERP, CRM and HCM on a common platform. And the key is the word PLATFORM and I mean genuine PLATFORM, not just an API. Add-ins NOT Add-ons. A unified user interface, common data layer, common security and user profiles.
Salesforce is perhaps the first genuine ECP to have commercial success. Sure, Salesforce themselves don't have a GL, but FinancialForce, AccountingSeed, Kenandy and others all do, and they live INSIDE Salesforce, despite not being developed by Salesforce. A Salesforce user can get the ERP and HCM they need, inside of Salesforce and not external to it. Like an iPhone user can get practically any app, even if Apple didn't build it.
And so it goes. There's NetSuite. And Microsoft Dynamics 365. And Odoo. And Acumatica (MYOB Advanced). And the list keeps growing.
The bastardised ERP system market is dying and so too should the misused acronym. And its not just ECP that are killing it….
The Frankenstein, Integrated Best Of Breed System
The expanding SME ecosystem is a major threat to ERP. Lead by Xero, Intuit and for different reasons (not discussed here) Zoho, the integrated alternative to ERP is gaining more followers.
By opening up their APIs and encouraging add-ons (not necessarily add-ins), SME accounting software is expanding its reach. The modern company is able to build out it's own "Frankenstien" of user friendly, integrated business software. The Xero and Intuit add-ons landscape is massive and growing: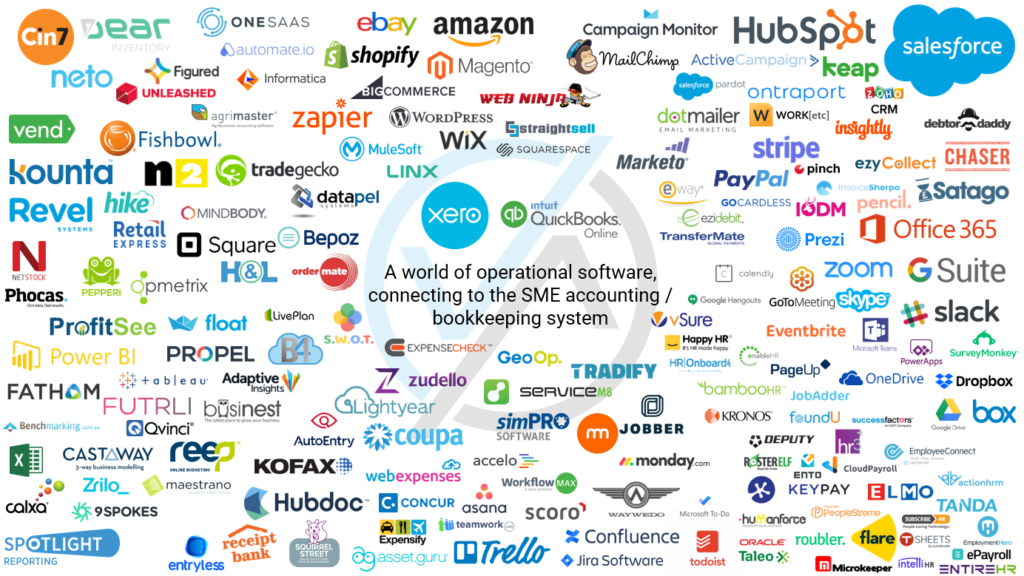 And many of these products offer enterprise level functionality, within specified verticals. Take inventory management, often a historical driver of progression from SME software to ERP. Now, the functionality can be found in systems that have no GL. No AP. No Bank Feeds. Just deep inventory functionality, with deep integration back to typically Xero or QuickBooks. And the end user can simply plug in these add-ons, without changing the accounting system.
As I reflected on in my article, Hey mid-market, get you head out of the sand, the user friendliness, pricing, and market leading functionality around bank feeds and auto-coding that you get with these of these "best of breed" solutions offers genuine alternatives to ERP.
And so I must clarify that I don't mean big and ugly when I say Frankenstein, I primarily mean assembled from multiple parts, integrated as "one system".
Now I am NOT saying here that SME software replaces ECP… but I am saying its a genuine alternative to traditional ERP and the Frankenstein business system has scalability well beyond the historical limitation of SME accounting tech. And so I do see every day of the week, decisions between ECP and best-of-breed SME being made.
In summary: why ERP is dying and why ECP is its replacement
ERP has been bastardised in its definition, through misuse in the market and the perceived separation from CRM and HCM.
ECP is the modern business system for Enterprise level businesses. These systems unify Accounting, Operations, CRM and HCM on the one platform, not necessarily by the one vendor.
Meanwhile, SME systems like Xero and QuickBooks Online continue to acquire and retain growing and larger customers, through their own expanding offerings AND particularly through their openness to, and encouragement of, an ecosystem of integrated vertical solutions.
All this spells an end to ERP as we know it. ERP is not dead yet, but it is dying.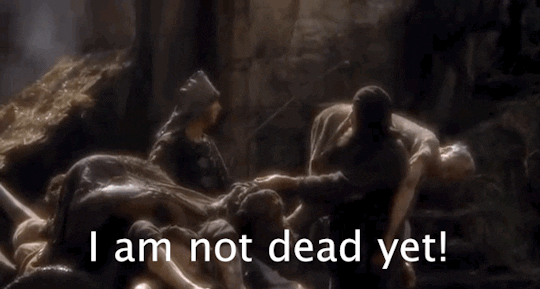 ___
For more on Cloud Accounting, Payroll, HR tech and ERP follow on:
Our blog: https://valueadders.com.au/articles/
Twitter: https://twitter.com/mattpaff and https://twitter.com/valueadders
Follow our LinkedIn: https://www.linkedin.com/company/value-adders/
Like on Facebook: https://www.facebook.com/valueadders/
Follow on Medium: https://medium.com/@mattpaff
Or sign up for our email newsletter: