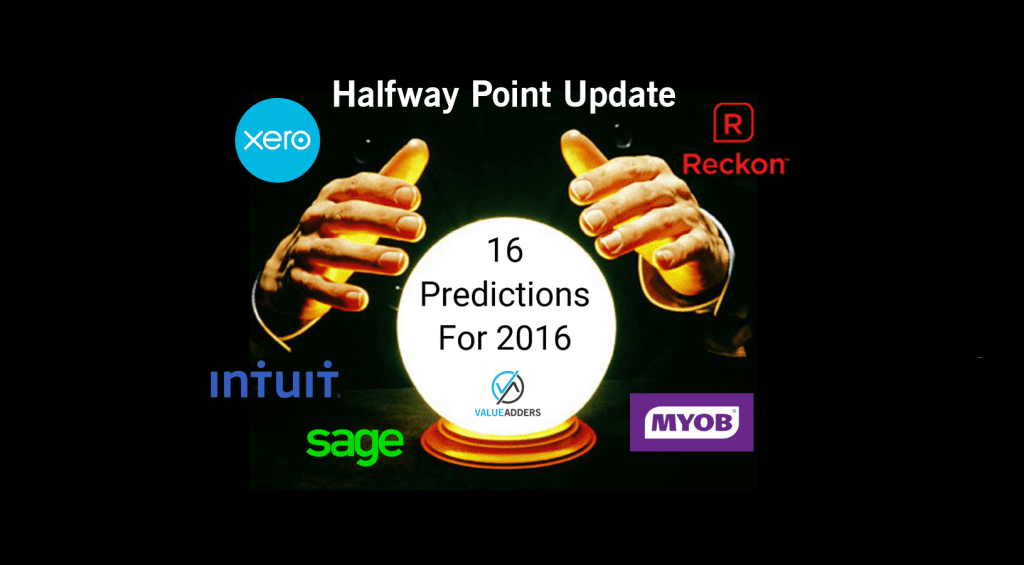 At the start of 2016 I had a crack at being a futurist, by publishing 16 Predictions For 2016 for the #biztech / #accountingtech industries. Here's my mid-year update with my current "gut-feel" probability of occurring in 2016, reviewing my predictions with the benefit of 6 months hindsight:

1. $RKN (Reckon Ltd) will not be listed – 7/10 – if you listen to Clive Rabie, this looks very unlikely BUT:
with an ailing share price (see chart of last 6 months, courtesy of Commsec, below); and
huge competitive pressures from early movers in Cloud accounting and practice management; and
a HUGE divide opened up between the company and its shareholders following a "70% strike against the remuneration report";
they are primed for a take-over, at this stage, most likely by-passing the board/management (similar how Archer acquired MYOB).
2. ReckonOne to be absorbed/decommissioned. 1/10 – tied to point 1, but unlikely to occur this year, even with a takeover of Reckon.
3. Xero to crack 1 million subscribers before 2017. 2/10 – at current runrate, highly unlikely, unless massive upswing in the US. I now estimate around 850k by December 31, 2016.
4. Intuit to benefit from the Reckon uncertainty. 10/10 – I think this is absolutely the case. My feeling is Intuit are gunning for #2 in the Australian cloud SMB accounting space. In my mind, they are now well beyond Reckon, Saasu, Sage etc and eyeing off MYOB, though the lack of practice management software will make it tough for them. That said, with incredibly sharp pricing, deep pockets to buy market share, more than 80 staff in Australia and, let's be frank, a great product with QBo, they have arrived.
5. SageOne will struggle but SageLive will find a market. 7/10 – I think SageOne will struggle/is struggling, its a very competitive, crowded marketplace and they arrived late with an unfinished product. Handisoft offers them a potential channel, but its a tough sell this late in the piece. I'm not sure how SageLive is going in the US and UK (not in AuNZ yet), but I think it has its place and they are spinning the right story with mobile first + Salesforce ecosystem.
6. MYOB Advanced (Acumatica) to grow rapidly. 9/10 – since writing the article at the start of the year, I was lucky enough to get the opportunity to go to Russia, meet the team and see where Acumatica is built (not funded by or linked to MYOB in any way). I am even more convinced now. Especially as the only, significant player now in the "beyond small business" market with fully native Payroll! The only thing holding MYOB Advanced back is not enough people know about it! Where's the marketing MYOB?
7. MYOB to acquire mid-market desktop player – 4/10 – this could still happen, but I'm just not sure who would be a genuine target that would be market-aware enough to be acquired. I still think MYOB will need a bigger channel for Advanced and an acquisition could help revenue (needed for Bain's exit), whilst expanding the channel.
8. MYOB will launch a new Payroll service 10/10 – MYOB People, built on the Acumatica xRP platform, is out and this article confirmed my suspicions a bureau/full service offering was in the works.
9. Employment Hero to explode 10/10 – Recent funding to attack the UK confirms EH has exploded! The entry of Flare HR in Australia will help educate the market about free HR software and the monetisation via Super and employee benefits.
10.  Wolters Kluwer (aka CCH) to make some serious noise 10/10 – iFirm does appear to be getting serious traction as the leading pure Cloud solution for accountants. They have the content, the cloud PM…only thing missing is seamless ledger management with clients…
11. $XRO (Xero) share price to crack AUD$30. 1/10 – sadly, completely improbable at this point, especially with a strong NZ$. A rapid acceleration in the US or even announcement to list on the NASDAQ *could* be the trigger, but neither appears likely in 2016. Nonetheless, anyone who took my tip at the start of the year is sitting on a healthy profit over the past 6 months – BTW my beer of choice is Kirin and you can deliver to my office c\- Fishburners, 608 Harris Street Ultimo, NSW 🙂
12. $MNW (Mint Payments) share price to take off. 3/10 – still holding *some* hope! They have an amazing, growing portfolio of partners and #Fintech payments is a MASSIVE growth industry. Their transactions are growing exponentially…
13. Common Ledger to be acquired. 3/10 – I still think this is the missing piece in the CCH iFirm play, but…Pete, Carlos anything? 🙂
14. NextMinute to arrive. 5/10 – with some smart VC funding from the US, deals with the likes of Spark in NZ and an ever improving product, I think NextMinute is a genuine competitor to Simpro, ServiceM8, GeoOp, Jobber etc in an increasing crowded vertical that has almost limitless growth potential. Has arrived in NZ, still to arrive in Australia in a big way.
15. The beginning of the end for the ABA file format. 10/10 – happening. The major vendors are all working closely with the banks and the beginning of the end has begun! NAB and Xero is just one of many partnerships that will see the death of the ABA file.
16. 2016, the year of accounts payable automation. 10/10 – absolutely happening. Xtracta has agreements with almost every AuNZ accounting software vendor to build natively into their AP. Receipt Bank, Entryless, Invitbox…etc keep growing.
There we go, 6 months down, 6 to go. So far I'm feeling I've scored a pass.
What do you think? Please share your thoughts!
___
For more articles on by the author: