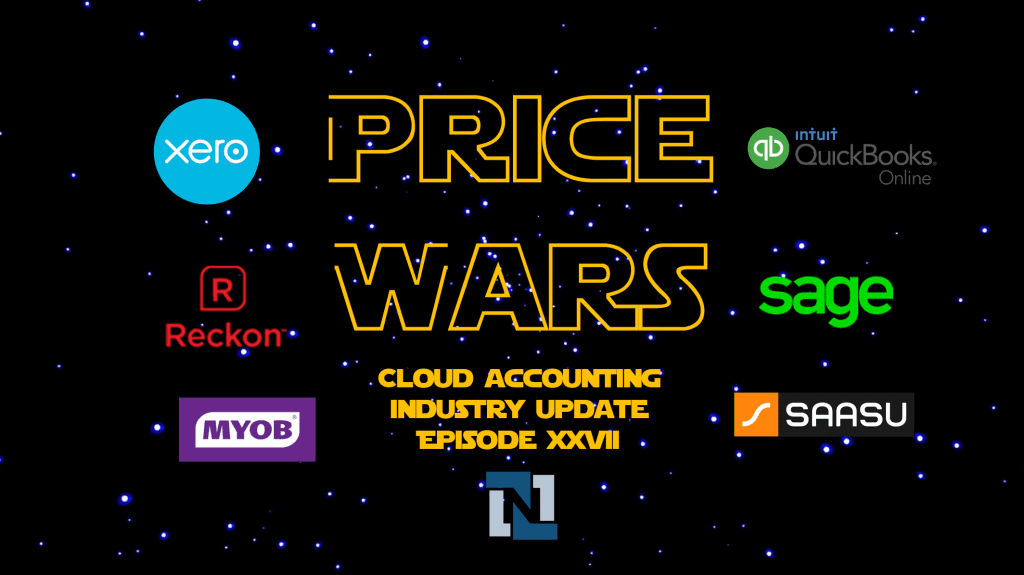 The accounting software conference season is upon us, with Xerocon, QB Connect, MYOB Partner Conference all hot on the heels of Sage Summit. Apart from the likes of Clayton and Wayne racking up even more frequent flyer miles and social media posts, what can we expect from these events? Much of the same I expect. I don't see any major announcements being likely.

Cutting through the spin, where are we at with Cloud Accounting? Here's my take on the big news stories as at August 2016:
Are we on the cusp of a Price War?
Signs are emerging of a potential price war breaking out. Whilst many may see this as good for small business, I fear the long-term consequences for industry. Diminished competition, reduced innovation, company failures, large barriers to entry, higher price sensitivity for add-ons, big fat incumbents… Where were we 10 years ago?
Reckon are promoting ReckonOne as "The Most Affordable In The Market", with pricing from $5/month for accounting and $3/month for payroll (given Wave and Zip are free, I'm not sure how they can make this claim..?).
Intuit are taking a different approach, offering Accountants and Bookkeepers $10/month for 10 clients on their full QBo Plus edition. Note the fine-print, lose one client, lose the rebate. I do also question the use of rebate rather than discount. My original post suggested this allows the company to book the full revenue, inflate ARPU and apply the rebate as a marketing or cost of sales expense – BUT Intuit have contacted me and assured me this is not the case.
SageOne is only $13.50/month if paid annually, comes with 5 employees in Sky Payroll and up-to 100% partner margin (by way of rebates) for Sage Handisoft accountants.
Xero recently took the bold step to increase their pricing…Xero also pay the lowest margin to partners in the industry. Is this foolish arrogance or a smart play, positioning themselves as the premium offering and helping them to cash flow break-even?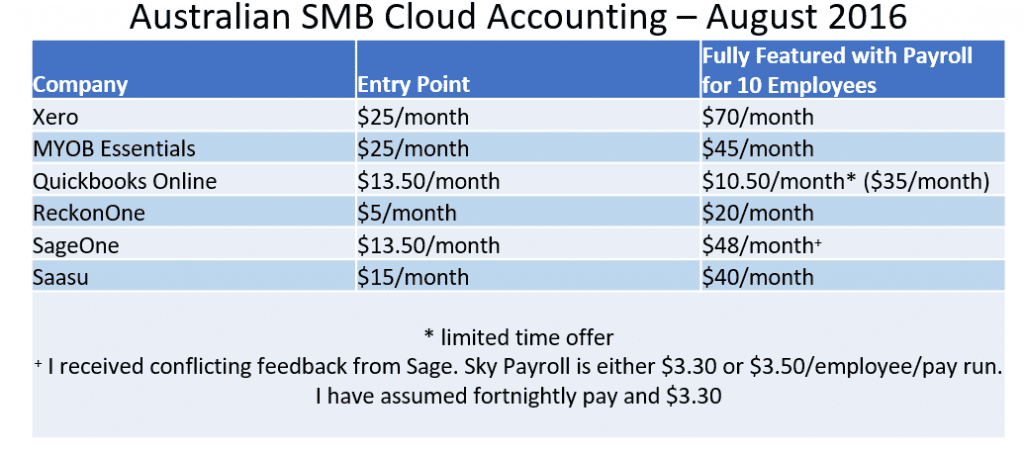 I'm a marketing guy, deep down. I love Brand and the power it gives the brand owner. Seriously, Havaianas have to be my favourite – far from unique, easy to copy, basic product, yet they own the thong (aka flip flops, or jandals for the kiwis) market. Has Xero a strong enough product and brand to premium price? On the payroll front, many would argue they most certainly do not. Is their accounting system enough to carry them?
Here's the Google Trend from the past 12 months by brand: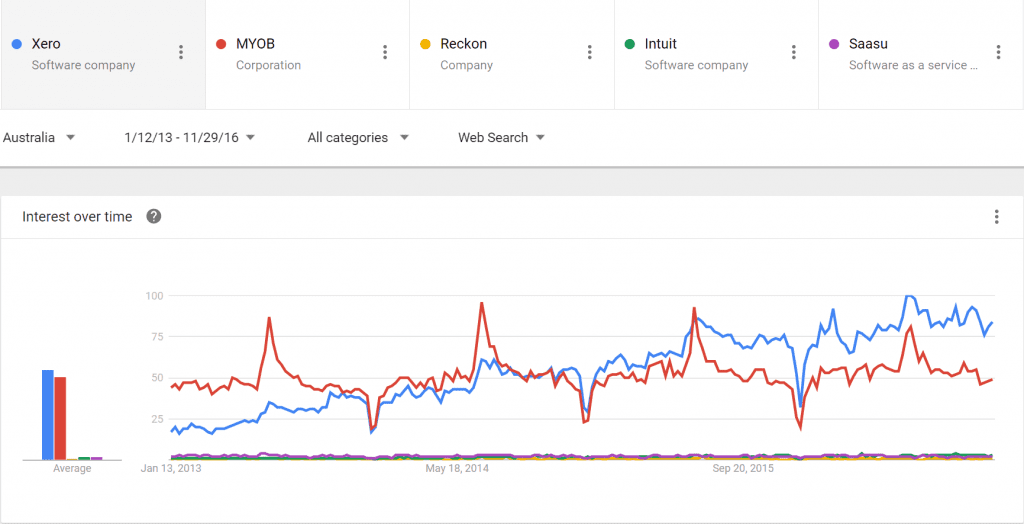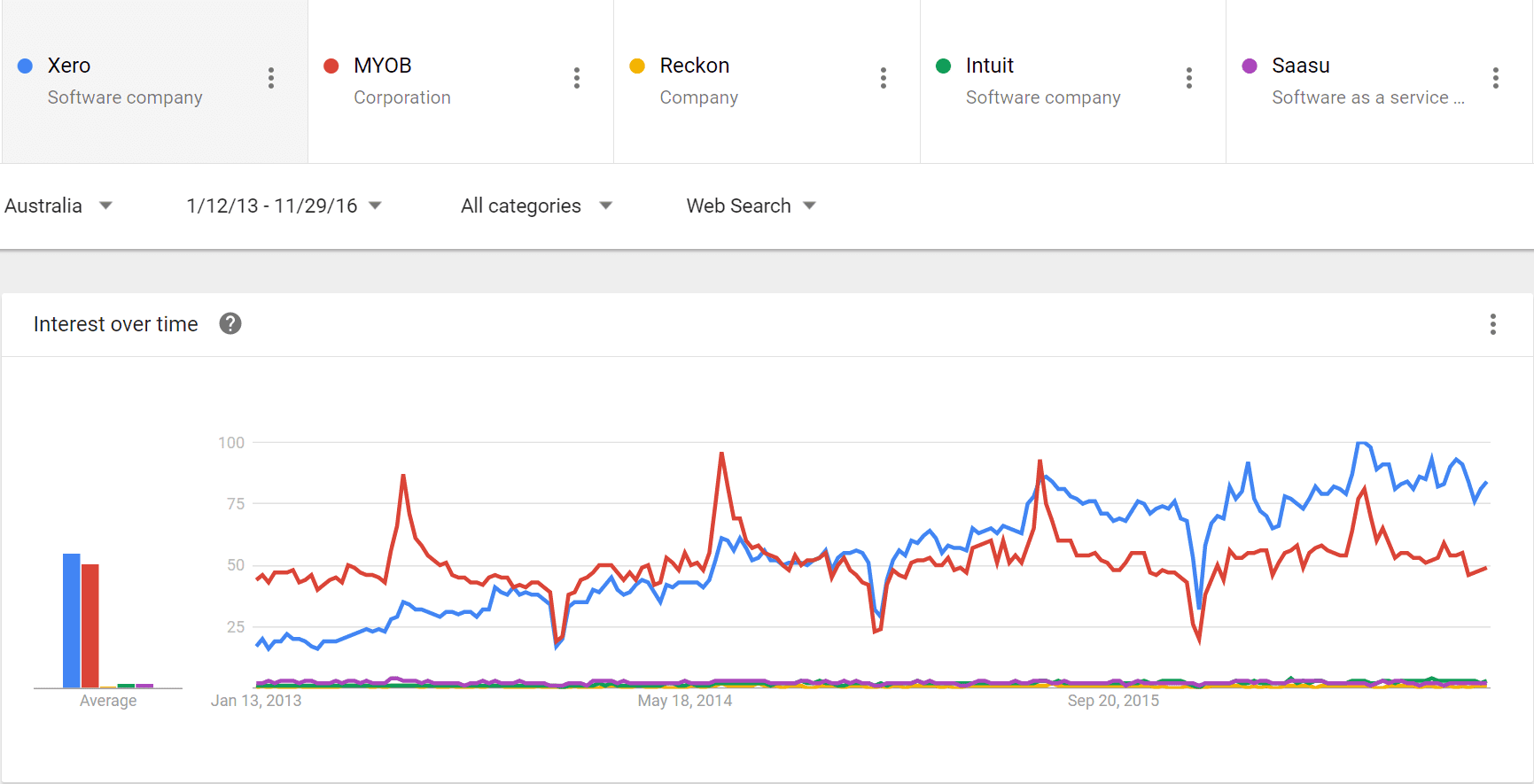 There's no question, Xero has brand leadership ahead of MYOB and these two dominate the Google searches in Australia.
From a social media perspective, the numbers are a bit skewed by the international brands, but apart from Sage's anomaly with Facebook(?), Xero and MYOB lead in Australia quite easily:

At the recent Xero AGM, I posed a question to CMO Andy Lark wondering what Xero were doing to ensure their recent price increases don't impact negatively on their continued growth. Andy's response was both dismissive of the "freemium", price-led strategy of competitors (which he believed consumers would "see through") and confident not only in the Xero brand/product, but also confident that the market was quite price elastic.
What's my take?
Once you have an SMB client, I agree they are price elastic, but the challenge is 75% of the market is yet to be penetrated by Cloud accounting and a fair chunk of the remaining desktop (MYOB & Reckon) users are change averse and price sensitive.
Another problem is, among the big boys, the products are homogenising. They all have bank feeds. They all have mobile apps. They're are all taking about machine learning and bots. They all share the same ecosystem…
With perceived, similar offerings, I think price does impact Accountants, Bookkeepers and SMBs (probably more than any other groups). I think (know) margin impacts specialist software consultants. I think Intuit will grab market share with a price led strategy. I don't think Reckon will.
If the future of the industry is alternate revenue streams (like banking and Big Data) by owning the entry point into small business (which I strongly believe), are Xero gambling too high in Australia against the MYOB incumbency and the Intuit incursion, in the race to cash flow break-even? Time will tell.
Other News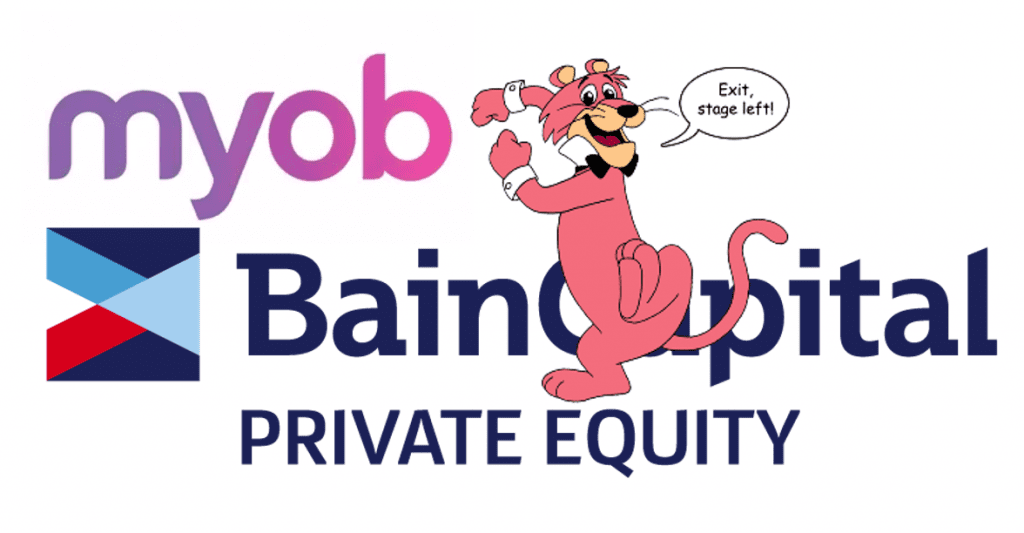 Bain to make like Snagglepuss?
This Thursday at August 25 at 4:15pm, Bain (and management) can officially exit their 57.7% majority holding in MYOB. With a share price back above $4 today, you have to congratulate Tim Reed & Co on delivering for Bain. They've doubled their cash on the Archer buy and have a 10% premium to the IPO. I wonder how Sage are feeling?
Intuit Going Hard Down Under
Intuit seem to be spending BIG to disrupt Xero in their home market. Inside word is they've cracked 50k subscriptions in Australia. Competitors tell me Intuit have lost in excess of $20m (on less than half a million in revenue) in Australia last year. This actually reminds me of the AFL in Australia, they are making "inter-generational investment" (aka massive losses) in traditional NRL markets like Sydney and SE Queensland, for the long-term competitive advantage of the sport. As an NRL fanboy, I can only look on with envy!
With a market cap. over Au$30b, $20m is pocket change for 33 year old Intuit. Short-to-medium term loses, for a long-term seat at the SMB table in Australia..? One might ponder that buying Reckon could have been cheaper?
Anyway, anyone else caught the QBo TV ads through the Olympics? I just did a quick Google trends analysis over the last 90 days to see if its making any impact – looks like it isn't, but maybe this is more about the channel than the consumer: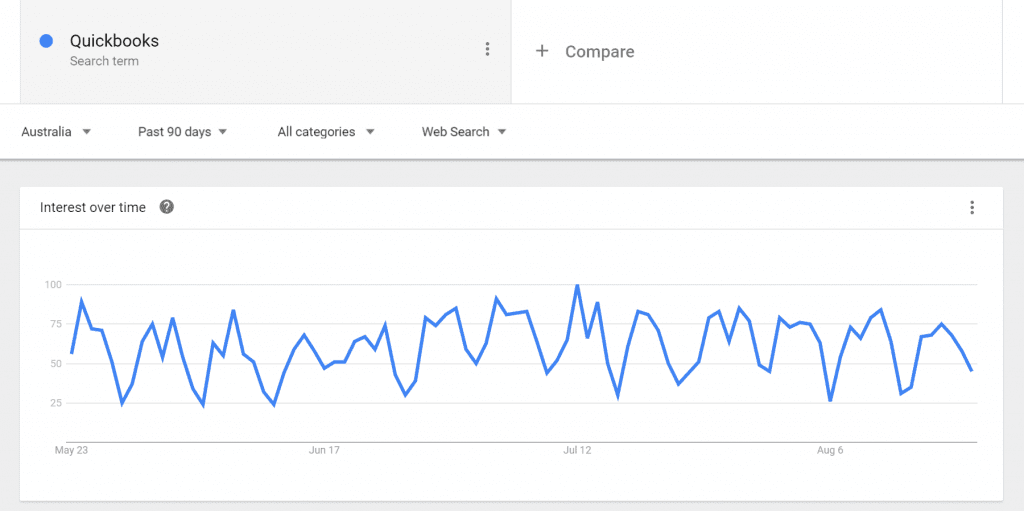 Visma's takeover of Fortnox Blocked
Europe's Cloud accounting leader, and by my reckoning the world's 3rd largest Cloud accounting provider (with 330k subscribers) Visma, has been blocked in its bid for a Nordic monopoly through the acquisition of one of its last remaining competitors Fortnox, by the Swedish Competition Authority.
Oracle Buys Netsuite
To the chagrin of many Netsuite fans, Oracle has acquired Netsuite for US$9.3b. This wasn't that unexpected really, given Larry Ellison owned a fair chunk of both companies. A bit like Elon Musk merging Solar City and Tesla really.
If I've missed any major news, or need to be correct, please add a comment.
___
For more commentary by the author on Biztech: