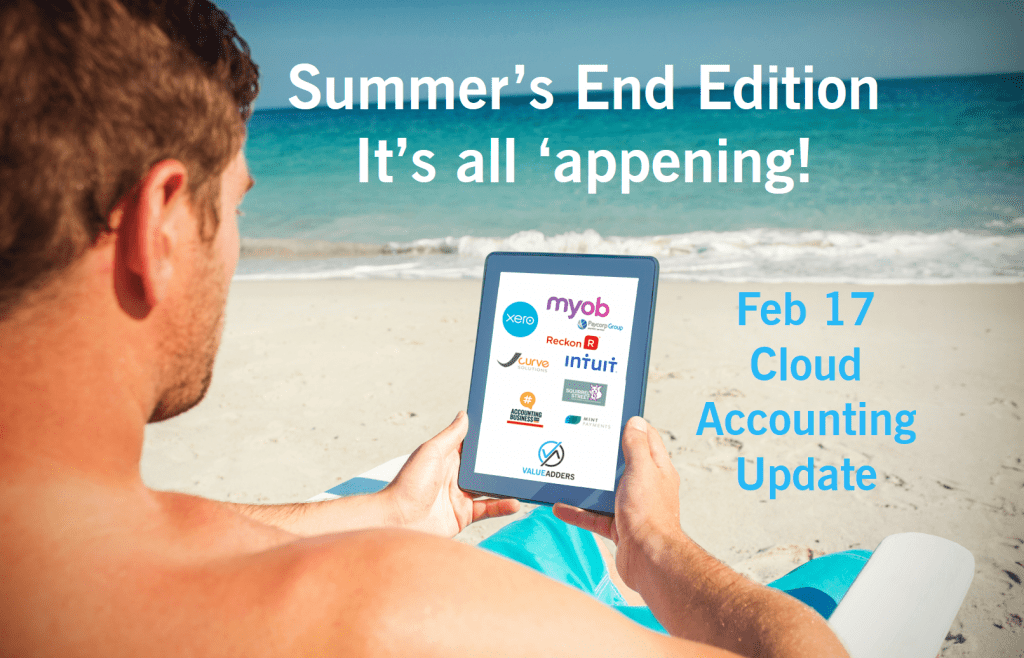 So it's the end of summer. NRL, Super Rugby and AFL are back. Cricket, Basketball and Soccer are all still on. And this year we have the added bonus of some gender equality sweeping professional sport (as well as accounting tech board rooms), with the W League and WNBL being joined by a new Netball league and the AFLW. As Bill Lawry would say, "it's all happening"!
And its not just happening in the world of sport. Its only the end of February and 2017 has been a massive year already in the cloud accounting space! February was so jam packed with news, its taken some editing to keep the word count down, whilst leaving room for being forthright with my opinions, lest I cop some criticism for not being true to my brand like last month (cheers for keeping me honest Adam)!
Anyway, here goes:
MYOB News
Solid results
Whilst Xero has already overtaken MYOB to claim the crown as having the largest subscriber base (desktop & cloud) in AuNZ Accounting Tech (MYOB announced 585,000 subs as at December 31, Xero announced 592,000 as at September 30), rumours of MYOBs imminent demise appear a long way off the mark. In February MYOB announced some pretty solid growth across its business units to cement their standing as the number 2 provider in AuNZ.
Revenue up 13%; EBITDA up 12%; SME ARPU up 7% to $406 and "online subs" up 47% YoY to 249,000, with acceleration: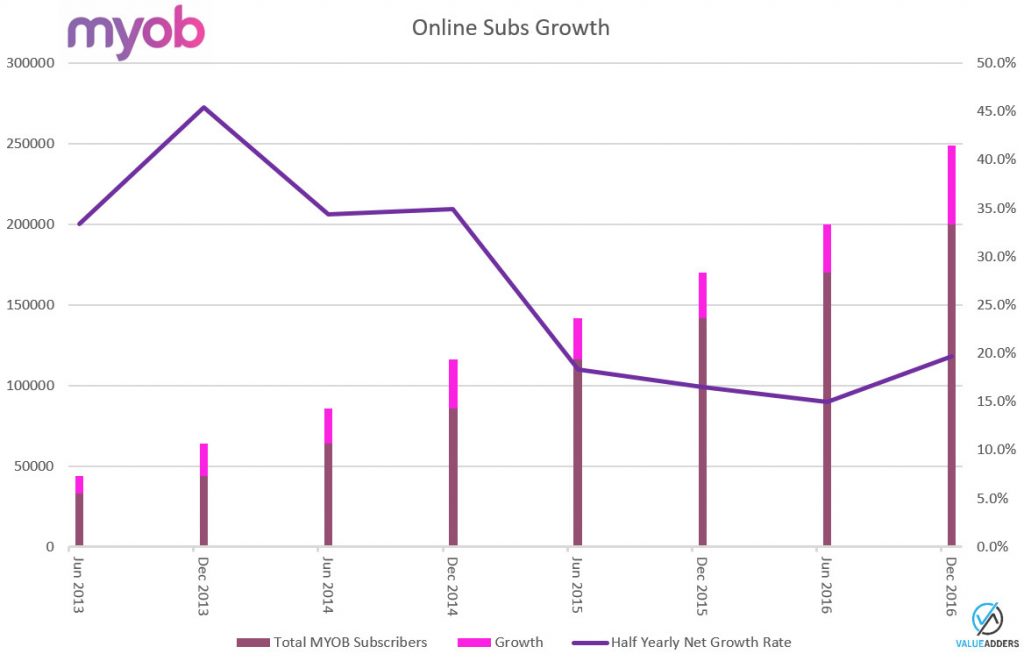 Even the harshest critic (Richard M?), has to admit MYOB are genuinely competing. As they say:
stories sell, numbers tell and for mine, the numbers tell a story of a usurped incumbent, not going quietly off into the night.
Kudos to Tim Reed and co. who appear to have earned their healthy bonuses!
Bain Sell down
It has begun. Bain sold down 100,000,000 shares in February, taking its holding from 57.7% down to 39.1%.
Acquisition + MYOB People (Advanced Payroll)
MYOB announced the acquisition of payments processor Paycorp AND the official launch of MYOB People in February, further emphasising that the MYOB team have a similar view to Sage, for whom term "the golden triangle" of BizTech is attributed: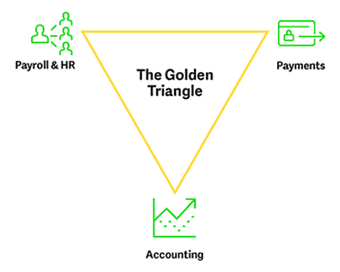 One does have to question where the Paycorp deal leaves Mint Payments ($MNW) in the MYOB PayDirect deal?
New MYOB Ad
Hitting prime time TV is a new futuristic MYOB ad. A brand re-positioning as modern product (rather than just the incumbent of yesteryear) appears the intention, rather than lead gen. I like the ad. I'm not sure how it will connect with its intended audience?
Intuit News
Solid results
Intuit reported continued solid subscriber growth for the "QBo Ecosystem" with its Q2 2017 results announcement in February. Key numbers include:
An acceleration in subscriber numbers for QBo + QBSE (up 12.5% in the quarter vs 7.6% in the previous quarter)
YoY Subs growth of 48.8% overall and 61% outside the US
Expect to hit 2m total subs by end of April!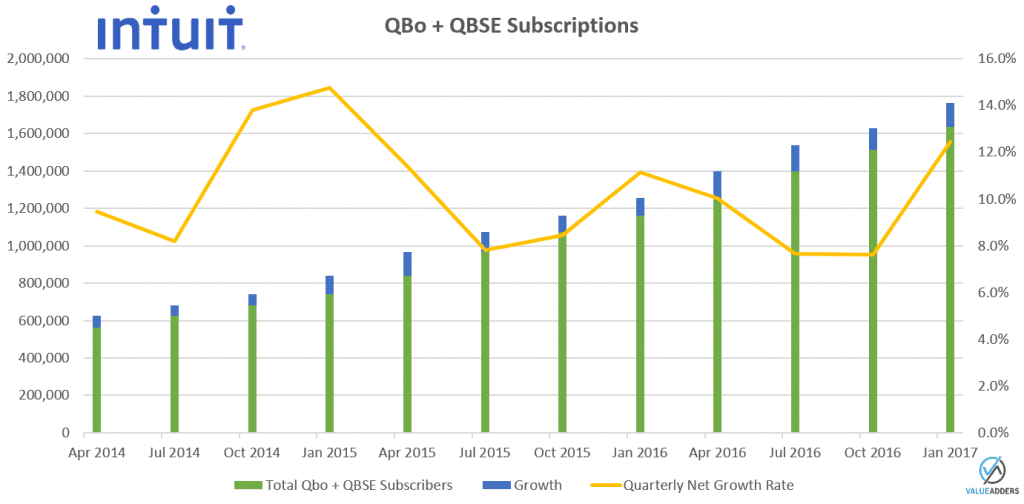 My suspicion, the heavy discounting outside the US + the growing QBSE subscriber base will be driving down the ARPU, margin and CTLV (and driving up churn). In the absence of transparent SaaS metrics, I thought I'd analyse the subscriber growth vs revenue growth. Not an exact science but my theory is if QBo revenue doesn't grow at the same rate as QBo subs, then revenue per client declines: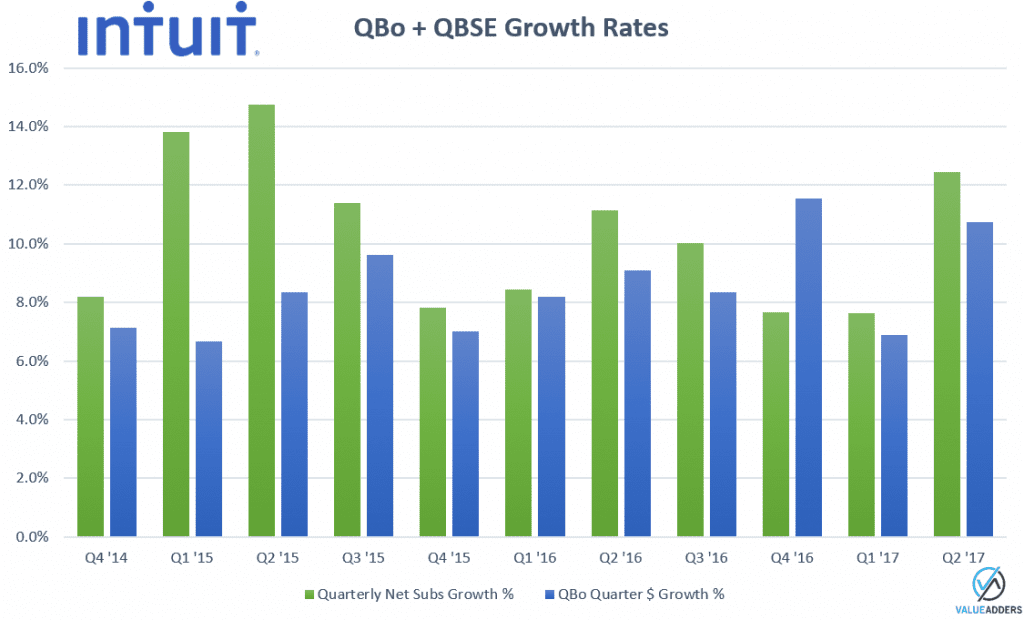 #QED
So what? After all Intuit are accelerating net subs. Yes and kudos to them BUT I fear lower revenue per client plus higher churn might start to catch up with them, at some point…
With generous partner rebates tied to partners not cancelling subs at the moment, I suspect there's a skewing of current churn rates. At 2m subs, a 20% churn (my prediction on where their churn is heading with an international price driven strategy on QBo and the more volatile QBSE market) equates to 100,000 subs per quarter they lose (and 150k at 3m). The larger the subscriber base for QBo/SE gets, the greater the headwind will become, unless they start to look at driving down long-term churn.
All that said, the Q2 17 numbers don't reflect my suspicions. At this stage I can only admire their scaling capability!
Xero News
New director, improving Gender Diversity
With its former chairman off to help Trump "Make America Great" again, Xero took the opportunity to improve the gender diversity on its board by welcoming Susan Peterson as a new director in February. This comes after MYOB similar addressed its cognitive (gender) diversity on the board in January by appointing Fiona Pak-Poy. #GoodStuff
Anna to CPO and new MD for NZ
With Anna Curzon moving to the global role of Chief Partner Officer, former NZ Rugby 7s player Craig Hudson is the new appointed MD for New Zealand.
Intuit + MYOB + Reckon paints good picture for Xero FY2017
The uplift in the last quarter/half for Intuit, MYOB and even Reckon has two possible implications for Xero:
The industry is booming and we can expect gang-buster results for Xero's FY17
Competition is biting and we *may* see it negatively affect their FY17 results
My expectation is the former is more probable! With an announcement on 1 million subscribers tantalisingly close + ca$h flow break approaching fast + a booming market, it would to me seem that $XRO, who have a similar market cap presently to $MYO, is a strong BUY recommendation. But what do I know…?
Reckon News
Results
Reckon keep battling away as the forgotten 4th player in the AuNZ Cloud Accounting space. They are very clear to the market that competing head-to-head with the big boys in the SME space is not their focus. Their SME "online subs" (which includes a not-true-cloud hosted version of QuickBooks aka Reckon Accounts + ReckonOne) continue to grow: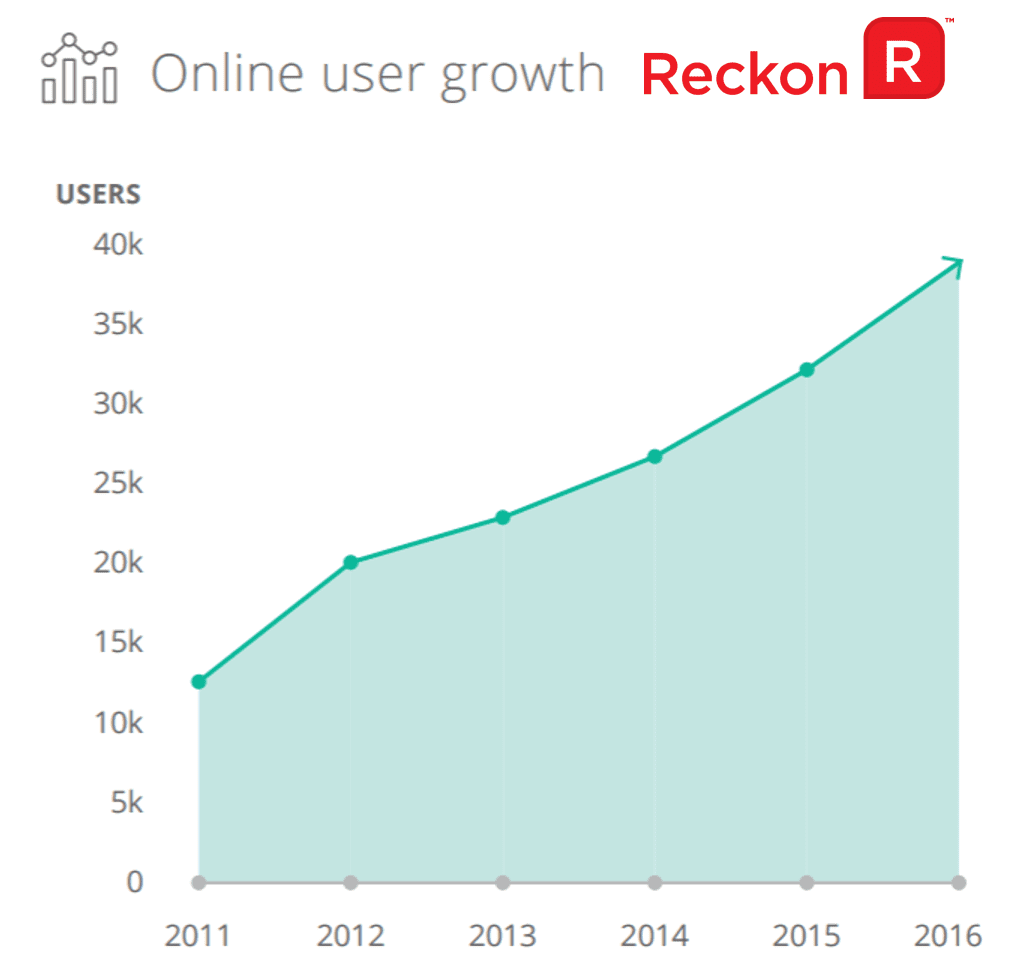 I'd love to see their take on net client subs (desktop + cloud like MYOB disclose) to understand the cannibalisation and net loss situation across the SME base.
Interestingly APS "seat numbers" continue to grow, despite a significant move away at the smaller accounting firm end, indicating their focus on "the top 200" firms appears to be paying off: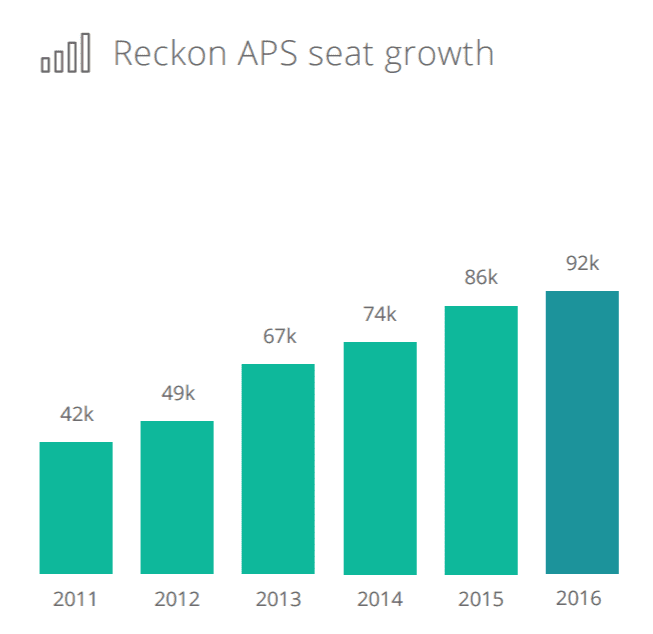 The Smart Vault / Virtual Cabinet Document Management division continues to deliver impressive growth.
Come on Intuit, just buy them and merge your operations, it would be better for everyone…!
JCurve takes on MYOB Advanced
This month JCurve announced a partnership with MYOB to sell MYOB Advanced (aka Acumatica). This on top of the announcement to now sell full licenced versions of NetSuite, has me questioning the future of JCurve "the product".
Why would MYOB partner with a key competitor? How would JCurve handle a lead looking at both JCurve and MYOB Advanced (particularly where another MYOB partner is selling in MYOB Advanced)?
Shoeboxed becomes Squirrel Street
Last month it was Crunchboards becoming FUTRLI. February saw Shoeboxed Australia rebrand as Squirrel Street! Interesting…
Westpac invest in Surgical Partners
Congrats to the team at Surgical Partners, with the announcement in February that Westpac have taken an investment in their "digital plumbing platform" which manages the flow of data and correct accounting for medical practices!
P.S. Roadshows… yawn….
MYOB and Xero were beating the roadshow path throughout February… I'm going to admit my over-exposure to conferences in the last 12 months, led to me boycotting both… too many, too similar content, too close together, though I appreciate the target audiences are different. Time for me to start rationing and being selective. So sorry, no comment on either event from me.
Coming up in March
What's happening next month?
Sage Summit is on in Melbourne March 2 and 3
Australia's largest "vendor neutral" Accounting event the Accounting Business Expo in Sydney March 21-22. For those interested, I'll be speaking Wednesday 22nd at 3pm, providing my thoughts why Advisory won't save your firm from technology AND offering a clear alternative for the future of the profession. Put it in your diaries now people!
Salesforce World Tour Sydney March 21.
_____
Anything I've missed? Please feel free to like or share. And please, comment at will, positive or negative!
_____
For more commentary by the author on Biztech:
Follow On Twitter: https://twitter.com/mattpaff and https://twitter.com/valueadders
Follow on LinkedIn: https://www.linkedin.com/company/value-adders
Like on Facebook: https://www.facebook.com/valueadders/
Follow on Medium: https://medium.com/@mattpaff