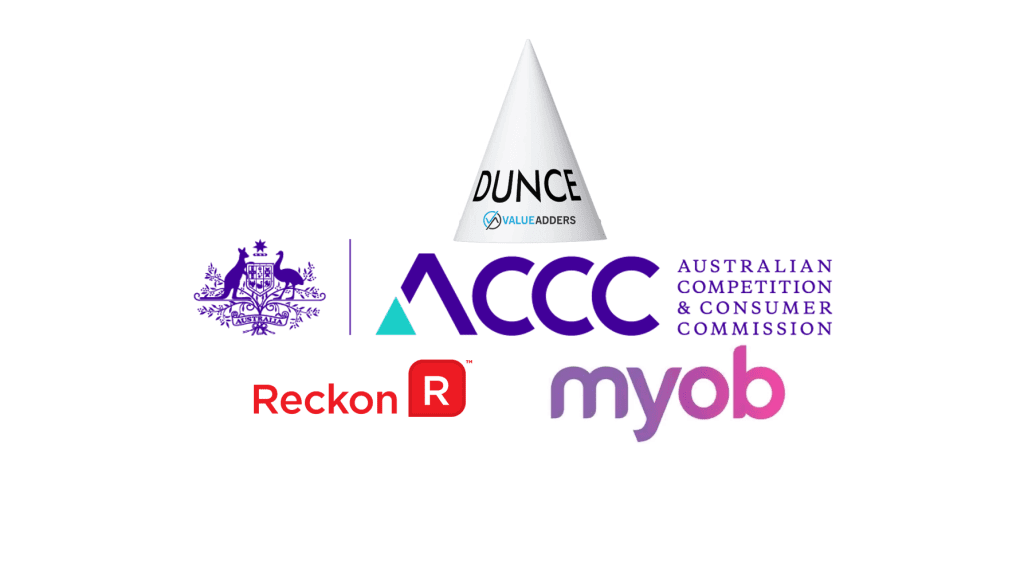 WARNING: This article is heavily laced with opinions and is not suitable for consumption by those who are sensitive to strong views…
At the end of March, the ACCC released its preliminary findings into the proposed acquisition of Reckon's Accountant's division by MYOB.
2 documents were released:
In short, I find the media release ridiculous, poorly worded and off-point. The Statement of Issues, whilst not without some substance, shows a lack of genuine investigation, understanding of competition and technical wherewithal.
It leaves me in despair that the people in charge of protecting consumers, who for decades have been ineffectual in protecting us against the supermarket duopoly, petrol industry price gouging etc, are incapable of doing their job properly, be it through under-resourcing or employment of the wrong people, who don't understand competition and market forces…
Too harsh? Maybe, but let's take the emotion out, look at the facts and break down the media release:
Media Release:
The ACCC has today outlined competition concerns with MYOB's (ASX: MYO) proposed acquisition of Reckon's Accountants Group (ASX: RKN).
MYOB and Reckon supply software used by accounting firms for tax returns, client accounting and practice operation.

The ACCC's Statement of Issues covers a range of issues, outlining the likely impact of the consolidation.

"If MYOB acquired Reckon's Accountants Group, it would likely be the only supplier of practice software suitable for medium to large accounting firms," ACCC Commissioner Roger Featherston said.
Factually incorrect.
Let's define " medium to large accounting firms".

So medium is the average sized firm? So "Medium to large" suggests average and above? Right?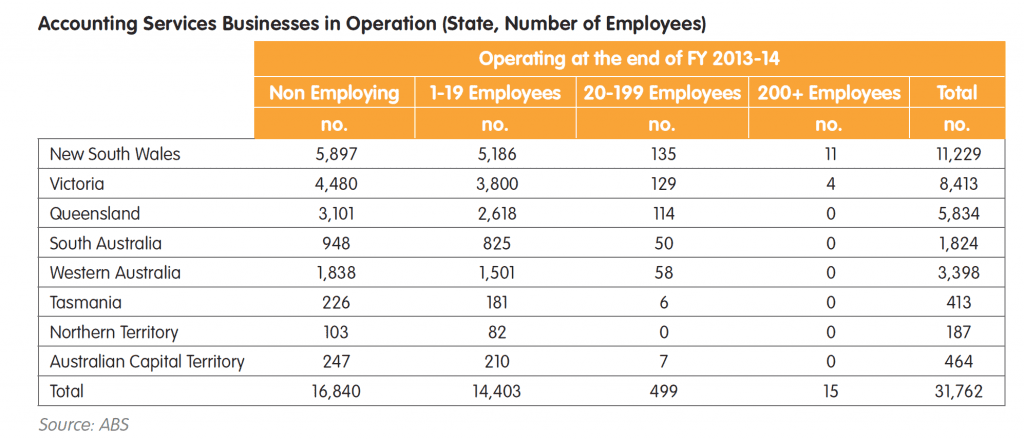 Accounting Services Industry Report – BankWest June 2015
There were 133,216 employees in the Accounting Services Industry at the time the BankWest report above was compiled.
133,216 / 31,762 = 4.2 employees, per average accounting services firm.
So, the ACCC is suggesting that the only software option for firms with 5+ staff is MYOB or Reckon… Really?
I sit on the advisory board of a 20 staff firm that uses, Xero… I know A LOT of 5+ staff firms in Australia that use Sage, Karbon, JetPack Workflow, CCH iFirm…
What is the definition of "medium to large"? Because my real-world experience in this industry is MYOB and Reckon ABSOLUTELY DO NOT have a duopoly in "medium to large" firms, based on a dictionary definition and actual market facts…
For me, if there is a market segment that at this very moment in time might have a perceived limited choice, it is purely LARGE. Certainly not medium.
So has anyone spoken to the large firms? Or were only submissions from the nay-sayers considered??
Perhaps ACCC surveying the Financial Review top 100 might be a place to start? Its an imperfect list (see Tweet from Chris Hooper below) as only firms that opted in are included, but nontheless, a good place to start to understand the options for LARGE firms?
Thought there were a few players missing from this year's AFR 100 when you compare 2013 to 2017. pic.twitter.com/jDtBBTXf7q

— Chris Hooper (@ChrisHooper87) December 18, 2017
Interestingly relative to the list and article, Chris's innovative, fast growing firm Accodex (which would have been included had it supplied the data) I believe, uses Salesforce and Xero, not Reckon nor MYOB…!
Add to this, I wonder whether the ACCC has seen these media reports?
So even among the top 100 of  31,762 accounting services firms, MYOB and Reckon are already NOT the only options..?! And the transition to Cloud and emergence of new players such as Greatsoft, Jetpack Workflow, LodgeiT, MyWorkpapers, Salesforce platform solutions…etc is ALREADY occurring, today, not years into the future…
"If MYOB has a monopoly on this software, it would substantially lessen competition.
This is by definition what a monopoly is… What the?! If I buy a dozen eggs it would mean I acquired 12… If I am asleep, that means I'm not awake…
If MYOB and Reckon currently has a duopoly (the implication here) the ACCC allowed it to occur in 2004 when MYOB bought Sol6 and Reckon APS…
The ACCC is also stating that a Duopoly is competitive, even when one player has openly given up competing (as Reckon have effectively done)… Really?!
We think there's a significant risk for customers that prices will increase and service levels will decrease."
If correct, MYOB would be signing their own death warrant. No-one can argue that we are undergoing a major transition in the industry. No question new players like Xero are aggressively competing at practice level, against the historical dominance of MYOB, Reckon and Sage.
If MYOB acquired the Reckon assets and simply price gouged and reduced services (for short-term P&L benefit), they will not get a return on their substantial investment and provide existing and emerging competitors a free shot at their combined (MYOB AO, AE, APS and Elite) client base.
This is an illogical argument. Under the Corporations Act, MYOB directors have an obligation to the company and its survival. Price gouging and reducing service offerings at this critical point of transition in the market would jeopardise the future of MYOB, which I contend, is illegal already under the corps act.
The ACCC's initial analysis identified that medium to large accounting firms require advanced features from software, including flexibility in reporting and workflow, flexibility in matter and customer management, advanced security configurations, and the ability to support many concurrent users.
They also want innovation, lower infrastructure costs, functionality smaller firms get that they envy….. a race is on to meet evolving customer demands. Reckon aren't even in the race. They have no plans to address their ageing technology stack. No desire continue to compete. How is it in the market's and the Reckon client base's interest to not allow this acquisition and thus give APS and Elite customers a forlorn future?!
"The ACCC received feedback from the accounting industry that MYOB's AE product and Reckon's APS product are the only products that are capable of meeting the software needs of medium to large accounting firms," Mr Featherston said.
Factually incorrect.
See above. Absolute garbage.
"There are other suppliers of this software but market feedback suggests those products are less sophisticated, and that they are unlikely to be able to develop the more advanced functionality for several years at least."
This maybe true for competitors like Xero, CCH and Thomson Rueters, but not true for Greatsoft, Sage, Salesforce etc as has already been proven above.
We also identified several barriers to expansion for other competitors. These include

the time and cost to develop better functionality,
My assessment, from talking to the competitors, is this acquisition would spur greater investment and fasten the market transition to innovative, cloud offerings.
switching costs for accounting firms,
Nonsensical argument. If the ACCC says switching costs are high, then they are contradicting their own argument that there is nothing to switch too? It can't be both…
Furthermore, barriers to exit exist in every industry and by default are higher the larger the target audience. Switching costs will exist regardless of the competitive landscape. The worse MYOB do at the acquisition and transition, the greater the value they create for the clients to invest in switching. At some point, switching costs are exceeded by the cost and opportunity cost of not… Again, the very argument is contradictory…
and a cautious approach from the industry towards changing to untested suppliers," Mr Featherston said.
Again, der… but the alternatives are not "untested suppliers". Sage is one of the biggest Accounting tech companies in the world. Greatsoft is already used by the Big4 in Africa. Xero has tried and tested its product with thousands of firms…
In Summary.
I could break down the Statement of Issues, but the crux of my issue with this document, are spelt out above.
For me several points stand out, which the ACCC have not given due consideration to:
1. Have they genuinely researched the market or just taken (biased) submissions?
I get a strong feeling the loose definitions and narrow focuses, show they haven't done genuine research themselves and have relied on inaccurate submissions.
2. The market is transitioning, this merger is logical and will help customers and the market
Reckon have effectively given up. They are too deep in the hole to make the transition from Desktop to Cloud (for their practice management division). Hence why they are breaking up the company and selling it off. The same thing happened with the DOS to Windows evolution, some players were unable to transition. So what comes of the Reckon client base:
Either MYOB or Sage buys them and offers them a future; OR what??
This industry has been stuck in a what Abernathy and Utterback call the "Specific Phase" of innovation for around a decade: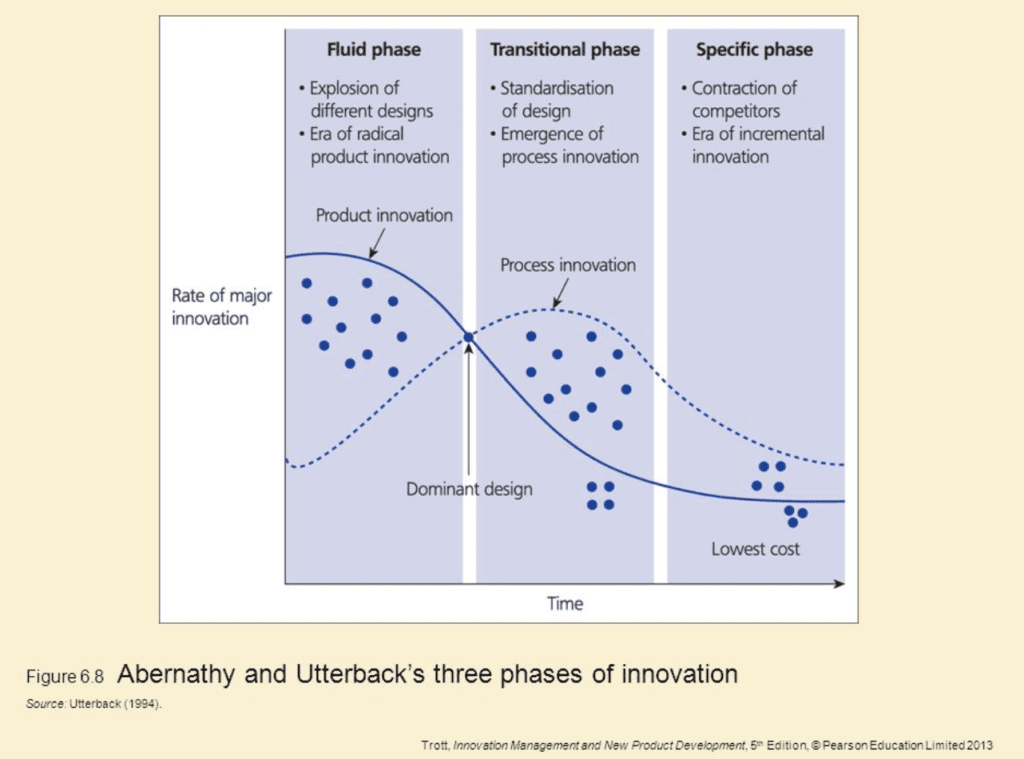 As the graphic highlights, the specific phase is defined by few competitors; low increments of innovation; high margins. For me, the acquisition will speed up the market's transition back into the "Fluid Phase", with cloud, seamless flows of data, APIs, micro-services, new revenue models and user experience design the new paradigms.
For ALL firms outside of large, the market has already moved back into the "Fluid Phase" with participants like Xero, Karbon, Jetpack Workflow very actively winning significant market shares in this space.
As the likes of H&R Block, Grant Thornton and Accodex demonstrate, even large firms have innovative alternatives with the likes of Sage, Salesforce and Greatsoft.
Reckon Accountant's division is now a rotting carcass stuck in the specific phase, awaiting competitors to feast upon its clients (as is already happening). Providing Reckon clients with service and a future "upgrade path" can only be good for clients and the broader market!
3. This is a SMALL fraction of the overall market, why does the ACCC care..?
I am still struggling to understand why the ACCC would care about a perceived lack of competition in a fractional subset of the overall market? No-one can argue that up-to a certain size, the market is HIGHLY competitive. The argument is what that size is. For me, based on the stats above, its for a very small number of firms (comparatively). I can only hypothesise that this is the BIG 4 influence. Afterall they are so deep into government policy and decision making they gouged $1.7b over the past 5 years from public coffers!
4. The very definition of what is practice management software is loose.
Accounting firms use an array of solutions, across their practices. The market is becoming more and more competitive every day. Take a look at just some of the players in the space (kinda sorts organised by function):
I contend that a firm of any size, could easily pull together a tech stack that does not include MYOB or Reckon.
5. If MYOB price gouged and dropped service levels – RIP MYOB
Even if there are a perceived lack of competitors TODAY, no-one can argue that the cloud, mobile, AI etc brings the market back into an innovation rich, Fluid Phase (per the Abernathy model above). MYOB will already have a hard time securing and retaining the Reckon client base (GT, H&R Block as examples). Price gouging and a lack of service, would accelerate the en masse exiting of MYOB and Reckon clients (which to an extent, is already occurring at small and medium end of town) and MYOB directors would be answerable to shareholders (and possibly ASIC) if they allowed this to happen. For the ACCC not to believe/understand this, they a) don't understand competitive forces (their job); and b) are effectively poo pooing the protections of the Corps Act!
QED
___
Follow On Twitter: https://twitter.com/mattpaff  and https://twitter.com/valueadders
Follow on LinkedIn: https://www.linkedin.com/company/value-adders
Like on Facebook: https://www.facebook.com/valueadders/
Follow on Medium: https://medium.com/@mattpaff