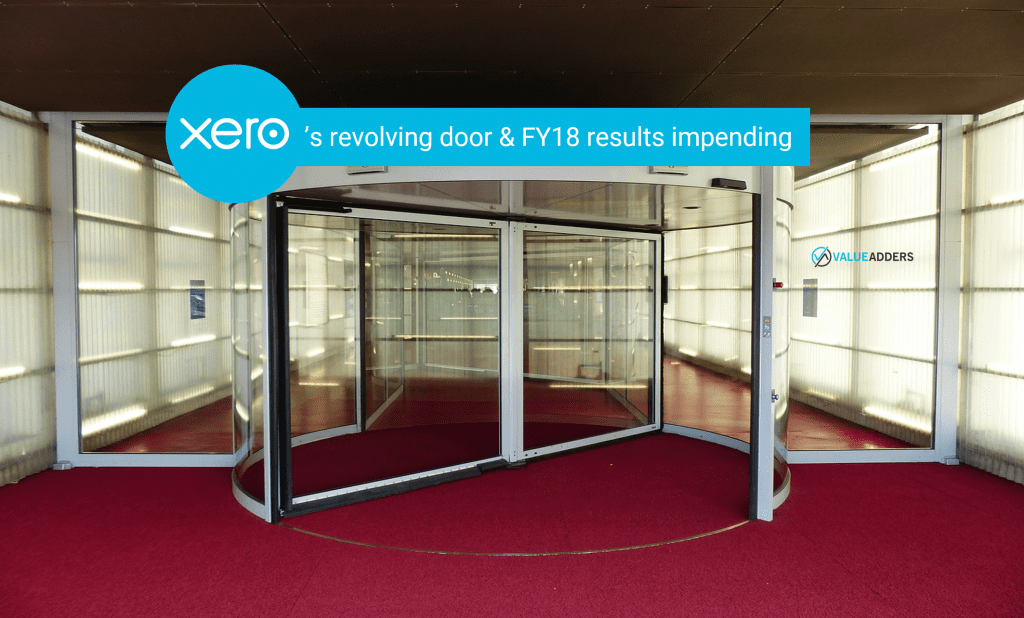 There's been quite a stir around "the industry" over the last month about the churn of key people at Xero. First there was the "succession" of founder Rod Drury, cased in rumours and innuendo, that bears not repeating.
The concern for (not many) investors (judging by the share price since Rod's departure) was the timing.
Out the door, not with a triumphant FY18 results announcement, but far more hastily and dare I say, not becoming of a man that had built a worldwide success story from humble NZ.
So does Rod's March departure indicate FY18 results are NOT going to be stellar?
OR does the share price movement (which often front runs good news from Xero), indicate a bumper FY18 results announcement is imminent?
I'm not sure, but we'll all find out next Thursday, May 10. What I'm looking for:
A half-year growth rate back over 20% (dipped down to 15.8% 1H);
A 25% half-year growth rate would equate to 1.5m customers worldwide, which would surprise the market (I think unlikely);
I'm interested in emerging market numbers – SE Asia and South Africa – the next battlegrounds;
PROFIT! Will we see a FY profit? I think it possible, but wouldn't that have been a good exit for Rod..?!
Xero's share price has outperformed its peers in the past 12 months, particularly enhanced by its consolidation on the ASX and inclusion in the ASX100. I hope most of you managed to #geton!
A clean out of industry heads, turning heads
Since the announcement of Rod's departure, we have also seen a number of big names (from an industry perspective) also moved on:
Amy Vetter – Chief Relationship Officer – Partner Channel, Xero Americas
Greg Sheehan – Director of Partner Management
James Solomons – Head of Accounting
Mel Power – Head of Bookkeeping (though now head of global community)
From the conversations I've had, there are concerns about the disengagement from the "real-world" that eliminating these roles has the potential to create. These 4 are highly influential leaders in their industry and markets. Its going to be interesting to see how Xero continues to evolve in their absence.
What else is going on in May?
Sage 1H18 update announcement later today May 2, although a trading update was published in April with the following quote: "H1 18 organic revenue growth results were below management's expectations, reflecting inconsistent operational execution";
Intuit announce their Q3 results on May 22;
Intuit host QB Connect Sydney, 2 days later on May 24;
___
For more on Accounting, Payroll & HR tech:
Follow On Twitter: https://twitter.com/mattpaff  and https://twitter.com/valueadders
Like on Facebook: https://www.facebook.com/valueadders/
Follow on Medium: https://medium.com/@mattpaff