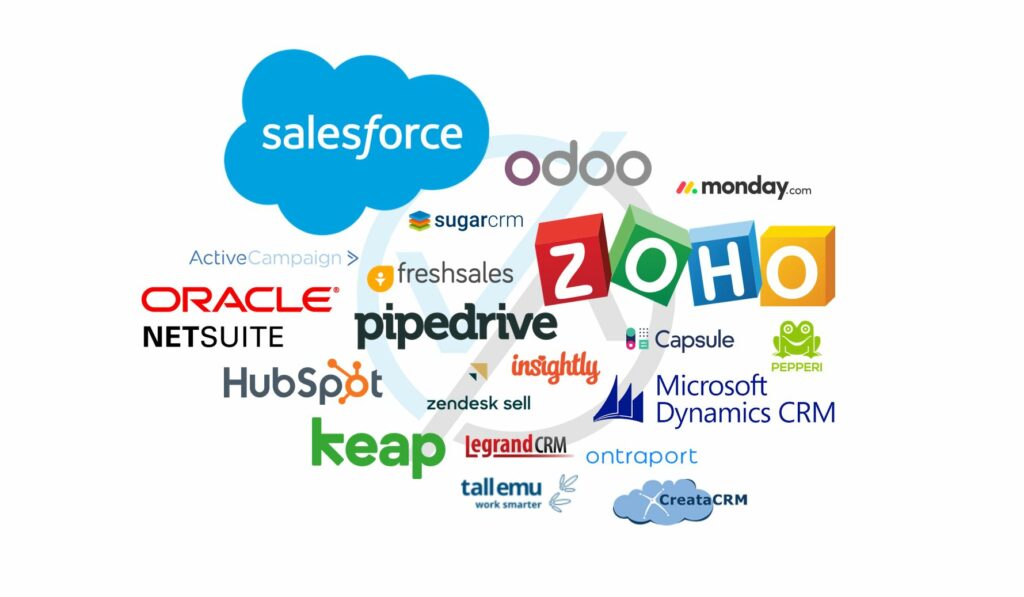 Like many business software segments, Customer Relationship Management (CRM) is becoming more difficult to identify as a stand-alone category. As more players enter the market and existing players expand their reach, the very definition of CRM seems to be expanding. CRM functionality now encapsulates everything from:
email marketing to sales pipeline management;
quoting to contact logging;
activity tracking to service tickets; and
marketing automation and beyond.
We are seeing significant convergence into and from adjacent software categories. Most notably:
Project Management (with systems like Accelo and Monday.com, defining themselves as CRM systems);
Helpdesk / Customer Service (with the likes of Hubspot adding ticketing whilst traditional ticketing systems like Zendesk expand into CRM); and
Email marketing (with the likes of ActiveCampaign adding more traditional CRM featuresets).
ECP – the growing trend of comprehensive platforms including CRM
We have written many times before about the death of ERP and the rise of the Enterprise Cloud Platform (ECP) – that discussion extends into CRM. More and more we see the dominant players expanding their native and eco-system reach towards comprehensive business systems. Traditional CRMs such as Salesforce have native ERPs with the likes of FinancialForce. Meanwhile ERPs such as NetSuite, have evolved from pure ERP plays to offer CRM as a part of a comprehensive platform. Not to mention Microsoft who have converged their ERP and CRM products on the unified Dynamics 365 common data model platform.
An evolving, expanding CRM market
Those of us who grew up in the PC Network era, recall the likes of Act! and GoldMine being the leaders in CRM in Australia. We also recall the low adoption rate and limited effectiveness of historical CRMs.
A lot has changed in the last 2 decades. With the rise of "the cloud" (browser and smartphone based systems), has come a substantial expansion in the market for CRM. There are vastly more companies adopting Customer Relationship Management solutions and vastly more players seemingly building solutions to meet the customer demand.
The key players in the Australian CRM market
In this article we have decided to focus on the CRM systems we are seeing used within Australia's inventory-based companies. We have constructed our own power-rating based on active customers and growth. No doubt this subjective rating will cause some debate and we welcome that. We know we have left a few off our list, we just haven't seen them much in our travels in recent times. We acknowledge, its through genuine discourse that we can expand awareness for our own betterment and that of the majority – so please comment away!
So here it is, our list of the top 20 CRM systems in Australia for inventory-based businesses:
Salesforce
Zoho
Microsoft CRM
Hubspot
NetSuite
Keap / Infusionsoft
ActiveCampaign
SugarCRM
Pipedrive
Tall Emu
Freshsales
Monday.com
Zendesk Sell
Odoo
Pepperi
Insightly
Ontraport
Capsule
CreataCRM
Legrand
1. Salesforce
Interestingly, despite the growth in options for end-users, one player dominates conversation and market share in CRM in Australia and beyond. When it comes to CRM it really is Salesforce and then daylight as far as adoption and growth. The company has grown at north of 20% compounding, for 20 years! It speaks to an unbelievable ability to sell and must also suggest that this is backed up by a decent product (as they say, you can fool some of the people some of the time, but not all of the people all of the time!).

Most companies considering CRM, will look at Salesforce as (generally) a premium option.

Website: https://www.salesforce.com/au
2. Zoho CRM
Zoho takes a very different approach to Salesforce as far as pricing is concerned, but nonetheless is an amazing success story in and of itself. In the mid-market and below, we probably see Zoho even more than we see Salesforce and that speaks enormous volumes for where Zoho is at.
Price point and the vast array of connected solutions on the ZohoOne platform, seem to be key drivers in Zoho's continuing expansion in the Australian market.
Website: https://www.zoho.com/au/crm/
3. Microsoft Dynamics 365 CRM
Globally, Microsoft is probably the key competitor of Salesforce in the mid-market to enterprise space. Microsoft, to an even greater effect than Zoho, offer a comprehensive suite of (more and more integrated) business software, that no other company can match. From CRM to ERP, Teams to Office, PowerBI to PowerApps – Microsoft is an antitrust lawsuit waiting to happen.
The acquisition of LinkedIn and the ability for Microsoft to build that data intelligence into their CRM gives them an enormous competitive advantage, particularly in the B2B space. The convergence on the common data platform with the ERP suite, further expands the attractiveness of the Microsoft offering and will be a key driver of their growth in the years ahead, in our opinion.
Website: https://dynamics.microsoft.com/en-au/
4. Hubspot
With a free CRM offering that is genuinely competitive and effective, Hubspot has a "thin-edge of the wedge" approach to customer acquisition. They get you in and then sell you on the benefits of the paid parts of their program which are comprehensive across email marketing to marketing automation, Account Based Marketing to service tickets.
Hubspot approaches CRM more from a marketing feeding sales perspective. It has one of the more intuitive and easy to use interfaces by our reckoning. We're big fans in general (we use it ourselves), but Hubspot does really ratchet up the price quickly once you want more of their featureset, which makes competitors with similar functionality such as Keap and Ontraport, more attractive.
Website: https://www.hubspot.com/
5. NetSuite CRM
For a CRM, NetSuite is a very good ERP… As depicted in our recent article on the ERP space in Australia, NetSuite's has significant strength as a global leader in Cloud ERP (more over ECP), which in turn gives it a sizable CRM user base in Australia, particularly among inventory-based businesses.
NetSuite's strength isn't marketing automation and a suite of tools for a marketing department. Its traditional sales activity and pipeline management, which in truth suits B2B focused businesses. Those with a B2C or strong eCommerce focus, probably will favour systems like Hubspot and the Salesforce ecosystem.
Website: https://www.netsuite.com/portal/products/crm.shtml
6. Keap / InfusionSoft
With some relatively recent rebranding, Infusionsoft became Keap, and now sell products under the branding of Keap and Infusionsoft… With strength in marketing automation, Keap competes very well with the likes of Hubspot (often offering equivalent functionality at a lower price point).
We think Keap is well suited particularly to eCommerce businesses and those with a digital marketing focus. It has been gaining in traction in Australia in recent years across a vast array of industries, including inventory-based companies.
Website: https://keap.com/
7. ActiveCampaign
Another to focus on the marketing automation side of CRM, ActiveCampaign is a very popular global solution born out of email marketing and website driven lead management. With deep functionality around embedding within your website and tracking user journeys, for a CRM, ActiveCampaign is a very good marketing automation system…
More likely to be used by a marketing heavy, eCommerce style business, the sales team and pipeline management features of ActiveCampaign aren't its strength, but it remains one of the more popular marketing automation platforms.
Website: https://www.activecampaign.com/au/
8. SugarCRM
Sugar is one of the few offering both "on premise" and modern Cloud SaaS CRM. A mature player, that started as an open-source project in the mid-noughties, Sugar has a sizable global footprint amassing more than 2 million customers globally.
Now owned by mid-market, mature software focused investment fund A-KKR, SugarCRM has a decent footprint of clients, implementation partners and white-label vendors in the Australian market.
Website: https://www.sugarcrm.com/au/
9. Pipedrive
A European CRM, Pipedrive has been aggressively marketing and growing its footprint in Australia in recent years. As the name suggests, Pipedrive is very focused on sales activity and managing the "pipeline" of deals across a team of reps, rather than on marketing automation (which is the core focus of the likes of Hubspot and Keap in contrast).
Our take is Pipedrive is a reasonably priced solution that competes well with the likes of Zoho and Salesforce within a sales team environment, focused on tracking activity and progressing deals through a sales funnel process.
Website: https://www.pipedrive.com/
10. Tall Emu
It would be remiss to have a list of the Top CRMs for Australian inventory-based businesses, without mentioning an Australian, inventory focused CRM in the top 10! Tall Emu deserves a mention as a local solution, particularly focused around the MYOB ecosystem including AccountRight and Exo (two mature, yet dominant players in the accounting and inventory management technology for Australian inventory-based businesses).
Tall Emu offers a competitive CRM that, almost better than every other product on the list, is very specific to the inventory-based target audience. From prospecting and pipeline management to quoting and activity tracking – Tall Emu is a a solid offering for an SME looking for CRM.
Website: https://tallemucrm.com/
11. Freshworks / Freshsales
Freshworks, like Zendesk, was born out of a ticketing/helpdesk solution. Freshsales, the CRM module, is effectively the evolution of the Freshservice product. This sees it's strength leaning towards service heavy industries, which do include inventory-based companies to some extent.
They have a fair presence in Australia, and their global footprint includes a raft of major brands – though we suspect most use Freshservice rather than the "CRM" in Freshsales. Nonetheless a key player in market.
Website: https://www.freshworks.com/freshsales-crm/
12. Monday.com
It wasn't that long ago that we argued with a client that Monday.com wasn't actually a CRM and yet here we are adding them to the top 15 CRM list for Australia! Very much attacking CRM from an activity tracking, project management style approach, Monday.com is now aggressively pitching itself in the CRM space. And whilst we still think its "very light touch" as far as CRM goes, so far we're actually pretty impressed with how performs!
Monday.com probably suits businesses moving from no CRM to something. It also suits businesses whose main motivation for CRM is either:
To track the activity of the sales team, due to some trust issues… OR
To empower the sales team to use technology to not let things slip through the cracks.
Website: https://monday.com/
13. Zendesk Sell
Zendesk joined the list of players broadening their offerings and turning to competition out historical synergistic relationships. They have taken their service desk focus and expanded into the CRM space with Zendesk Sell.
Sell is very much a sales activity, pipeline management tool rather than a marketing automation CRM. Its strength is its unification of customer communications across helpdesk (aka ticketing) and sales. Again, very similar to freshworks, Zendesk Sell is an adjunct to their core Zendesk support suite.
Website: https://www.zendesk.com/sell
14. Odoo CRM
Odoo is a global, open-source Enterprise Cloud Platform that is gaining a growing following in the Australian market. CRM is but one of a comprehensive array of modules that all knit together to offer a competitive end-to-end solution for Australian inventory-based businesses.
The CRM is functional, highly customisable and configurable and is delivered at a competitive price point. Mainly used by business adopting the ERP and eCommerce solutions, Odoo CRM is an attractive alternative to some of the bigger names on the list.
Odoo: https://www.odoo.com/page/crm
15. Pepperi
Pepperi is known more for its remote sales ordering functions, but have embedded a CRM that well-suits an outbound sales team. Again, not coming at CRM from a marketing or service perspective like say a Hubspot or Zendesk, Pepperi is a CRM specific to managing client relationships within an established customer base, particularly where the rep is visiting the customer's location.
Pepperi has a well established presence in Australia and has an array of integrations across the accounting software, inventory management and ERP providers.
Website: https://www.pepperi.com/
16 Insightly
With a low-cost (read free) entry point, Insightly is easy to use and a good example of a broad, modern CRM. Integrated to the more popular add-ons and accounting systems, Insightly has grown to be a decent blend of traditional sales active CRM and modern marketing automation system.
For us, Insightly is a decent system without really standing out in any specific way. There are better marketing automation and sales pipeline solutions, but perhaps its advantage is the combined offering is good overall.
Website: https://www.insightly.com/
17. Ontraport
Another, marketing automation focused solution, similar to Hubspot and Keap. For that reason it finds a better home inside say an eCommerce or small businesses with a high dependence on website lead generation and marketing activities, than in say an outbound B2B sales pipeline environment.
Pricing is quite competitive with the likes of Hubspot and Keap, when comparing like-for-like functionality, but realistically targeting the smaller end of the market so this makes sense.
Website: https://ontraport.com/
18. CapsuleCRM
Capsule pops up a bit in Australia around the Xero ecosystem particularly. Its a clean, intuitive system that hits a reasonable price point. With integrations to DEAR and CIN7 it is gaining some traction in the inventory-based business space.
Capsule is a modern, easy to use, entry level CRM with a focus on communication tracking, sales activity and pipeline management, as opposed to marketing automation.
Website: https://capsulecrm.com/
19. CreataCRM
A local player with integrations to MYOB, Reckon and Xero. CreataCRM extends into inventory management and remote order taking, as well as phone systems. Probably more associated with mobilising a sales team locked to MYOB or Reckon desktop solutions, the product continues to evolve and broaden its appeal.
Website: https://www.creatacrm.com.au/
20. Legrand CRM
Another mature, local player with integrations to the key regional accounting systems such as MYOB, Reckon and Sybiz. With both on-premise and Cloud solutions, Legrand has a solid install base of inventory management clients (and beyond).
The cloud solution remains a simple, light touch, easy entry point for Australian SMEs into CRM
Website: https://www.legrandcrm.com/
In closing
So there it is, our take on the Top 20 CRM systems for Australian, inventory-based businesses. Realistically, we could have had 20 more in our list as it is a competitive space. Which system you choose really depends on your requirements and your business focus. The key points of difference tend to be found in these key areas:
Sales rep activity tracking
Pipeline transparency and tracking
Marketing automation – can you trigger events from certain actions such as website visits, enquiry form entries, email link clicks etc?
Integration to other key systems such phone systems as ERP or SME accounting tech
Service desk and ticketing – "Customer Service"
---
For more on Cloud Accounting, Payroll, HR tech and ERP Follow On:
This blog: https://valueadders.com.au/articles
Twitter: https://twitter.com/mattpaff and https://twitter.com/valueadders
Follow this Blog: https://valueadders.com.au/articles/
Follow our LinkedIn: https://www.linkedin.com/company/value-adders/
Like on Facebook: https://www.facebook.com/valueadders/
Follow on Medium: https://medium.com/@mattpaff
Or sign up to our occasional email newsletter: