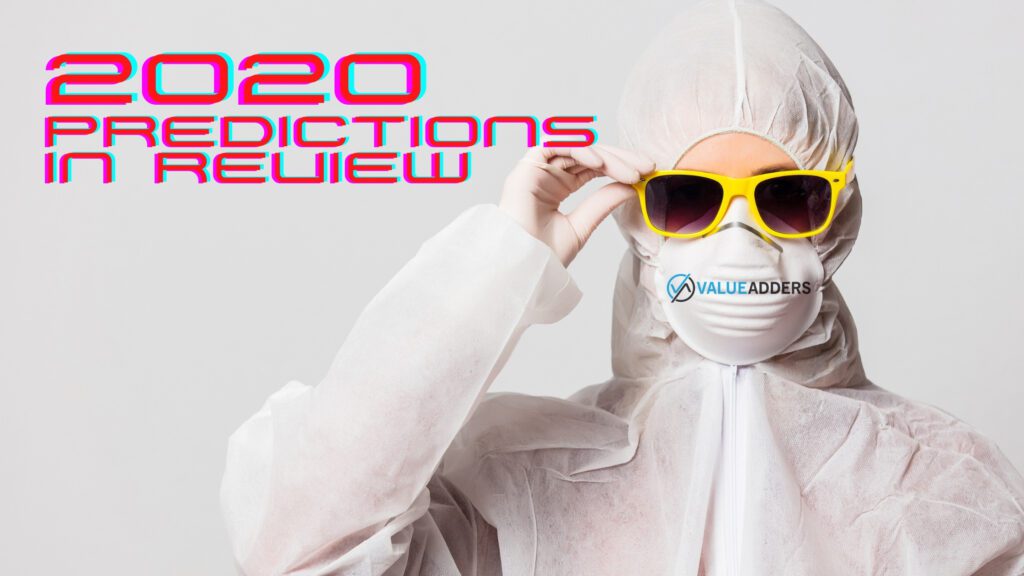 It's that time of year again. The Melbourne Cup to Australia Day (#changethedate) hiatus has finally passed. Kids are back at school. Trump is gone. Time for normality to resume. And time to hold myself to account for last year's attempts at futurism, before laying out what the year ahead holds in the world of Biztech.
FYI here's the (unedited I promise!) blog from 12 months ago: 10 Predictions for 2020 in Australian biztech
So how did I go?! Well first, can we all agree – "wow, what a year?". Even Nostradamus would have had trouble predicting the disaster 2020 turned out to be!
First, there were the bushfires. Then, of course, the pandemic. A stock market crash early in the year followed by a stock market and crypto bull run, as the pandemic worsened! I'm just pleased to say my ability to predict the biztech market far exceeded my ability to pick the stock market movement since April… 🧸
Anyway, lets look at my ten predictions and see how they fared:
1. Xero to buy Spotlight Reporting 👎
3 star confidence… 5 star failure. Didn't happen. Turns out my spies who saw Richard and Steve lunching late last year were right, they did lunch, but we were wrong on the conclusions drawn… in 2020 Xero just decided to raise more money for acquisitions and be in no rush to spend it… and their share price just continued to climb!
2. The rise & rise of the All-In-One HR/Payroll/Workforce Management solution 👍
If our 2020 projects are anything to go by, there is zero argument I was right on this one. We did several due diligence projects and market analysis reports for software vendors and private equity firms looking at roll-ups and acquisitions to get to all-in-one in the HR space.
The client-side independent vendor selection projects we ran in this space all placed a high priority on the unified employee view and unified employee experience.
We saw MYOB buy a controlling stake in Roubler. Globally Kronos and Ultimate Software merged. There's no doubt Ceridian continue to grow their local client base and brand recognition (particularly after the recent acquisition of Ascender). And we keep seeing the emerging players like EntireHr, HR3+, MicroKeeper, FoundU etc etc
3. A spike in T&A system sales (and M&A activity in that space) in Australia 👎
Well, MYOB invested in Roubler… The reality is, 2019 saw more action in M&A relating to T&A space (ELMO acquired BoxSuite, Pay Group acquired Astute, ReadyTech acquired Zambion, Ceridian acquired Riteq…), so marking this one down as wrong…
4. MYOB to acquire an HRIS / Workforce Management solution 👍
Common theme arising? Roubler – 'nough said!
5. Sage to add Payroll & Workforce Management to Sage People / Intacct 👍
Well, Sage sold its legacy Payroll assets to The Access Group, but have they in fact added Payroll & Workforce Management to Sage People? There has been no official word that I have seen, BUT Sage partners reliably inform me that Sage People Payroll is a real thing. We think it's a distribution agreement with 2CloudNine out of Melbourne and built on the Salesforce platform… but we await formal confirmation…
I'm marking this one down as a thumbs up, but await official word from any of the Sage people I have emailed and called in the last couple of days! Sage people, feel free to comment below.
UPDATE: now confirmed via Sage APAC MD Kerry Agiasotis: Sage People Pay | Sage Australia
6. Mid-market ERP acquisition(s) coming 👎
Well… The Access Group acquired Unleashed… admittedly not quite a mid-market ERP… I still think The Access Group, MYOB and others have their eyes on further acquisitions in the legacy, mid-market in Australia, but alas, 2020 wasn't the year!
7. 2020 – the year of the mid market CloudERP in Australia 👍
There's no doubt genuine Cloud solutions are now the dominant players in the mid-market ERP space. As we covered in this blog in August last year "The top 10 ERP systems in the Australian Market", the fastest growing products in the space are all genuine cloud players, with the top 5 becoming pretty dominant over the ensuing 6 months, in our view:
NetSuite
Microsoft Dynamics 365 Business Central
MYOB Advanced
Odoo
Sage Intacct
Working From Home through the pandemic, really rammed home the need for fast, reliable, remote access and the genuine cloud solutions own that narrative.
The only argument is was 2020 really the year? Research out of the US by Panorama Consulting might point to the turning point being 2018, check out these two charts:
From the projects we ran in 2020, there is no doubt Cloud is now baseline in the discussion and rarely now are we seeing naïve arguments about data security and ownership. So whilst the turning point was probably 2018, the consolidation and general acceptance really arrived in 2020.
8. Greatsoft to be acquired 👍
I'm pretty sure someone at KKR/MYOB read my predictions and it just became their strategy document for 2020! Sure enough, Greatsoft was (pending ACCC approval) acquired by MYOB.
9. Xero's Australian net growth to noticeably slow 1H21 👍
I didn't predict the pandemic, which no doubt contributed, but Xero's Australian net growth did noticeably slow in 1H21.
Here's an extract from the 1H21 presentation:
Whilst kudos are due for surpassing 1m Aussie customers, the net adds decreased, not just as a percentage but in raw numbers!
But, who cares if you were HODLing XRO, another spectacular year of capital growth, significantly outperforming the broader market, sector and its closest peers:
10. Intuit Australia & KeyPay to go their separate ways 👎
Let's just say I was simply wrong and move on…
2020 with 2020 hindsight
So there it is, better than 50/50 in a crazy year – whilst in a normal year I'd be disappointed with 6 out of 10, I'm OK with being better than half right! But, that won't be good enough this year. Keep an eye out next week for my predictions for the year ahead!
___
For more on Accounting, ERP, Payroll & HR tech:
Follow On Twitter: https://twitter.com/mattpaff and https://twitter.com/valueadders
Follow our Blog: https://valueadders.com.au/articles/
Follow our LinkedIn: https://www.linkedin.com/company/value-adders/
Like on Facebook: https://www.facebook.com/valueadders/
Follow on Medium: https://medium.com/@mattpaff