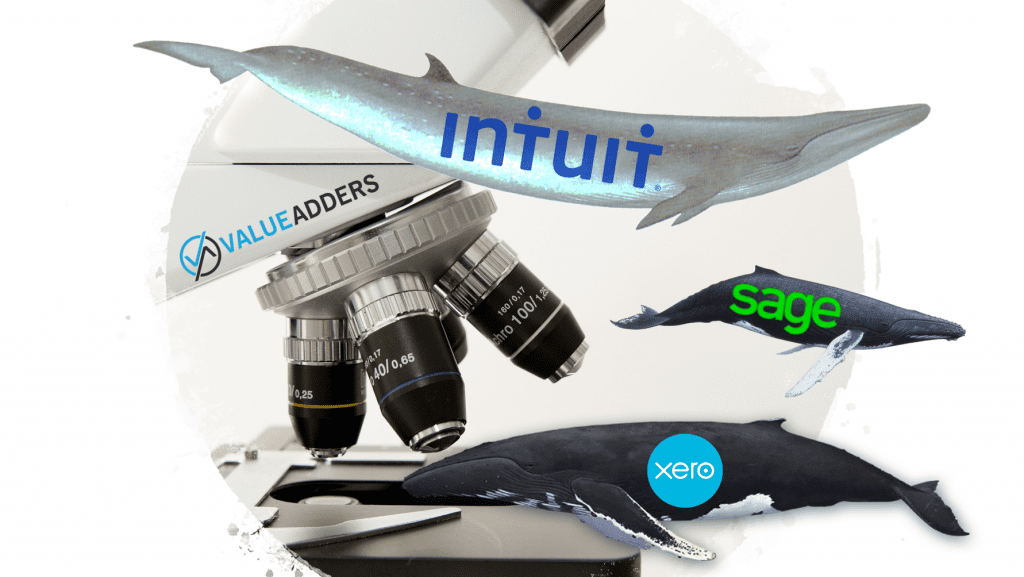 May is a big month for Accounting Tech investors – we get the "3 big whales" of SME accounting software all reporting within days of each other. Its the one time of year we can assess how much the "rising tide is raising all ships".
Let's start with a look at share price performance over the last 12 months. Its a pretty picture if you're betting on the segment, or the individual stocks: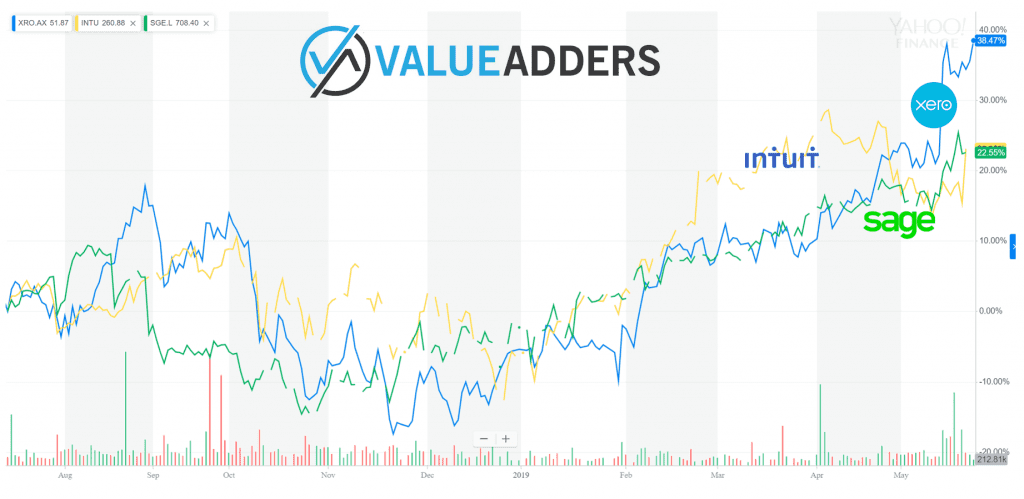 This chart highlights several things:
The rising tide of recurring revenue is indeed, raising all ships!
Xero is the clear winner from an investment perspective, for the 12 months to today 28/5/2019.
Xero has had a real spike since FY19 announcement, one could credit profitability as the key driver.
I might also suggest, in agreement with Chris Power, the ASX is over-valuing tech stocks compared to the US and other markets at present.
The Intuit brand and stock price has taken a hit since it emerged it hid its free Turbo Tax version from search engines.
The new CEO at Sage, Steve Hare, appears to have done a great job since taking the reins, officially, in November.
Digging into the respective announcements:
Xero FY19
Highlights:
1,818,000 customers as at March 31, 2019, up 432,000 YoY (31.1%);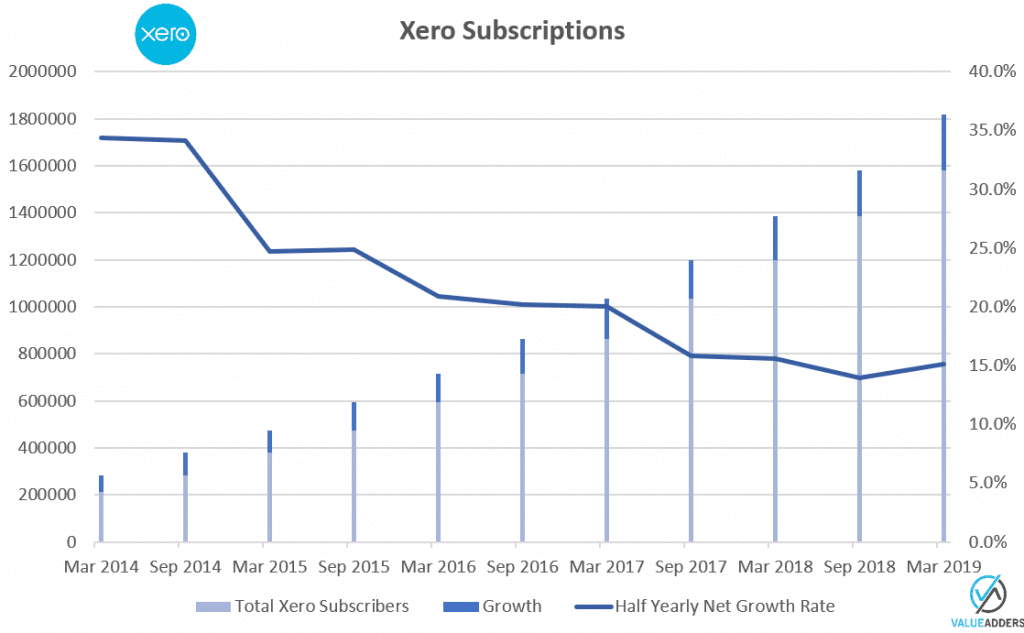 Great to see an upturn in the growth rate up from 13.9% 1H to 15.1% 2H , but I do note that it is still down from 15.6% SPLY.
$638m ARR, up $154m YoY (31.8%);
First Full Year positive cashflows;
1.08m AuNZ subs (up 25% in Australia & 17% in the more saturated, mature NZ market);
463,000 UK subs (strong growth with Making Tax Digital, up 48%), streaking well ahead of NZ as Xero's #2 market;
195,000 North American Subs inc Hubdoc (up 33% YoY excluding Hubdoc) – completely eclipsed by Intuit at 3.1m US (not including Canada) equivalent subs, with 25% YoY growth rate;
83,000 ROW subs (up 43% YoY)
Intuit 3Q19
Highlights:
4.247m QBo subs as at April 30, 2019, up 31.7% for the year – almost identical annual growth rate percentage as Xero, off a much larger base!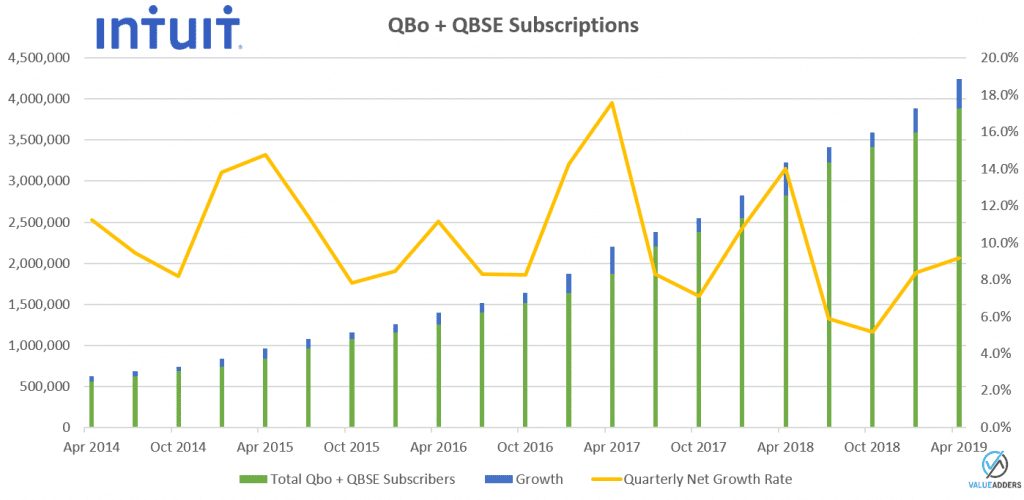 The above chart shows the usual Q2 and Q3 spike off the US tax season and bundling with Turbo Tax;
U.S. subscribers up 25% to over 3.1m;
International subscribers up 55% to over 1.1 million; I'd love to know the UK numbers to compare to Xero!!
Revenue up 12% (to $3.272b USD for the quarter!!) and earning per share up 16% YoY;
Love this one… Desktop sales, subs and revenue all up! Sales of 258,000 units in the quarter, up 11.7% against SPLY; Subs up 8.5% against SPLY; Revenue up 11% against SPLY!
QuickBooks Capital has funded $360 million in cumulative loans in the last 18 months. The bank of Intuit continues to evolve!
Sage 1H19
Unfortunately Sage isn't as transparent as the others with their subscriber numbers, but given the plethora of different products in their portfolio across the globe, it would be difficult to "sort the wheat from the chaff". Nonetheless, here's some highlights for mine:
Total revenue of £941m for the half, up 6.2% SPLY;
Annualised recurring revenue (ARR) growth of 10.2% to £1,545m;
Recurring revenue now represents 83% of total revenue with 52% software subscription penetration;
Recurring revenue growth underpinned by software subscription growth of 27.7%, largely off the back of converting existing users to subs (similar strategy to MYOB);
Growth in recurring revenue, driven largely by strength in North America at 12% and Northern Europe (UK & Ireland) at 14%;
The project to internationalise Intacct continues to progress well with the solution due to launch in Australia and the UK later in 2019 – and we wait with bated breath, though note Sage themselves do not have a culture of hitting product delivery targets, let's hope Intacct haven't been Sageised yet!!
Elsewhere KKR very active
Despite the fact two other private equity firms have made their profits on acquiring and disposing of MYOB, KKR have bought into the theory that a rising tide raises all ships and acquired it from the ASX and Bain.
Interestingly, KKR have also recently acquired European heavy-weights Exact.
I wonder if there are synergies in aligning/combining these two businesses or whether they remain independent?!
Conclusion
If you aren't already invested in Accounting tech as a sector, I highlight to you that growth continues unabated and from where I sit, it is unlikely to fade for the foreseeable future as we are but a fraction into the Total Addressable market, so its not too late to get in (or at least buy on the dips).
___
For more on Accounting, ERP, Payroll & HR tech:
Follow On Twitter: https://twitter.com/mattpaff  and https://twitter.com/valueadders
Follow our Blog: https://valueadders.com.au/articles/
Follow our LinkedIn: https://www.linkedin.com/company/value-adders/
Like on Facebook: https://www.facebook.com/valueadders/
Follow on Medium: https://medium.com/@mattpaff