Next week, something like 4,000 people will descend on Brisbane for "the Festival of the ABCs".
Accountants & App Vendors;
Bookkeepers & Bloggers;
Consultants & Cloud Integrators;
All heading to Brisvegas to catch up on the latest and greatest things Xero and industry and let's be frank, party like no-one is watching!
Ahead of #Xerocon South/Brisbane 2019, I thought I would sit down and consider the last 12 months and list what I am looking for this year.
Stunning year for investors, but what next?
The succession of Rod Drury, based on market cap. has been a stellar move for Xero…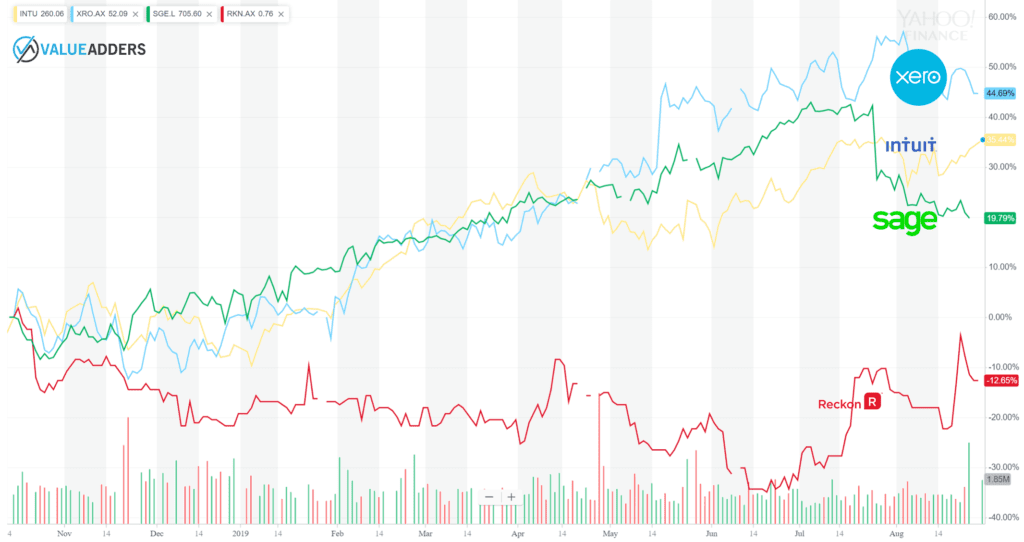 Well that's one interpretation of the 45% gain over the last 12 months… But, my take, as good as Steve Vamos is, I might call the post-Rod share value gain a spurious correlation, highlighting the consolidation on the ASX, the increase stock liquidity with sell downs from Rod and Winkler, the stellar run of ASX listed tech. stocks and the inclusion in the ASX 100 as the more likely drivers (outside the obvious, continued growth).
So the question I'm looking to answer at Xerocon is: what are the growth drivers for the next 12 months? With a likely volatile year ahead for the world share markets, what is going to provide the stability and capital growth for XRO investors?
Where are the acquisitions?
Around this time last year, Xero, on the back of the acquisitions of Hubdoc, announced a US$300m debt raise. Vamos at the time said:
"we have to enhance and extend Xero's small business platform and ecosystem capabilities through the pursuit of complementary targeted acquisitions."

https://www.fool.com.au/2018/09/26/xero-limited-asxxro-reveals-us300-million-convertible-notes-offering-and-trading-update/
Shortly after Xero announced the acquisition of Instafile. Most commentators, including me, thought, well here goes, a bucket load of strategic acquisitions will follow… And Intuit are likely to get in and compete – an acquisition spree will break out… I even wrote about it in my guest blog for Xero!
So what has actually transpired? Duck egg! Zero! None! WTF?! Am I the only investor asking what was the point of the $300m?? Why then? If you weren't going to use it… why do it?
Now, Steve Vamos and the Xero board are far smarter people than I, so there must have been some logic. Perhaps they haven't found any decent targets? Perhaps the issue is price? Perhaps these things take time??
Whatever the excuse, I'm heading to Xerocon expecting at least one announcement of an acquisition. And if there aren't any, I want answers on why not and what was the urgency in raising debt when bonds and interest rates worldwide have continued to come down?
Where to next in the antipodes?
Xero is now the incumbent down-under. With that comes the challenges of incumbency, including higher expectations on product, tall poppy syndrome and a very large target on their back!
MYOB have not only pinched the Canstar Blue Most Satisfied Accounting Software Customer ranking (from a sample size of 2 solutions by the looks of it…), after 4 years of Xero dominance, but they also claimed leadership in "cloud adoption" in Australia and New Zealand, with clams of 229,000 new online subscribers for calendar year 2018 vs Xero's 193,000 for April 1 2018 – March 31 2019.
I find MYOB's claims dubious, particularly when one looks at this graphic from their annual results presentation: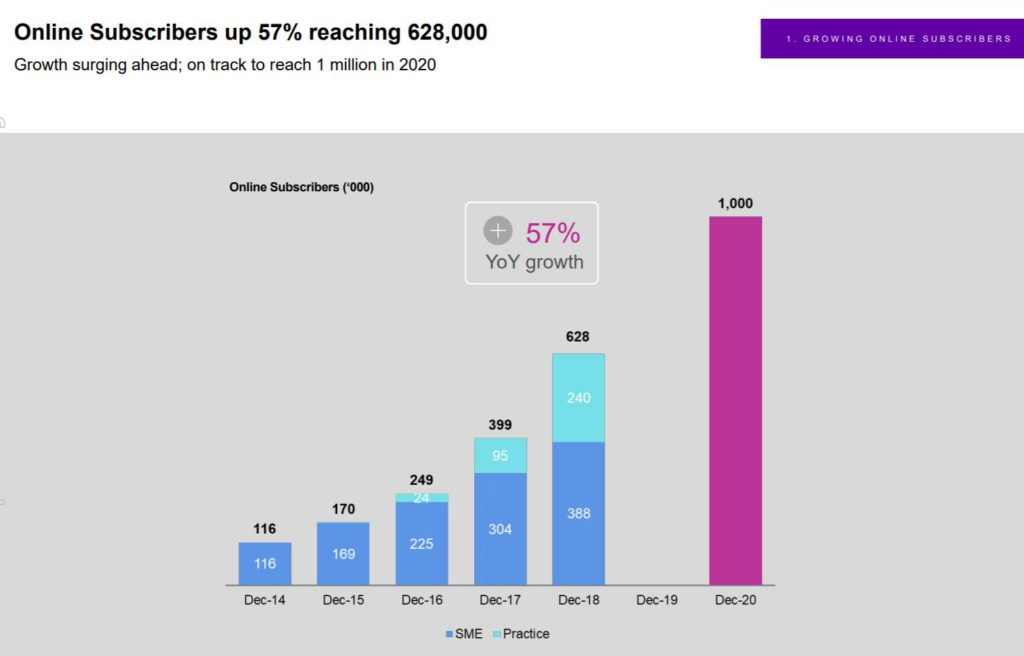 Note, just 84k SMEs are included in the 229k and 145k come from the "Practice" side of MYOB. This seems ridiculously ironic, given MYOB are yet to genuinely have a cloud Practice solution…
Nonetheless, I'm heading to Xerocon to learn how Xero intends to build upon its antipodean incumbency and not get usurped as they did to MYOB and MYOB to Attache before them. Intuit are still spending big in this market and gaining traction. Then there's the threat of new entrants (I reckon Square will be a serious accounting technology player to within 18 months) and disruptive technologies (like blockchain etc). How does Xero plan to build an economic moat around its leadership?
Where next with the product?
There have been ructions of discontent in the speed of development and innovation coming from Xero in the mature Aussie and Kiwi markets. Has the Xero platform hit a plateau?
I'm heading to Xerocon this year, looking for genuine advancements in AI and mobile (two things they said they were focusing on for the year ahead, last year). I'm looking for a surprise or two. e.g. XPM isn't well loved (as the SME product or Tax for example) and does not scale – are they doing anything about it?
Will I see you there? If yes, let's have a coffee or a drink!
If not, follow me on the socials and I'll keep you posted!
Follow On Twitter: https://twitter.com/mattpaff and https://twitter.com/valueadders
Follow our Blog: https://valueadders.com.au/articles/
Follow our LinkedIn: https://www.linkedin.com/company/value-adders/
Like on Facebook: https://www.facebook.com/valueadders/
Follow on Medium: https://medium.com/@mattpaff