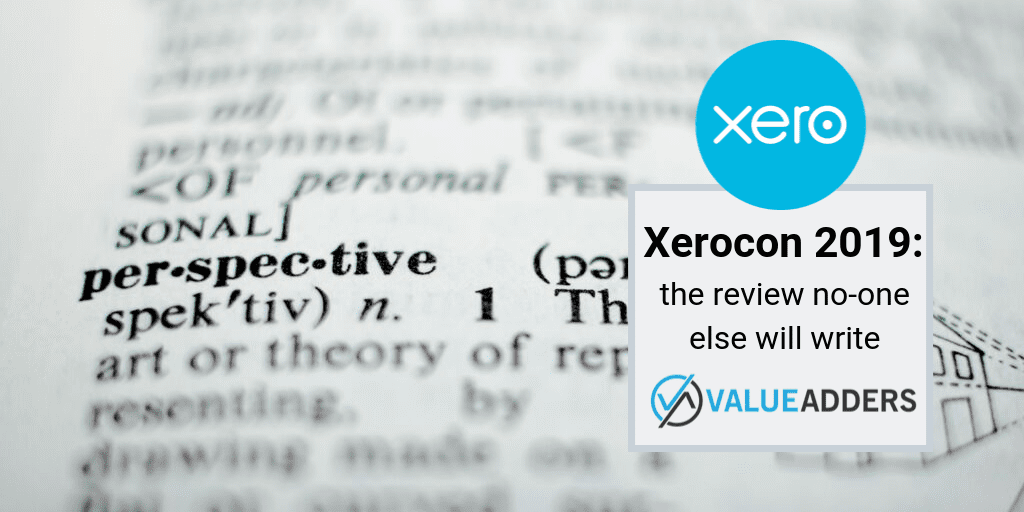 Perspective. It is something I appreciate more as I mature. It is something that hit me hard when I sat down to consider my "review that no-one else would write" for Xerocon Brisbane 2019.
I am cognisant that I have a relatively unique perspective. 19 years ago this month, I started my career in the Accounting Technology industry. My journey to where I am today, the roles I have held, the businesses I have owned and run, have all developed a unique perspective, which, as many reading this would know, I haven't been scared to espouse.
But, after attending the last 6 Xerocons and writing "the review no-one else will write" for the past 4, I realise that perhaps my perspective needs to consider the perspective of others more acutely this year. Perhaps it was the influence of the overt Xero core value of "Human" that pervaded the conference and my post-event thoughts. No doubt it was the beer I shared at the airport, with a couple of old work colleagues, with very different paths over the last 19 years, with whom I debriefed.
So herein, I consider Xerocon Brisbane 2019, from the perspective of others, in-so-doing, arriving at my perspective on the event.
I stress, the following perspectives are formed on an amalgamation of discussions with multiple people. The people mentioned are real, but the words are not necessarily theirs. This is not an interview piece, but rather a review from the writer, considering alternate perspectives. It is also NOT comprehensive of all perspectives, lest I write a book, not a blog article…
Meet Jac (middle) – principal, small suburban accounting firm
Jac and I worked together at an accounting technology company 19 years ago. Whilst I stayed the course on the industry, Jac's amazing life has seen her in the rag trade. Taken her and her husband to the MTV Music Awards. She's lived in New York. Mother to 3 awesome kids. Wife to a music industry legend. Completed her CPA and runs an accounting practice in Summer Hill Sydney specialising in the creatives vertical.
Whilst nothing about Jac is typical, herein Jac represents for me, the perspective of the average suburban accountant running their own practice. She is not an innovator nor early adopter on Roger's diffusion of innovation curve. Jac, like most, fits somewhere in the early to late majority.
What was Xerocon for Jac?
Inspiring. Motivating. A driver of change. A line in the sand. An opportunity to take the time to find out about new technology to make hers and her client's lives easier!
Taking a couple of days away from clients. Away from the family. Spending the money on the Xerocon ticket, the flights and the accommodation, these are not small sacrifices for the average proprietor of a small suburban firm.
What is Jac's perspective on Xerocon? Did she get an ROI on the time and the money? Absolutely. Jac leaves Xercon Brisbane 2019 invigorated. The recognition of the community of 3,000+ peers is empowering. The content and speakers were real and emotive. The opportunity to assess and commit to implementing some of the "add-on" ecosystem products is defining for Jac's practice.
For Jac, Xero represents the industry progressing forward, pulling her and her peers along with them. Xercon, the ecosystem, the community, they are consistent to the general theme that Xero projects and it all helps build Jac's trust and importantly confidence to use technology to better service her clients. For Jac, Xerocon in its enormity, still manages to connect with her as an individual, making her feel like she is doing things right!
My learning from Jac
The majority of people aren't like me. They aren't trying to be at the bleeding edge of technology. They want practical solutions. They need confidence and assurance when making technology choices. Being the pioneer adopting the next big innovation is of little to no interest.
Xero, in the more mature markets like Australia, must appeal to the Jac's of the world. Its no longer about winning the outspoken early adopters. That job is done. Now Xero has to welcome, comfort and assure the Jac's of the world that Xero is the right home for her practice and her clients.
Xerocon Brisbane 2019 nailed the brief. The messaging was all around:
Simple
Seamless
Smart
It wasn't about how Xero have added this amazing new example of AI or blockchain. It was the 1 percenters. Adding to the most loved announcement at the 2018 Xercon (a running total on the GL TB), Xerocon 2019 featured "You spoke, we listened. The ten most requested improvements to Xero".
This is the stuff that validates Xero as the right choice for Jac and her clients.
Whilst the snippets on AI, give confidence that Xero will remain a leader, it is the practical incremental improvements that excite.
Meet Anita (left): the long-term Xelot
Xelot: portmanteau Xero Zealot
Anita was early to Xero. She has evangelised the product and the company for most of the past decade. Anita runs a successful company she describes as a bookkeeping business, I think its more a modern business tech advisory firm, who specialises in implementations and software support. Sure, they do bookkeeping but describing her company as a bookkeeping business would be akin to calling a smartphone a telephone. Sure, they both make and receive phone calls, but a smartphone is far more like a mobile computer than what most knew a telephone to be 20 years ago. The modern bookkeeper for mine, looks more like a software consultant and trusted business advisor than a bookkeeper of 20 years ago.
Anyway, herein Anita represents the long-term Xelot. An early adopter, even innovator on Roger's curve.
What was Xerocon for Anita?
For Anita, Xercon is not just about the product releases and "how to grow your firm" sessions. It's a chance to connect and reconnect with like-minded, solution focused people and mull over current projects. It's more than Xero, it's the ecosystem, her peers. A validation of her choices. A chance to have fun.
Xero faces the tough challenge of retaining the early adopters like Anita, whilst winning over the majority and laggards. How do you remain innovative, hip, happening, new for some, whilst comfortable, assured and safe for others?
Ironically, it was perhaps Oprah at a QuickBooks Connect US 2015 that I learned this from and I can see it playing out with Xero. Oprah talked of Brand. How she had resisted being a brand until she understood what it was and the power it had. For her, brand was about consistency. If you are consistent in your messaging and actions, that predictability underpins how people perceive you and those predictable elements become your brand.
My learning from Anita
Xerocon and Xero the brand remain true to who they have always been. They are consistent. They don't stagnate. There's the familiar with Rod Drury the founder being very present and acknowledged and Craig Walker, the founding CTO there all the way from New York… Xero is still Xero, not an MYOB or Intuit clone. They ARE cloud accounting. They get the channel. They partner with the channel, they don't send mixed messages by competing with it… Sure the BIG innovative announcements of product enhancement have slowed, but Xero is still at the forefront of the industry. No-one is leap-frogging them… yet.
The party atmosphere of Xerocon cultivates its brand. As does the content and the community that surrounds it. It retains the early adopting Xelot whilst appealing to the new majority. Xerocon reminds the Xelot that they made the right choice all them years ago and that they are still on the right horse!
Meet Shamir (left): a senior client manager in a mid-sized accounting firm
Shamir works in a suburban firm of around 20 staff. Shamir is fairly tech savvy and keeps himself abreast of feature updates and product enhancements. Most clients of the firm are on Xero. The firm itself moved from MYOB AE to Xero Practice Manager (XPM) in the past couple of years. The move was a decision to be in the cloud and not retain the overhead of managing a server with AE. It has not been a change without challenges. MYOB AE does have features lacking in Xero XPM and there's a longing at the firm to see XPM move forward and plug the holes.
Each year 2 members of staff attend Xercon, then come back to the team and share what they learned. This was Shamir's first Xercon.
Herein Shamir represents staff of a mid-sized firm, on board with Xero, personally experiencing Xerocon for the first time, hoping to see some progress in the Xero and XPM and there to assess ecosystem apps against one and other.
What was Xerocon for Shamir?
Fun. An opportunity to review multiple advisory tools in one place. A little disappointing.
Shamir went to Xerocon, eager to see some big announcements about product, particularly XPM where he spends much of his day. Outside a new payment integration with Stripe, Shamir comes away from Xerocon mildly disappointed in the genuine lack of anything new.
Shamir keeps himself abreast of the changes within Xero, by reading the release notes/blogs and by regularly engaging with his Xero partner manager. For Shamir, there was no new news, just rehashes of what had already been announced elsewhere. Where were the long awaited fixes to the XPM shortcomings? Why has that product stagnated and over the past few years whilst Xero trumps out Xero Projects for clients and small firms, and integration with CCH iFirm and this year Greatsoft for mid to large firms? Where's the engagement, excitement for an XPM user? Has Xero just given up? Its as if the messaging from Xero is if you want better than what we're already providing, we're not going to spend any money or time fixing it, so why don't you look at one of the 3rd party offerings… or Projects…?
For Shamir and other mid-sized firms, the lack of progress on the XPM front, tarnishes the Xero brand. There are frustrations that they have been patient with, that seem to be getting no attention. Its a paradox, Xero seem attuned to the accounting channel, yet the primary offering for the accountant seems to be stagnant.
Shamir enjoyed the spectacle that was Xerocon 2019. He appreciated the grandiosity of it all. Loved being able to investigate Spotlight, Futurli etc all in one place. But he comes away thinking that Xerocon is an "experience it once" phenomenon. It's a spectacle but lacking in depth and the product announcements he'd hoped for.
My learning from Shamir
Xero are not executing the practice management strategy as well as they could. WorkflowMax (XPM) does seem to have stagnated and rather than throw resources at fixing it, Xero seem to be resourcing the alternatives (Projects, iFirm and Greatsoft). For the larger small to medium firms who have jumped on board with XPM, I can understand the frustration. There seems a mixed message. You care about the partners but you're happy for the core tool to stagnate and continue to be Xero's most complained about module…?
Xerocon missed the mark at Xerocon 2019, for the Shamir's of the world. Xero appear to have a free hit in the market right now, and yet appear they are not fully capitalising, by letting XPM stagnate.
Intuit have launched QB Live and TurboTax Live in competition to their partners whilst building out QBoA and integrating LodgeIT (mixed messages). MYOB keep promising what's coming in practice management in the Cloud, though delivery has rarely been their strong point (trust issues). Sage have a mix of faux cloud and Salesforce componentry that's not yet hitting the mark. Reckon… well…
Perhaps this all gives Xero time to stagnate with XPM..? But as someone much smarter than I once told me, product is the most durable competitive advantage. Product needs to evolve, it needs to build the confidence of the user over time, not erode it… Shamir and others want to know where to with XPM and the fact is with XPM Xero are not communicating their intentions as clearly as they do in other areas.
Meet Matt Paff… just a boy, writing about something, hoping YOU will read it…
Almost 20 years in accounting tech. An eager, opinionated product guy dressed up as a blogger with a media pass…
What was Xerocon for me?
Apart from the perspectives gained and detailed above, Xerocon 2019 was this year an expression of the Steve Vamos era. Consistent. Focused. Unified. On message. Genuine.
This is no longer the business run by an entrepreneurial, product focused founder. It's a business executing on the global opportunity laid out in front of it, by an experienced, united team.
Sure, I like Shamir was disappointed by the almost compete lack of product announcements, barring 3rd party integrations. There was no M&A activity announced. No industry leading new wow factor. But my realisation is there doesn't need to be. According to MD Trent Innes, Australia is probably not even 50% on the cloud accounting journey. The rest of the world, somewhere around 20%.
Xero know they already have market fit for Australian SMEs and beyond. It's just about executing and dragging the majority onto the platform. And partners are the key channel market. For the most part, Xero are doing as good if not better than competitors at winning the channel to market. Though not without their own disappointments on the product front, Xerocon represents Xero executing its channel and branding strategy.
The next big takeaway for me is I think Xero is genuinely living its value of being Human. What better way to sum that up than to mention NZ MD Craig Hudson's emotion discussion of his own battles with mental health..?
Then Craig tells how Xero have funded a trial for SMEs in NZ, to deliver an EAP (Employee Assistance Program) to 6,000 SMEs. Wow. Awesome. Human.
Nā tō rourou, nā taku rourou, ka ora ai te iwi
From your contribution,
And my contribution,
The people will prosper
In closing
I come away from with a new perspective and new respect for Xero. Quoting someone that I probably shouldn't attribute to the quote (you know who you are):
There's just no conceivable way that Xero isn't going to at least triple in size in the years ahead
There's a tonne of white-space in Australia still… which Xero are winning more than anyone (regardless of what others may claim):
Then on a worldwide basis, nothing but opportunity and Xero is one of two leading players:
(Before anyone asks, yellow = the rest aka other)
_____
For more on #CloudAccounting and beyond
Follow On Twitter: https://twitter.com/mattpaff and https://twitter.com/valueadders
Follow our Blog: https://valueadders.com.au/articles/
Follow our LinkedIn: https://www.linkedin.com/company/value-adders/
Like on Facebook: https://www.facebook.com/valueadders/
Follow on Medium: https://medium.com/@mattpaff