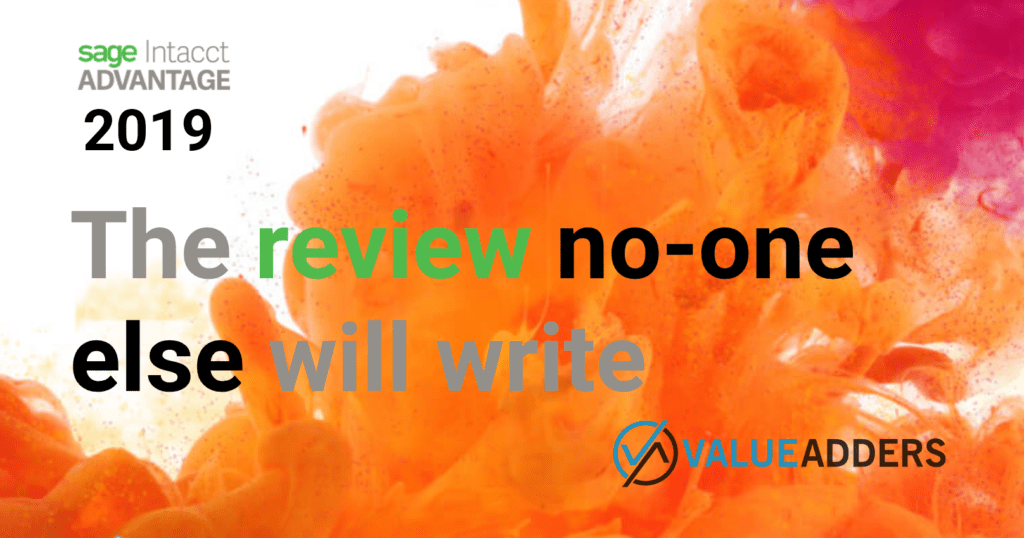 4 years ago, after a research trip to Las Vegas for a Sleetercon Conference, I wrote an article titled "Sage – The Waking Giant?". The crux of the article – was Sage finally about to become a software company, shedding the cloud denying, siloed, listed software fund persona to actually start leveraging its massive cash generating P&L and balance sheet to start competing as a modern business software vendor?
Ironically, many of the people and products I raised in the article have come and gone. It appears Stephen Kelly wasn't so much the amazing leader as a brilliant orator. Like Stephen, Jennifer Warawa has also moved on, as has most of the senior leadership back in Australia. Sage Live morphed into Sage Business Cloud Financials only to be shelved… SageOne (aka Sage Business Cloud Accounting) has struggled against the juggernauts in Xero and Intuit QBo… And I can't recall any of the other products making much headway… Probably explains Kelly's departure…?
Nonetheless, I think I was still right… I was witnessing a swing in the direction of Sage… execution may not have been a strength of the Kelly-era Sage, but the giant did wake up and start looking for ways to compete, perhaps out of pure necessity and shareholder pressure… Ironically, acquisitions were always Sage's strength and it has perhaps been two recent acquisitions that has Sage back in the game, finally displaying signs of a software company, rather than a listed investment fund:
The acquisitions were Fairsail (now Sage People – a Salesforce platform HRM system) in March 2017; and most importantly
Intacct in July of the same year.
So this leads me back to Las Vegas last week, to Sage Intacct Advantage 2019. Sage have recently launched Intacct in Australia and are about to do so in the UK. I was lucky enough to be one of the international guests invited to get a better understanding of Intacct and the "new Sage". After all, it wouldn't be a serious international event without the Matt Paff "review that no-one else will write" treatment… 🙂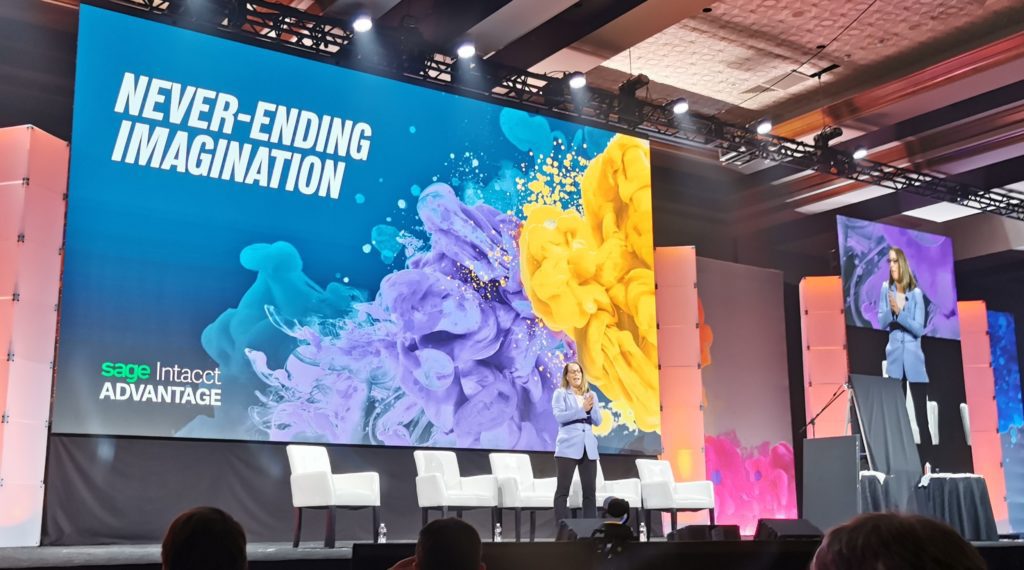 The Intacct backstory
Intacct was incorporated in the US in 1999, one year after its most direct competitor NetSuite. Intacct launched its first product to market in 2001. Interestingly, whilst NetSuite went international early in its life, Intacct stayed focused on the North American market. Meaning, whilst Intacct is a household name in the US and Canada, it is not well known outside those core markets… yet.
Intacct [a portmanteau of Internet & Accounting no doubt] is a Cloud ERP system, targeting organisations beyond entry level, with a genuine, multi-entity, multi-dimensional accounting platform, built for integrations and high transaction volumes. Today, something like 50% of transactions through Intacct do not originate from an Intacct data entry screen, but rather is pushed into the system via the API.
Interestingly both Intacct and NetSuite have been acquired in recent years – ironically a year apart once more (there must be something about software campanies turning 18 and getting acquired). NetSuite scored ~US$9.3 billion from Oracle in July 2016 (a cynical person might point out Larry Ellison was the major shareholder in both companies so the valuation may have been more than a tad inflated).
Intacct scored US$850m from Sage a year later in July 2017… One could easily argue the decision to go international early strategy won out… but what's $8.5b between friends..? I'm sure Intacct shareholders are happy nonetheless! Besides the race is far from over!
The Sage Acquisition
Few people could argue Sage's acquisition of Intacct didn't make perfect sense.
From a numbers perspective, Intacct will contribute US$200m to Sage in the year ahead (on a massive growth trajectory from $6m annually just a decade ago when Rob Reid joined the business).
From a product perspective, SageLive – the Salesforce based ERP system proved more difficult than the dream. The cost of sales would have been high (margin to Salesforce before any sort of channel must have hurt). The product was slow to develop, contrary to the Force.com promise (perhaps more the tradesmen than the tool…?). Intacct gives Sages its own Enterprise Cloud Platform (ECP), and control of its margin and price point. A well respected, tried and proven system.
From an acqui-hire perspective, Sage bought a tonne of talent, with SaaS in their veins. I for one thought the Sage board embarrassed itself no end when it punted Kelly and Donald Brydon, Chair of Sage stated:
"We need to get a CEO that has SaaS in their veins. It is not a learned behaviour"
Only to promote its CFO, with minimal SaaS experience, Steve Hare to the role a couple month's later… Dounce hat to Donald, someone please!
Nonetheless, in Intacct (and Fairsail and more recently Auto Entry) Sage has acquired a raft of senior execs "with SaaS in their veins". Intacct CTO Aaron Harris (pictured on stage below) is now Sage's CTO.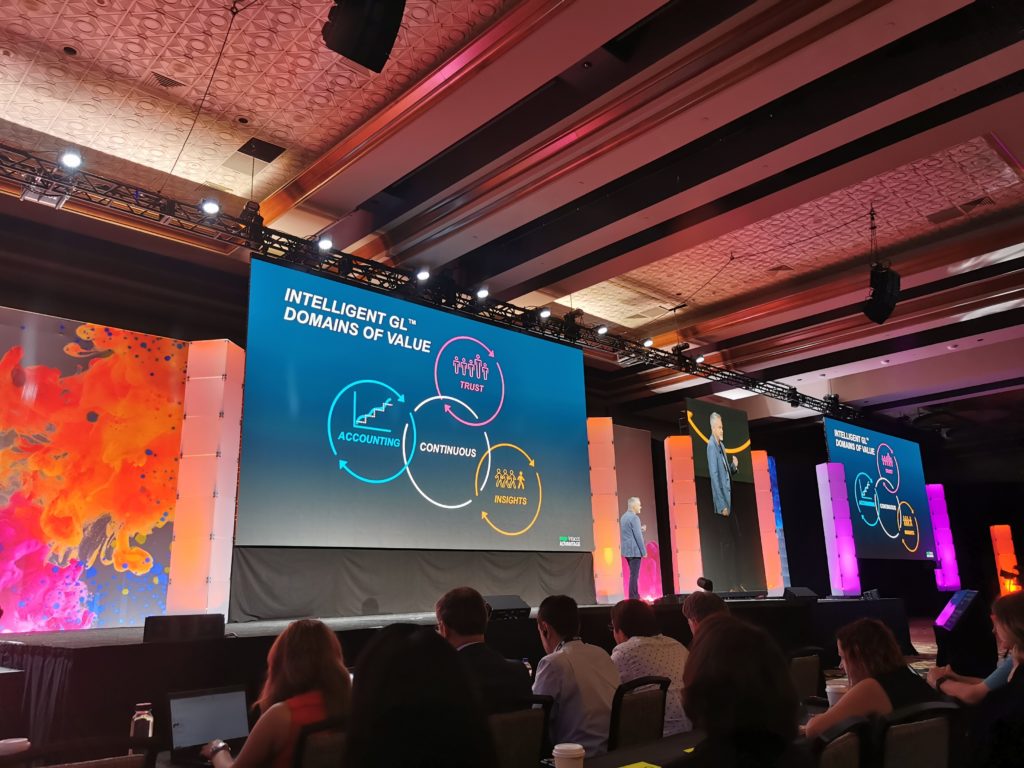 Former Intacct CEO Rob Reid is now "Chairman Mid-Market Solutions Group" – an odd title in UK AND American company structures! When I queried him on it, he holds an executive role, but kinda an advisor to the business on its operation, rather than filling a specific executive function. Reading between the lines. Rob is someone with SaaS running through his veins (he proudly states he's worked 9 start-ups 8 of which were successful). His role is to coach Sage on SaaS and the Intacct way!
Ultimately Intacct particularly buys Sage a SaaS native culture. It was commented more than once by people o spoke with (at obviously an Intacct NOT all of Sage event), that it almost smells of a reverse takeover of Sage by Intacct.
From Intacct's Perspective – why would Intacct want Sage. Afterall, US$850m in 2017 could have well been $10b by 2020, without Sage… The answer is two fold:
Sage has an abundance of cash – a $2b P&L. Think what access to that sort of recurring cash could do to accelerate Intacct?
Sage has an established channel to market, the world over! Building channels is hard and expensive. Competing for mid-market VARs against NetSuite, Salesforce, Microsoft, Acumatica, Odoo, SAP, regional players etc etc is hard. For all the criticism I can level at Sage as a fund dressed up as a software company, I have to acknowledge they have a well established mid-market channel and understanding of channel with Accpac, Timberline, X3 etc.
Sage AI Labsgives Intacct a massive boost up in the future of AI and ERP. According to Rob Reid, Intacct went hunting for AI staff not so long ago. The cost of suitably skilled staff in California… more than a CEO or CTO! With Sage AI labs, Intacct get a massive leapfrog and resourcing of AI use-cases, at a price point that can be aggregated across the Sage portfolio AND staff that reside outside Northern California!
The event
Intacct have run this event for around 12 years. There were 3,500+ people in attendance. A full exhibitor hall, showing off a thriving ecosystem. This is a serious event.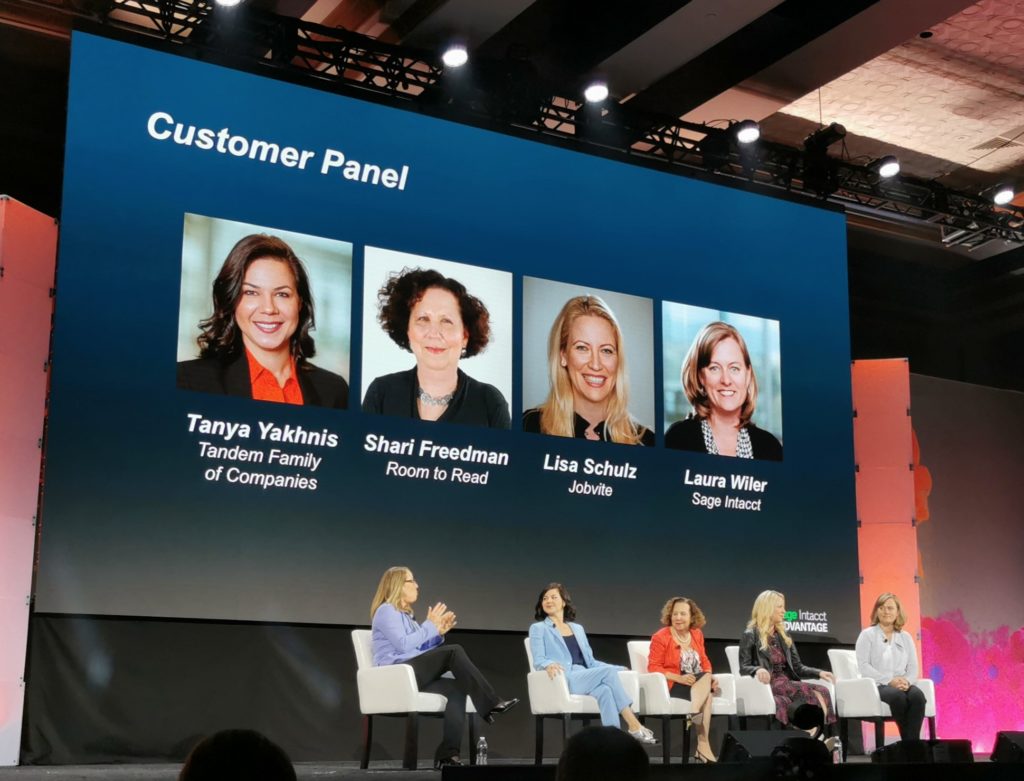 Partners come early for Partner Days. I landed for the main days, when thousands of actual real-live customers come, from across the US. The main days are clearly client focused. This makes the event more QBConnect than Xerocon (partner focused) for the SME Cloud Accounting readership. This reflects the combined business model, whereby like NetSuite (and Salesforce, Intuit and others), Intacct runs a mix of direct and channel businesses.
There's not the Oprah or Shaq that you get at a QBConnect, but perhaps this shows the maturity of Intacct Advantage vs the 5 year old QBC? The agenda is jam-packed with content, targeting the specific verticals in which Intacct operates. And this is a key point of Intacct as a business which Sage will learn from and comes through at the event – it is clearly a vertical and micro-vertical focused business. Not just Not-For-Profits, but church group not-for-profits. Not just Financial Services, but multi-branch mortgage brokers. They are very clear in who they target and this makes for the only logical way to scale sales and distribution of mid-market ERP. I cannot possibly agree more with the strategy. And judging from the delegates that I spoke with over the 3 days, they are obviously executing the micro-vertical strategy well, as the same business types kept popping up…
Constructive criticisms
For those that read my "reviews that no-one else will write" regularly, you'll know it can't all be platitudes and roses. A couple of things about Intacct and the event that raised my eyebrows:
The exhibitor hall was not well laid out nor as aesthetically pleasing as you get at other conferences. Whilst the smaller booths were consistent in layout and size, the larger booths varied wildly in quality and aesthetic. A poorly draped black curtain backed variable main exhibitor areas (not booths), and exhibitors took inconsistent care in how they presented themselves. I think the exhibition "cheapened" the feel of the event and sat quiet paradoxically with everything else. Intacct could learn from peers in how to layout and present its exhibition/ecosystem.
Mid-market vendors still do not get bank feeds. Sure, Intacct has bank feeds, but NO "out-of-the-box" bank rules function… Seriously?! Let me explain this as simply as I can: In Australia >95% of payments B2B hit your bank account directly. No-one in SME software in Australia should/has to manually enter customer payments for the bank rec. to "match against" as the feed creates the payment transaction. Its an allocation that is often automated, not a data entry function. Somehow mid-market, including Intacct remain blissfully unaware that customer payments (in countries outside the US where cheques still prolificate) should NOT be a data entry function in 2019. Seriously?!
This maybe a harsh criticism, but Intacct supports its own API standard. Not REST not SOAP, but something somewhere in between. The API works and works well. They offer an SDK for most development languages. Its efficient and scaleable. But it's not an industry standard. Think when Intacct launched its API – 2001. REST was not a thing. And what they offer is a damn sight more efficient than SOAP, but at least SOAP is a standard…
With Intacct, it's all about the CFO and the GL
The CFO is front and centre in the Intacct go to market strategy. Sage is run by the former CFO. Intacct is run by the former CFO. Intacct love the CFO and they target the CFO. Unlike competitors who focus on Ops, or all of business, Intacct focuses almost exclusively on the CFO. It's all about the multi-dimensional GL and making end of period close more efficient!!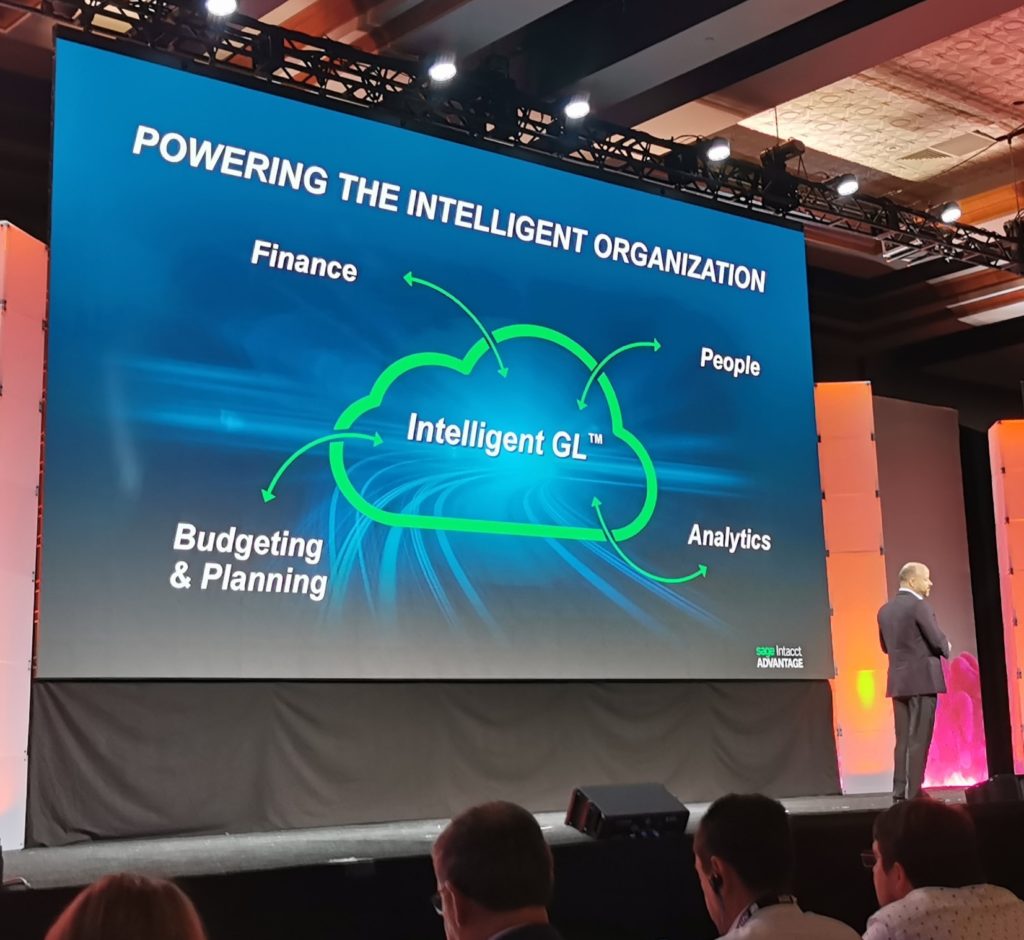 And the future of Intacct? Its all about the CFO:
Faster close (period end);
Real time, AI driven audits;
Faster, easier, AI driven collection of timesheets and billing;
AI driven bank transactions allocation and reconciliation… alas no, apparently only small business wants that, not CFOs! 😉
As for the Ops teams. Want Salesforce? Get it and integrate it. Want XYZ, Ops do what you need to do and integrate it. Let the CFO get what they want – an awesome GL and faster close!
Its an interesting strategy. It will work for and against them me thinks. But in the target clients, probably more for than against.
In conclusion
As with most of my other industry event reviews, this is far more an analysis of where the vendor and its product offering is at, than just the event itself.
Intacct has Sage looking and feeling more like a modern software company. Throw in Sage People and Auto Entry and its a very different Sage to 4 years ago when I was impressed by Stephen Kelly, only to be disappointed by the lack of execution.
Worldwide, Sage is effectively losing the SME market to become an also ran. Customer for life on the legacy systems makes sense (retain the revenue from long-term, change-resistant clients for as long as possible, squeeze that lemon). And like MYOB is doing in Australia, retreating to / focusing on the mid-market is a logical strategy to remain relevant and keep shareholders happy (afterall, Sage has a history in the mid-market and mid-market equals significantly larger ARPU and LTV).
The challenge is the mid-market is heating up and the competition for quality Value-Added Resellers (VARs) is very very tough. Worldwide NetSuite has a big head start. Intuit have launched "QBo Advanced". With their ecosystem of "add-ons" Xero continues to push into the mid-market. Microsoft are coming with a very solid product offering. Acumatica has established regional partnerships like MYOB. Odoo is gaining traction. SAP are actually getting their act together on B1 and ByDesign. Then you have the local players… There's only so many VARs to go around. Hence a a blend of VARs and direct will be needed.
That said, Intacct is a solid, mature product offering, with a solid, established ecosystem of integrations. Sage have resources and channel to get a foot hold outside North America. The micro-vertical and CFO approach will work.
The risk is, can Sage continue to get out of the way of the Intacct team? If the bureaucracy of the "old Sage" slows them down, whilst competitors move faster, Intacct will simply become another company Sage acquired and killed… Looking from the perspective of the Intacct Advantage conference, this isn't happening… yet…
_____
For more on #CloudAccounting #CloudERP and beyond
Follow On Twitter: https://twitter.com/mattpaff and https://twitter.com/valueadders
Follow our Blog: https://valueadders.com.au/articles/
Follow our LinkedIn: https://www.linkedin.com/company/value-adders/
Like on Facebook: https://www.facebook.com/valueadders/
Follow on Medium: https://medium.com/@mattpaff