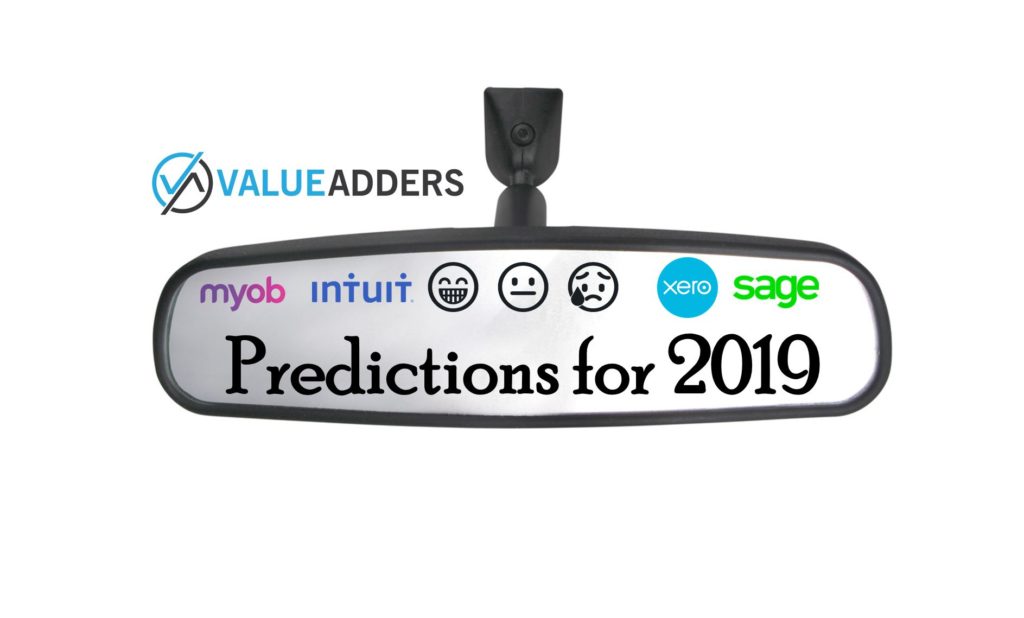 It's that time again. A new year and time for Matt Paff's predictions for the year ahead in BizTech/ Cloud Accounting. BUT, as always, before I do, its only fair that I take the time to review how I fared last year (here's last year's predictions).
2019 wasn't my best year for predictions, truth be told. I still feel strongly that the majority will prove correct, in time, but just not in 2019…
1. 2019, the year of acquisitions 😐
2019 wasn't the year of acquisitions I was expecting (I thought Xero and Intuit would be active players), but nonetheless there was quite a bit of M&A activity in the space particularly from private equity.
Xero chucked $300m debt raised in 2018 into their wallet and didn't pull their wallet out of their pocket at all in 2019.
Intuit made a couple of small acquisitions (Origami Logic and ChronoBooks), but hardly out of the ordinary and nothing that would set the market alight.
Sage got active, acquiring Auto Entry (aka OCREX) and CakeHR, after zero acquisitions in 2018.
Private equity firm KKR made some big plays, acquiring both MYOB in Australia AND Exact in Europe.
EQT acquired Acumatica (known as MYOB Advanced in Australia).
In June, H&R Block acquired Wave to go head-to-head with Intuit who were eroding their traditional market space with TurboTax Live.
Access Group UK made a play for the Australasian mid market through acquisition of Attache. Likely their first of many in this market.
Calling this one neither a win nor a loss. 😐
2. Intuit to buy Fathom 😥
I still think they are engaged, even though that aren't quite married (noting Fathom is now embedded in the QBo Advanced product like TSheets was before its acquisition). Nonetheless, alas I was wrong.
3. Xero to buy Spotlight Reporting 😥
This was always a long shot. I think it still *might* happen (even hearing some unverified rumours to that effect). But alas, not 2019.
4. Tim Reed to step down as MYOB CEO 😁
Boom! I was right with Tim exiting MYOB and assuming the role of President at the Business Council of Australia. Not quite politics, yet. But right nonetheless.😁
5. Reckon to find a buyer for Practice Management, again 😥
There's been a stack of rumours and plenty of share price fluctuations, but again I was wrong on this one… 😥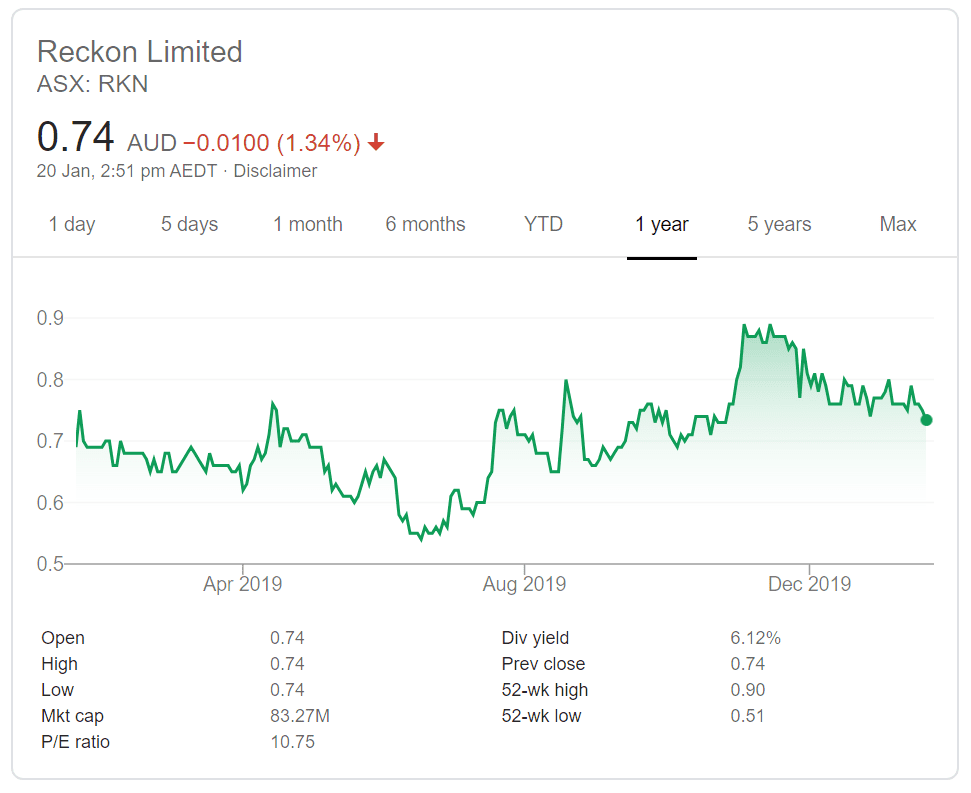 6. Sage to buy KeyPay 😥
Was always a long shot, and didn't happen. 😥
Hearing rumours Sage launching a new Salesforce based Payroll in Australia soon.
7. Sage will make a BIG impact with Intacct 😐
I think Sage IS DEFINITELY making a big impact with Intacct, internally, reinvigorating them as a mid market leader and pervading SaaS culture throughout the company.
I think the Australian mid market is taking notice, but that space is quickly becoming crowded with SaaS options, with Microsoft getting their act together with Dynamics 365 BC, Odoo making waves, NetSuite and MYOB Advanced maintaining market leadership, SAP starting to deliver and the Access Group acquiring Attache.
There are limited, quality channel options for all these vendors, but I do think Sage is making some traction with both its traditional Line 300 (Accpac and Timberline), USage (Evolution, Pastel etc) and X3 channels being hand-picked to lead the Intacct wave. They are also acquiring new partners through the Salesforce alignment (with both Intacct and Sage People).
All that said, I'm not sure the market has seen a BIG impact from Intacct yet. So again, I might sit on the fence with this one… 😐
8. Wiise will fail with their Rhipe partnership 😐
General market feedback is getting demos and implementations for Wiise did prove quite a challenge in 2019, which for mine, is a failure of the Rhipe partnership.
BUT KPMG appear to be sticking with Rhipe so one could argue it hasn't failed… yet. Though I do note Wiise are advertising for partners, and so are Rhipe.
I remain adamant that a four tier channel model
Microsoft the vendor;
KPMG the white-label holder
Rhipe the distribution channel manager;
Rhipe partners the implementers;
Is a model that won't work with a mid-market product like Business Central. Again, sitting on the fence on whether I was right or wrong on this one. 😐
9. Intuit to overtake Xero in UK 😁
Picked it like a dirty nose! On published figures (and both companies are listed and need to comply with listing rules on announcements they make), Intuit are now claiming more subscribers & a faster run-rate in the UK than Xero.
The Intuit Press Release from Q1 2020 also states:
Grew U.K. subscribers and now hold the number one position for cloud accounting subscribers in the country.

https://investors.intuit.com/news/news-details/2019/Intuit-Grows-Total-Revenue-15-Percent-in-First-Quarter-Small-Business-Online-Ecosystem-Revenue-Grows-35-Percent/
There's general argument about whether this is accurate based on "on ground feedback" in the UK (many of my spies state that it feels like Xero are still winning and perhaps the QBo numbers are inflated by bulk deals and QBSE at low pricing). But nonetheless, on published numbers, I was right. 😁
10. JCurve to announce its break-up with MYOB 😁
Confirmed by Kate Massey, CMO: Officially JCurve Solutions have abandoned their dalliance with MYOB Advanced to:
"focus on pursuing larger NetSuite clients and expansion into Asia."

Kate Massey JCurve Solutions CMO
11. Xero to hit 2m subs Calendar year 2019 😁
Xero announced 2m subs in November, as part of their 1H2020 (September 30) results.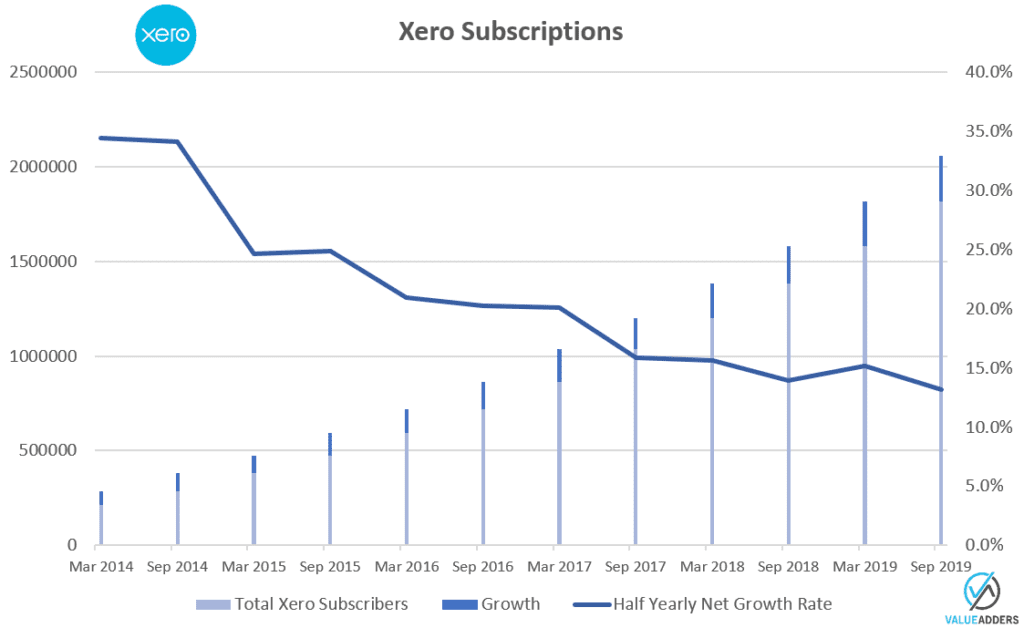 12. Intuit to add another 1m subs FY2019 😁
Intuit under new CEO Goodarzi have noticeably shifted focus away from announcing subs in their investor calls and press releases, to focusing on revenue and margins.
Luckily for me, on the Conference call for Q4 2019, Sasan dropped the following comment:
QuickBooks Online subscribers grew 33 percent, ending the quarter with over 4.5 million subscribers

Sasan Goodarzi, August 22, 2019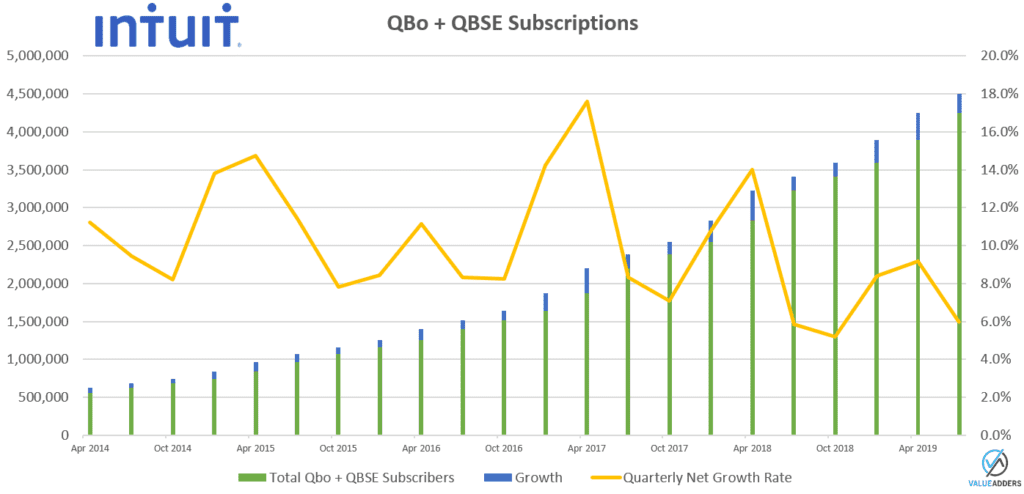 Given 2018 finished with 3.412m subs, "over 4.5m" means more than 1m adds in FY2019. 😁
Score:
😁 Correct = 5/12
😐 Sitting on the fence = 3/12
😥 Just plain wrong = 4/12
Scoring myself a Pass for 2019… just… let's see if 2020 predictions can fare better. Article to follow next week!
___
For more on Accounting, Payroll & HR tech:
Follow On Twitter: https://twitter.com/mattpaff and https://twitter.com/valueadders
Follow our Blog: https://valueadders.com.au/articles/
Follow our LinkedIn: https://www.linkedin.com/company/value-adders/
Like on Facebook: https://www.facebook.com/valueadders/
Follow on Medium: https://medium.com/@mattpaff