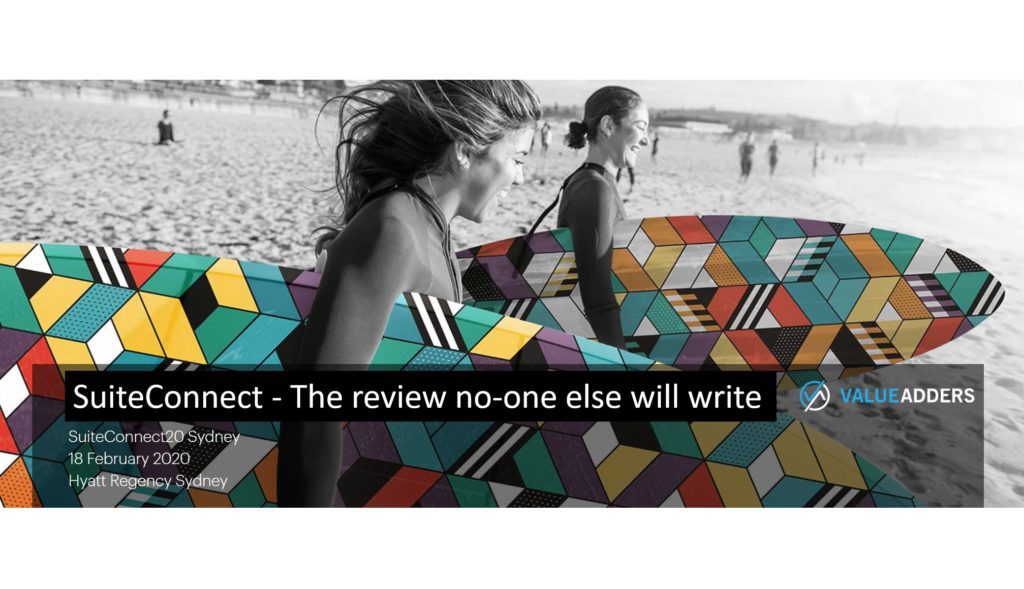 Those familiar with my "reviews that no-one else will write" may be used to detailed analysis of the vendor, their products and event. This one may disappoint as I have kept it very brief and to the point.
Yesterday was, I think, my 4th SuiteConnect Sydney. Whilst it had a lot of the sameness of years gone by (same venue, same exhibitors (pretty much), similar very client focused content), a few things stood out that warrant a mention:
A slick, well resourced event
On a positive note, SuiteConnect is a very positive, client focused event. Their clients are front and centre. Their partners are very present. They celebrate the successes of their clients which cleverly gives NetSuite reflected glory and even credit for supporting and driving growth. And (managing/enabling) GROWTH is the pitch NetSuite are giving.
The Queues
After what was a debacle of a registration on arrival process in 2019, no-one at Oracle NetSuite appears to have learnt a thing about queue busting or how to deliver a fabulous first impression! Again, a year on, we arrive at the same venue and are greeted with the same ridiculous queues.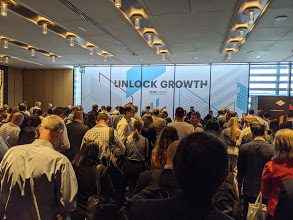 Seriously, there has to be a better way. 40+ minutes of queuing is not a great way to start the day, particularly when there's no espresso coffee on hand to ease the pain!!
Hallelujah ERP is waking up on Bank Feeds & Auto-Recs
For years I have bemoaned the complete ignorance of the ERP market to the very important rise of bank feeds and auto-bank reconciliation in the SME Cloud Accounting space. I most recently whinged about it in my review of the Sage Intacct Advantage event.
For too long, I have argued the point of bank feeds and auto-recs'. Too many "head-in-the-sand" ERP people say "well that's all well and good if you run a cash based business but our clients are accrual based and their transactions only hit the bank account after they appear in our ERP…". What an absolute crock!!
Here's the argument that kills that every time: In Australia 97%+ of Account Receivables hit client bank accounts first and the idea of manually entering data/payments FROM the bank statement is nonsensical and archaic, particularly when SMEs don't have to do it with the likes of Xero and QBo!
Probably the most frustrating point is, NetSuite clients I have worked with have spent tens of thousands of dollars on hack/3rd party work arounds such as Nolan and ERP Fast Forward.
So for me, the absolute highlight of SuiteConnect and probably the reason I'm going to keep this brief (as it deserves full and focused attention), was the announcement that version NetSuite 20.1 would include… wait for it:
Bank statement feeds; and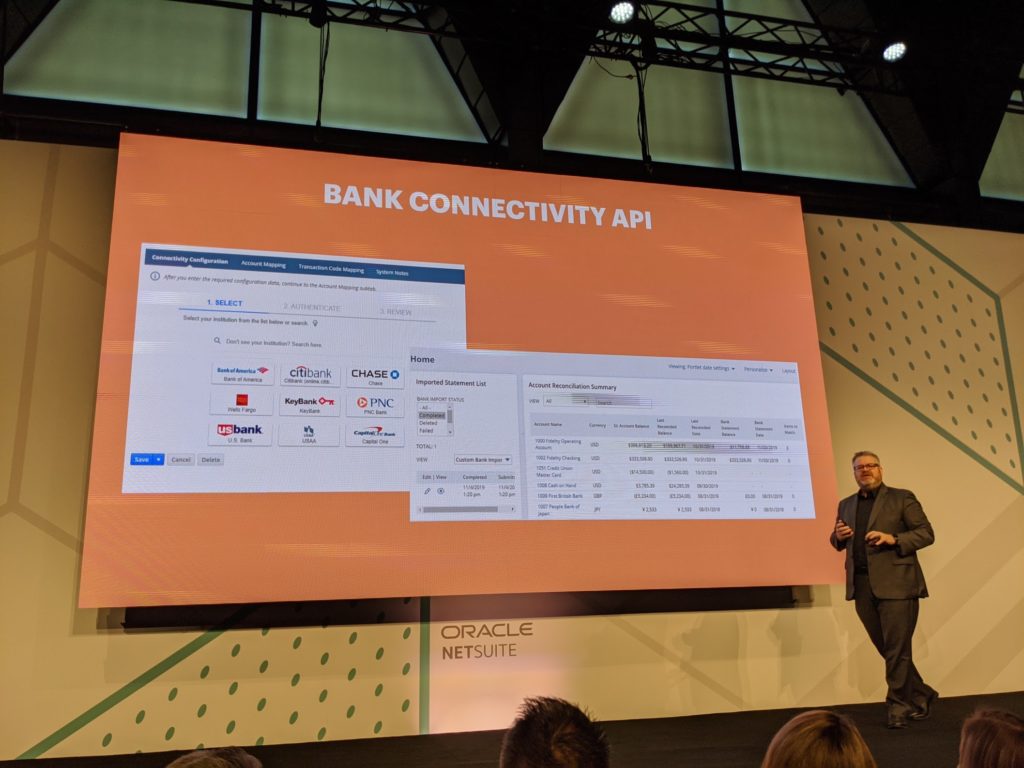 Auto-reconciliations;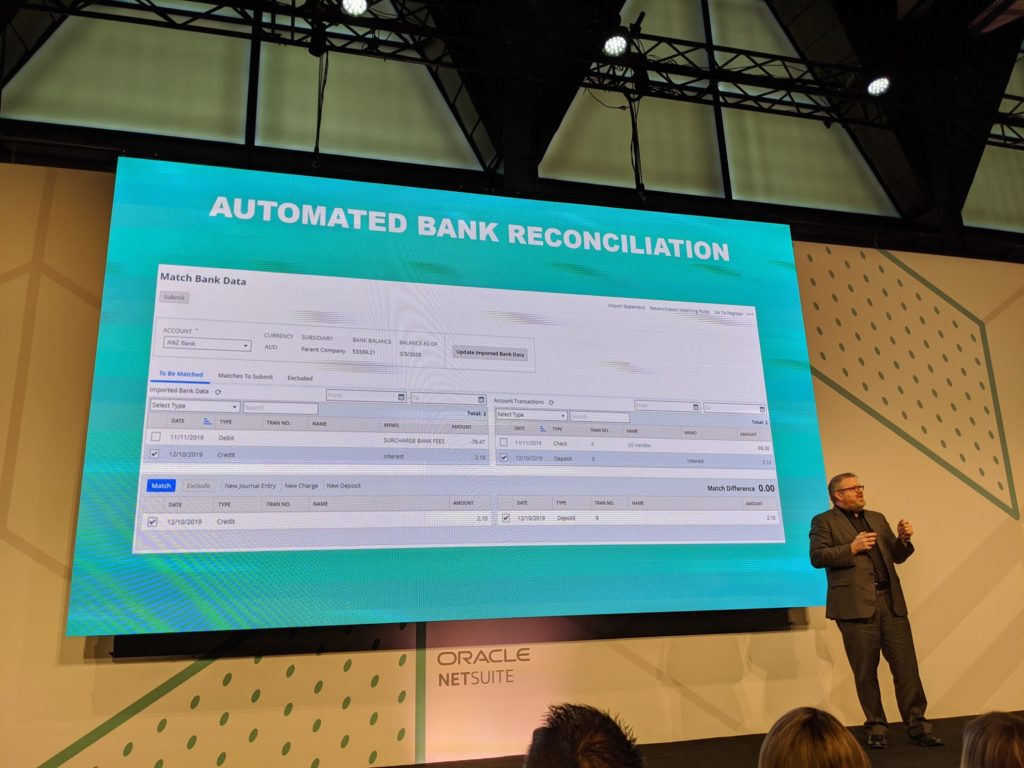 The crowd goes wild. Matt Paff has a few text message conversations with NetSuite people about: FINALLY!!!; and the logical questions that follow (when) WILL THEY HAVE AUSSIE BANKS?? Yodlee? Questions that weren't actually answered but… at least its coming!! To this point the very need has been dismissed!
And that's it. That's all I have to report on SuiteConnect Sydney 2020 because in my mind, that is all that mattered.
___
For more on ERP, Cloud Accounting, Payroll & HR tech:
Follow On Twitter: https://twitter.com/mattpaff and https://twitter.com/valueadders
Follow our Blog: https://valueadders.com.au/articles/
Follow our LinkedIn: https://www.linkedin.com/company/value-adders/
Like on Facebook: https://www.facebook.com/valueadders/
Follow on Medium: https://medium.com/@mattpaff