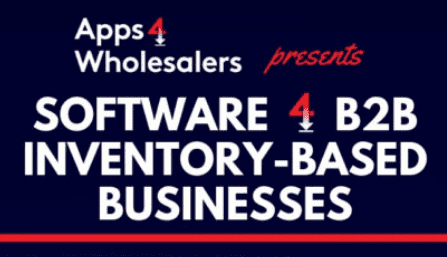 This infographic pulls together over 250 software applications used in Australian and New Zealand wholesale, distribution, import and manufacturing (B2B inventory-based) businesses. We have tried to group appropriately though note solutions can be difficult to pigeon hole as their functionality expands beyond an individual task.
If you want to understand the value of our independent software selection service (aka buyers agent services), look no further than this graphic for the size of the marketplace to choose from.
Accounting Software for Australian inventory-based businesses
We start with the endpoint of most businesses data – the accounting / finance systems. Ultimately businesses make the choice between SME software like Xero, QuickBooks or MYOB AccountRight and ERP systems like Oracle NetSuite, Microsoft Dynamics 365 Business Central and many many more, which are designed to offer more flexibility and functionality, typically at the expense of ease-of-use and low-prices.
Many B2B Inventory-based businesses suffer from what we call the SMERP Dilemma – knowing whether to use an SME solution plus Inventory Management System add-ons (Like DEAR, Unleashed, Fishbowl or Datapel) or go with the more expensive ERP route.
That's where Value Adders software advisory services can help point you in the right direction – get in touch today!
Operational Software for distributors
Once you get beyond the core accounting engine, there is a plethora of operational software to enhance your business process. We have grouped them for the infographic like this:
Mobile Sales Rep software – order taking, merchandising etc. We also covered this specific topic in this blog post: 10 sales rep mobility solutions for Australian distribution businesses.
eCommerce – both systems and platform players
CRM & Marketing – from managing rep activity and pipelines to marketing campaigns
Accounts Payable, eInvoicing & EDI – systems for improving and automating data entry and approvals around the AP function
Reporting & Analytics – reporting and business intelligence software. This area is also covered in more depth on this blog post on: the 11 top sales reporting tools for B2B inventory-based businesses.
Accounts Receivable and Payments – covers off debtor management systems, credit control solutions and payment gateways.
Freight – systems for printing shipping labels to automating tracking.
Foreign eXchange – specific solutions for importers and managing foreign currency transactions.
Office – the software used for general business operations.
Payroll & Human Resources technologies
Digital Plumbing – systems for connecting systems together, automating processes and managing data.
---
Originally posted on https://apps4.co/
---
For more on business technology follow on:
This blog: https://valueadders.com.au/articles
Twitter: https://twitter.com/mattpaff and https://twitter.com/valueadders
Follow our LinkedIn: https://www.linkedin.com/company/value-adders/
Like on Facebook: https://www.facebook.com/valueadders/
Follow on Medium: https://medium.com/@mattpaff
Or sign up to our newsletter: